Just recently, we had written about places to visit in South Africa with family.Mauritius is another captivating destination on the heart; from the vibrant streets of Port Louis to the hidden gems of Rodrigues Island, this tropical haven sure has something for everyone.
Whether you're a nature enthusiast, a beach bum, or just curious about places to visit in Mauritius with family or friends, you won't regret reading this list.
List of Top Best 36 Places To Visit In Mauritius
Whether you're a nature enthusiast, a history buff, or simply seeking a relaxing escape, Mauritius has many remarkable places to explore.
1. Port Louis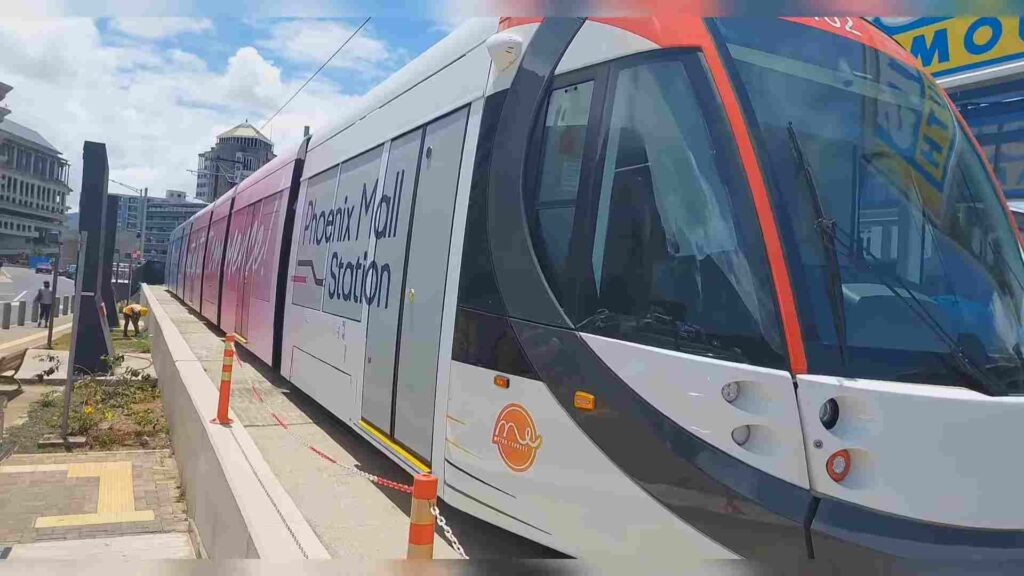 Port Louis is Mauritius's most populous and largest city, founded in 1638. It's located in the north-west of the country, and it's worth visiting if you want to enjoy a romantic moment with your partner. It's a very safe place to travel to and one of the amazing places to visit in Mauritius with family.
This is a city where you can find the oldest post office, and there are beautiful and wonderful places to tour the city, from the beaches to so many museums. A visit to Port Louis will give you a great insight into its historical events, colonial buildings, cultures, languages, and food.
Port Louis is the capital of Mauritius and vibrant in nature. A home to a beautiful market, shopping malls, and offices. Port Louis is no better place to have a fun-filled vacation or romantic moments. Do well and visit Port Louis if you are the type that loves to enjoy some beautiful views and visit so many interesting places.
2. Pamplemousses Botanical Garden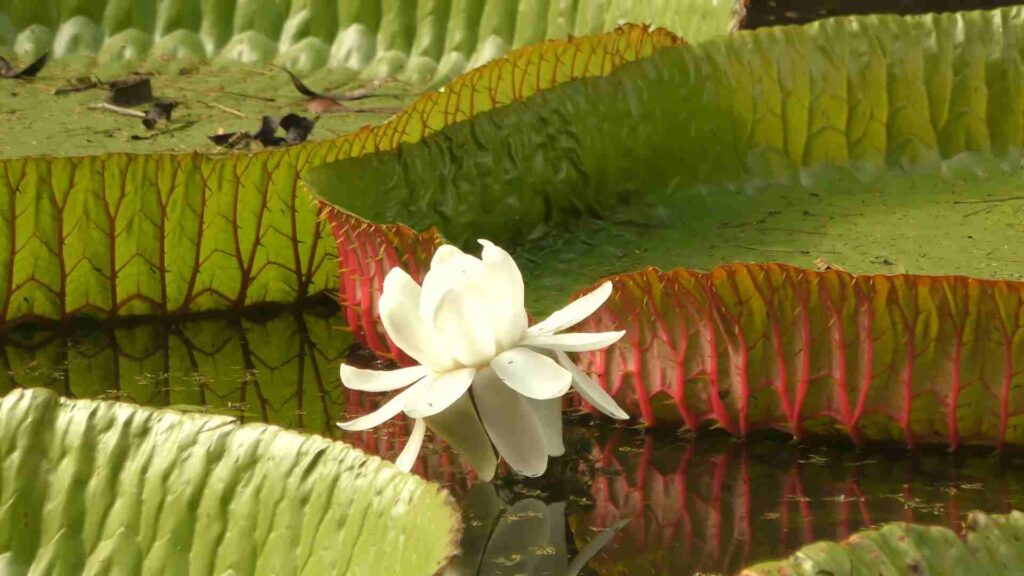 The oldest garden was created in 1770 over 30 hectares of land. It's a fantabulous place to visit in Mauritius. The variety of tropical plants and trees has to be seen because you will surely love it. Its unique features make it one of the most visited places in Mauritius. You will surely enjoy the view of the plant varieties, including Baobabs, dozens of palm trees, Giant Water Lilies, and the large spice garden.
The botanical garden is a must-see, and the best way to enjoy your visit to the botanical garden is with a tour guide, explore the exotic fauna and flora, and be blown away. Be ready to give yourself at least 2 to 3 hours to enjoy the views to your satisfaction. Ready to visit Mauritius? Then, consider this beautiful garden one of your places to explore in Mauritius.
3. Chamarel Coloured Earth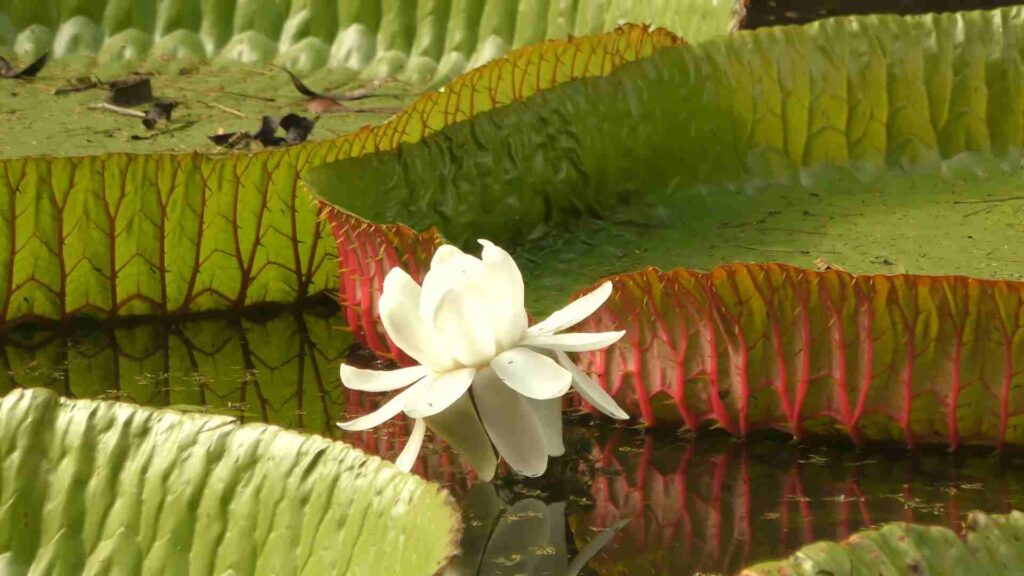 It is among the attraction and well-visited places in Mauritius because of its impressive natural spectacles that generally surprises visitors. This place shows Mauritius's natural beauty and uniqueness; you will be wowed by the shades of color that characterize the place. The colors are impressive and change depending on the sun's angle, and it has gained popularity over time. It's quite different from other natural spectacles and is ranked as one of the world's most natural places.
If you are planning your Mauritian vacation, what better way than to explore this unique island and savor nature? Consider the time for your visitation to be around May to December. The weather during these months is pleasant, and the temperature is cooler.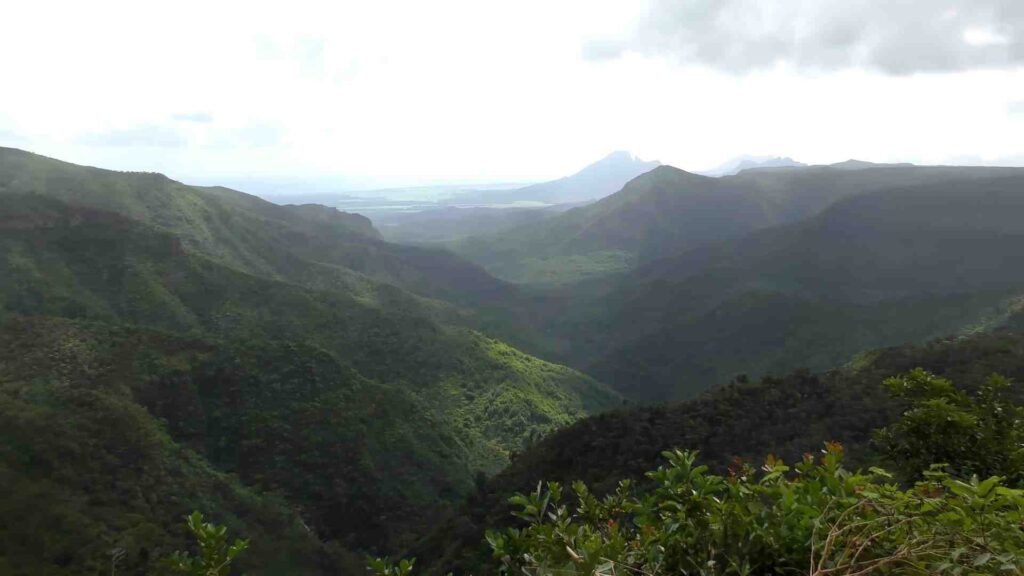 The largest national park in Mauritius, making it a must-visit trip in Mauritius. There are plenty of beautiful and amazing views, depending on your location. The Chamarel waterfall and the Seven-Coloured Earth can be seen from the park.
The fact that there is a lake located in the park makes it a unique destination for you to enjoy your trip. You will spend more time watching and enjoying the beauty of nature.
Wondering about things to do in the park to make your trip more enticing? There are a lot of things you can do in the park. One of which is hiking, and there are varieties of it that you can use, like the Savanne Sud. It's an easy hike, about a 6km round trip, where you can relish the coast views.
5. Le Morne Brabant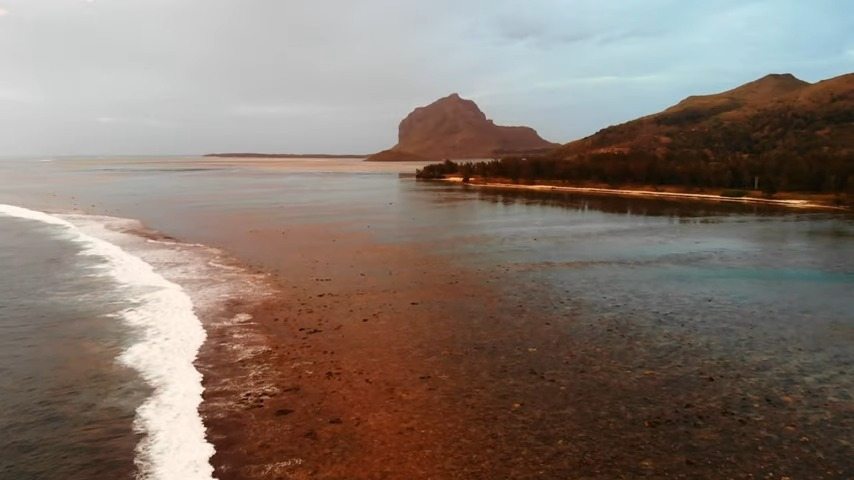 A world Heritage Site that nature has never created and a majestic mountain that covers an area of 12 hectares of land. Nature lovers should try visiting this place and be mesmerized. The symbols of the mountain represent freedom and resistance to slavery, making it a very important and strong cultural symbol for the Mauritians, and it inspires them.
The beach of Le Morne is an astonishing world; you will be captivated by the beauty of this place, especially during the sunsets. Do well by visiting the place late in the afternoon to experience the best of its climatic conditions.
Engage in swimming activities and relaxing spas. Le Morne Brabant is a beautiful place to visit because it will offer you a deep insight into the amazing culture of Mauritius. The experience will be one of the best you can ever have.
6. Ile aux Cerfs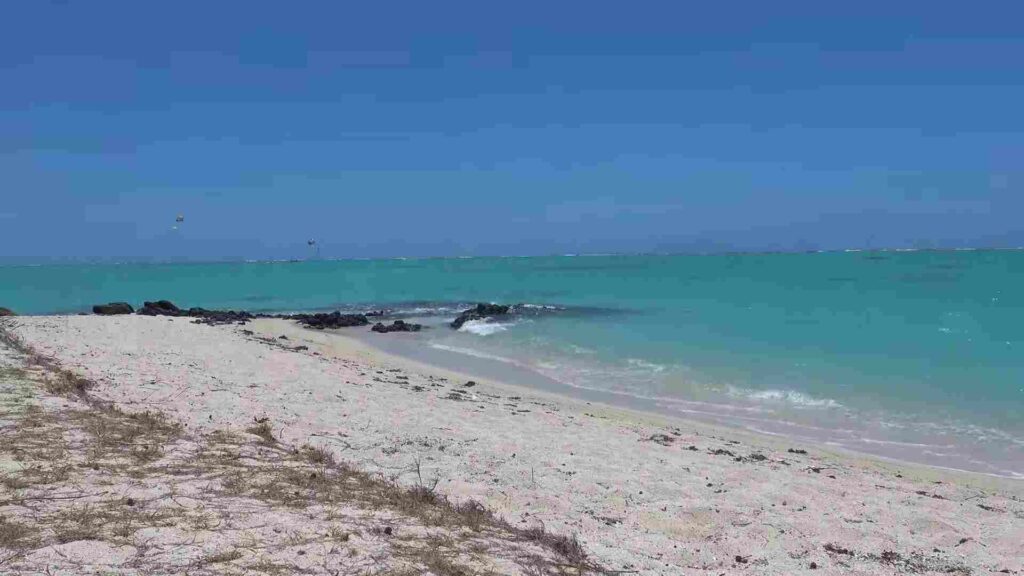 Embark on an excursion to Ile aux Cerf, with many amazing views. It's an island spread over 87 hectares of untouched land. It's the most famous and private island in Mauritius, and it's affordable. If you have always dreamt of flying, Ile aux Cerf is the perfect place for you with the parasailing adventure. Apart from the adventure activities, Ile aux Cerfs is the right place to enjoy the beauty and wonders of nature. 
Tourists that visit Ile aux Cerfs benefit from the activities on the island, and it is one of Mauritius's most popular and visited tourist destinations. When you visit this astonishing work of nature, you should have some local cuisine as there are restaurants in Ile aux Cerfs. 
7. Grand Baie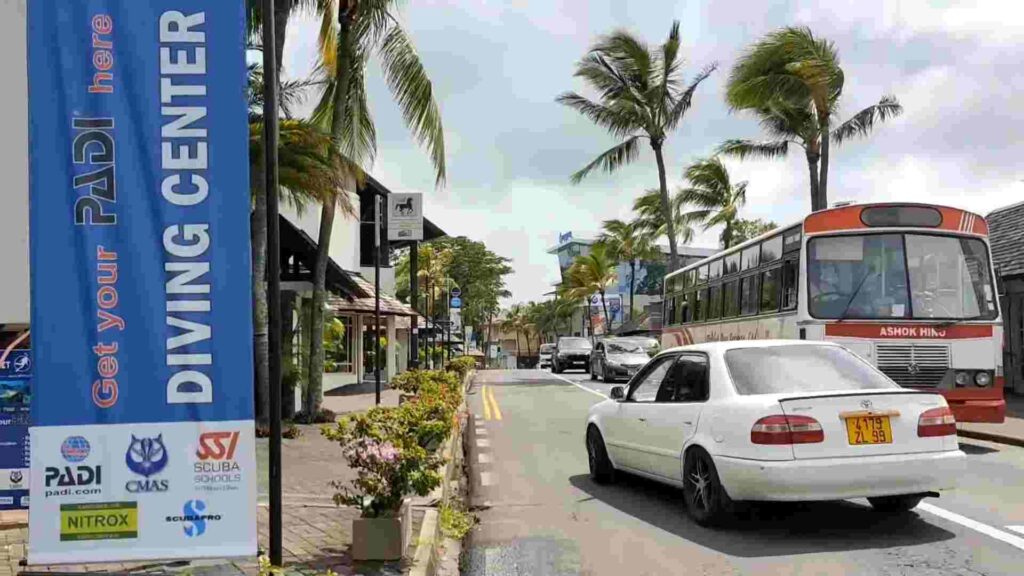 It's the most popular holiday destination in Mauritius. If you have a limited budget, choose Grand Baie. There are affordable restaurants (both with local and European dishes) and housing in Grand Baie.
If you are the type that likes underwater activities, Grand Baie is an excellent place to do all of that. There is a famous Grand Baie market, also known as a bazaar, where you can find everything, from shopping opportunities to different things you can get for yourself and loved ones. With its various shopping centers, Grand Baie is a shopping destination for affordable clothing.
You will understand why the Grand Baie is the most visited place in Mauritius, with its nightlife attracting people around the island.
8. Caudan Waterfront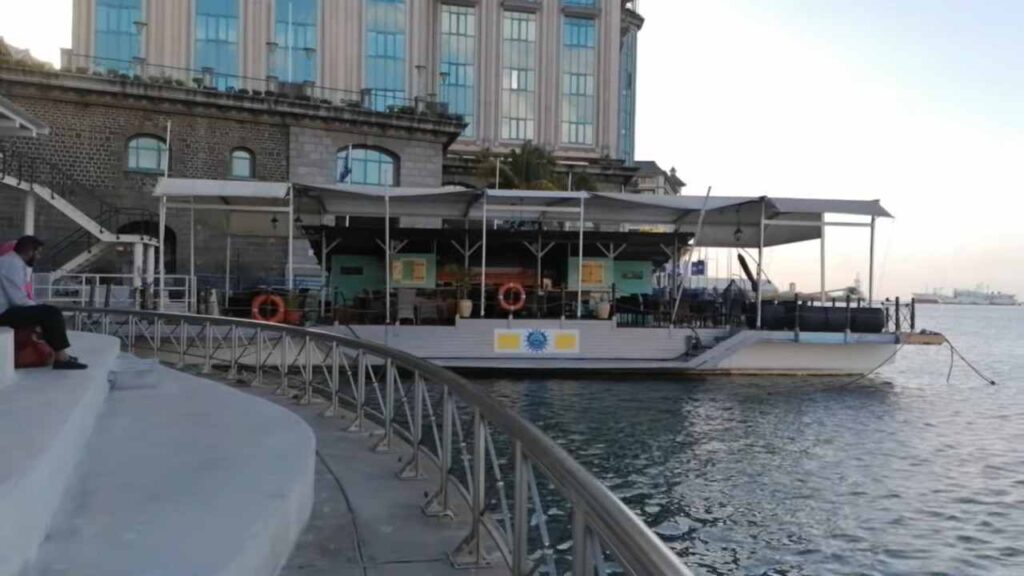 A cultural destination that offers visitors and tourists an unforgettable experience is located in Mauritius's capital. It's an entertainment center and a shopping mall where you can find various skincare products and clothing you can buy. You can simply take a walk in the evening and reflect in the water while the artist enhances the atmosphere of the environment. 
Caudan Waterfront is conveniently located, and everyone is aware of it. It has gained popularity as one of a kind with an impressive range of stores, historical events, and the like. The fun fact about Caudan Waterfront is that it was built on an old port site and was later transformed into a center for shopping, entertainment, and dining. It is one of the best family friendly places to visit in Mauritius.
9. Trou aux Cerfs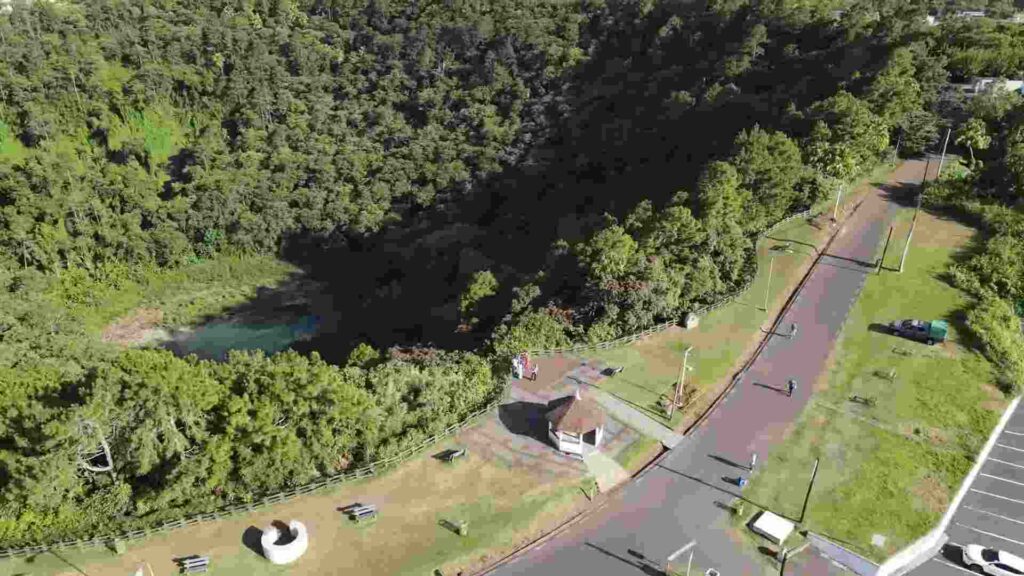 It is a wonderful and well-known attraction in Mauritius with its breathtaking views. Trou aux Cerfs is the image of a perfect volcano. The enjoyable and beautiful part is the 360-degree view of the town; you can easily see some amazing buildings from afar, like the majestic view of the Port-Louis-Moka Mountain range. Trous aux Cerfs is surrounded by a forest of indigenous plant species and giant pine trees.
If you are a nature lover and nature photography enthusiast, the Trou aux Cerfs is a magnificent and perfect spot for you. Many take advantage of this magnificent spot to meditate, get fresh air, and simply walk. This Trou aux Cerfs adventure still remains dangerous as it's impossible to go down.
10. La Vanille Nature Park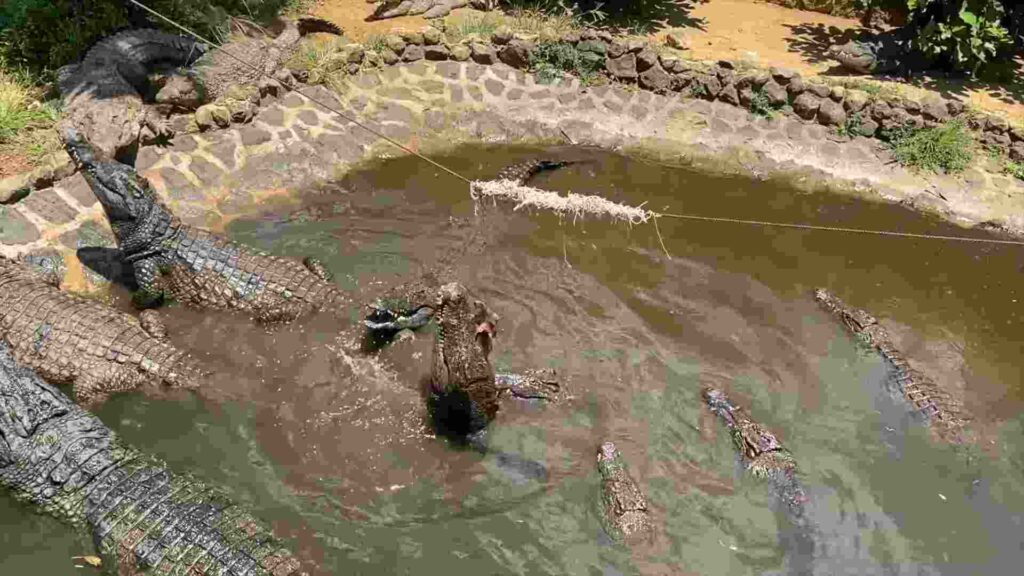 The largest tortoise park is a reserve of 3.5 hectares south of the island. The main goal of the tourists is to see the giant tortoises, crocodiles, and birds to admire in the park. The unique flora and impressive landscape will make the park a memorable place.
It's a great place to learn about the island's unique ecosystem, enjoy nature's beauty, see the oldest tortoise, and feed the baby crocodile. Apart from that, you can have a photograph shot with a baby tortoise and other animals.
11. Ganga Talao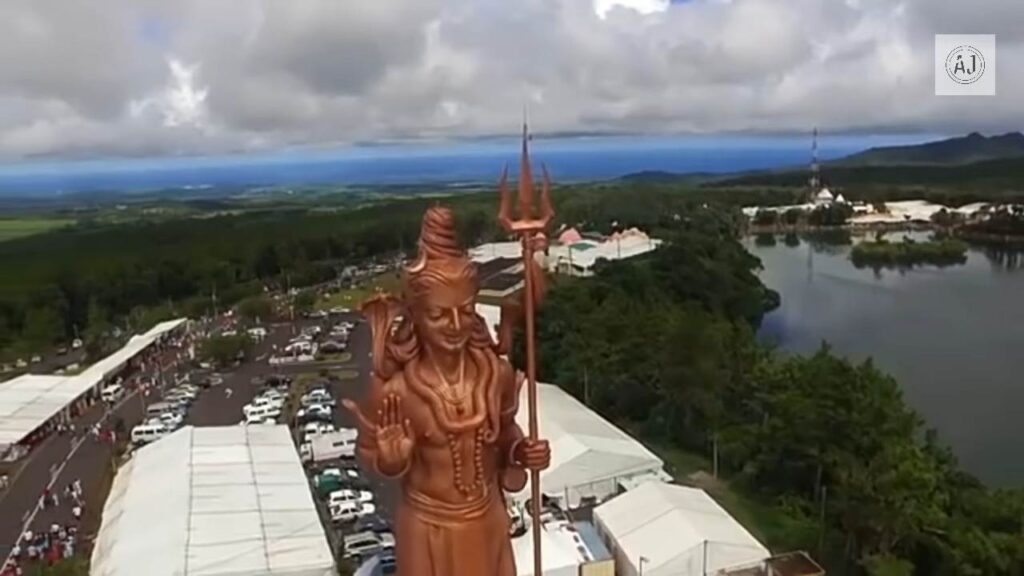 This is a very sacred and the most visited place in Mauritius. Many people visit the place to pray, meditate, and play with monkeys. The lake of Ganga Talao is around 18 meters deep, and it's forbidden to fish there due to the scary nature of the Ganga Talao Lake. The amazing things that will catch your attention when you visit Ganga Talao are the two statues of the two deities: Lord Shiva and Durga. It's the third tallest statue of Shiva in the world. 
The Mauritian multicultural style is distinctive. If you want to enjoy a wonderful and fascinating history, Ganga Talao is the right place. A place where you can enjoy a leisurely walk around the lake's perimeter and its amazing surroundings, such as the temples, shrines, and colorful statues. It warrants a visit.
12. Casela World of Adventures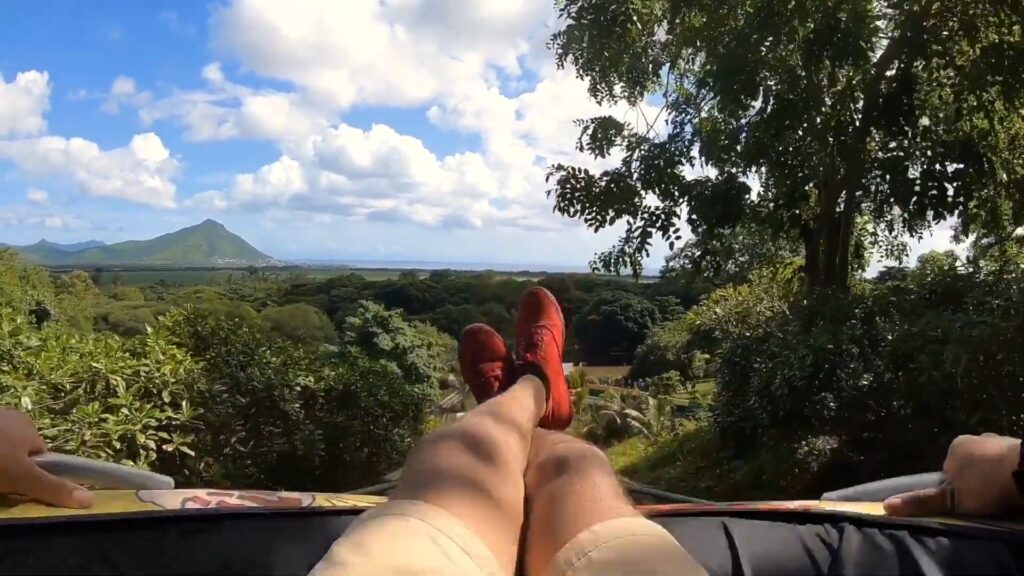 A great park of nature and amusement park with over 250 hectares of land. When you think of any beautiful place to spend your vacation, this park is definitely for you. This adventure can only be experienced in Mauritius. There are a whole of leisure activities in this park. Be it to explore fascinating animals or to enjoy a fun ride.
You will surely feel a deep connection to the natural world, and it's a perfect place to spend the entire day. This park has successfully established itself as one of the leading attractions in Mauritius, evolving around four thematic worlds: Safari, Nature, Mountain, and Water.
Casela is a must adventure to enjoy with family because there are wonderful things to explore with your loved ones. Be it Safari rides, feeding animals, and you can also see Cheetah and the colorful birds.
13. Flic en Flac Beach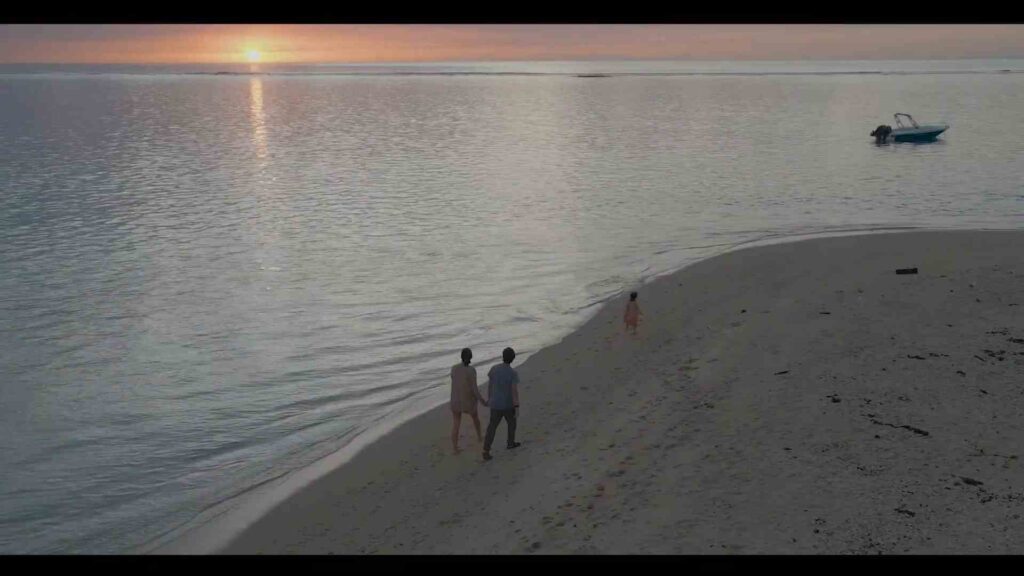 Flic en Flac is one of the main tourist towns in Mauritius and has been transformed into a popular resort beach holiday. It's an outstanding place with its unique combination of white sand and blue lagoons. The beach has basic facilities to enjoy a dance show and free music, making it one of the country's most visited beaches with cozy and relaxing spots.
The most interesting part is that the beach is surrounded by flora and fauna, and you can as well enjoy and savor nature. Create a perfect memory with your partner with all the worthy experiences.
14. Blue Bay Marine Park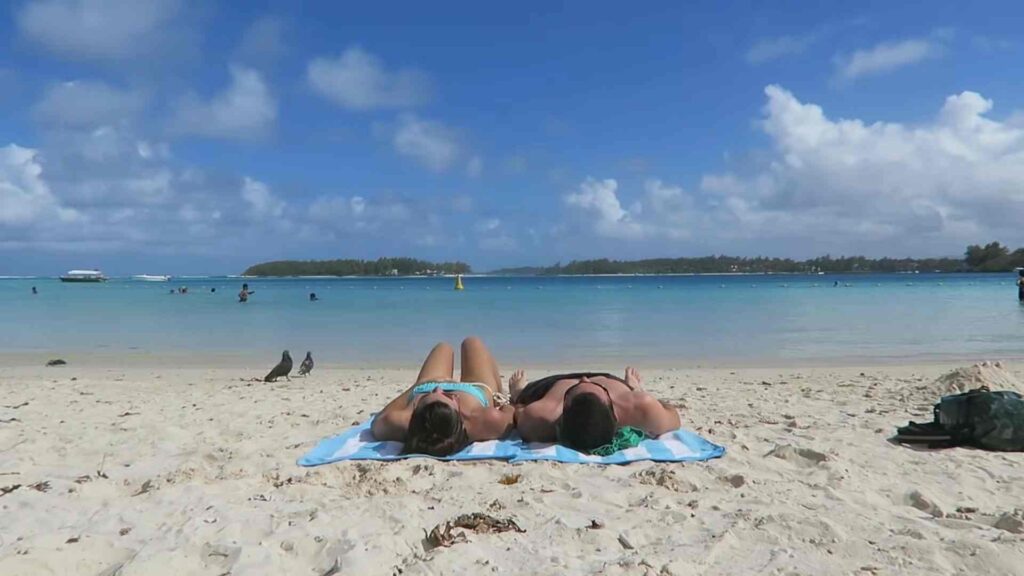 Blue Bay is a national park renowned for its remarkable coral garden bubbling with life. Blue Bay is famous for its underwater marine park and worth all your attention in Mauritius. It's a leisure area that tourists visit. With good views and a fine arc of sand, this is a good beach for families. Marine Park helps to conserve habitats and biodiversity. 
The best part is you can go for a glass-bottom trip to explore Mauritius. Be ready for a speechless experience as you discover the bluest waters.
15. Domaine de l'Etoile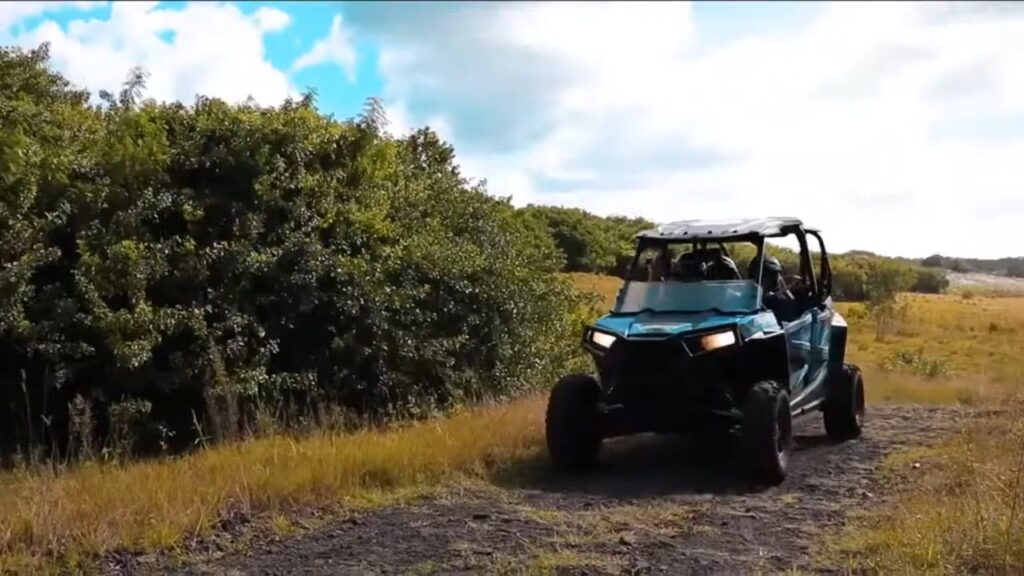 This wonderful and enchanting area offers hikes, tours, and many attractive activities. It is the most preserved region of Mauritius, with lush greenery and sparkling rivers. It is the biggest natural and private reserve in the whole of Mauritius. You can be sure of a great vacation when you visit Domaine de l'Etoile. The reserve is rich in flora and fauna, and if you compare it to other places on the island.
The views from the top of the mountains are beautiful, and the beauty of nature will wow you. Wondering where to spend your next vacation with your loved ones? This is definitely for you and your kids.
16. Tamarin Bay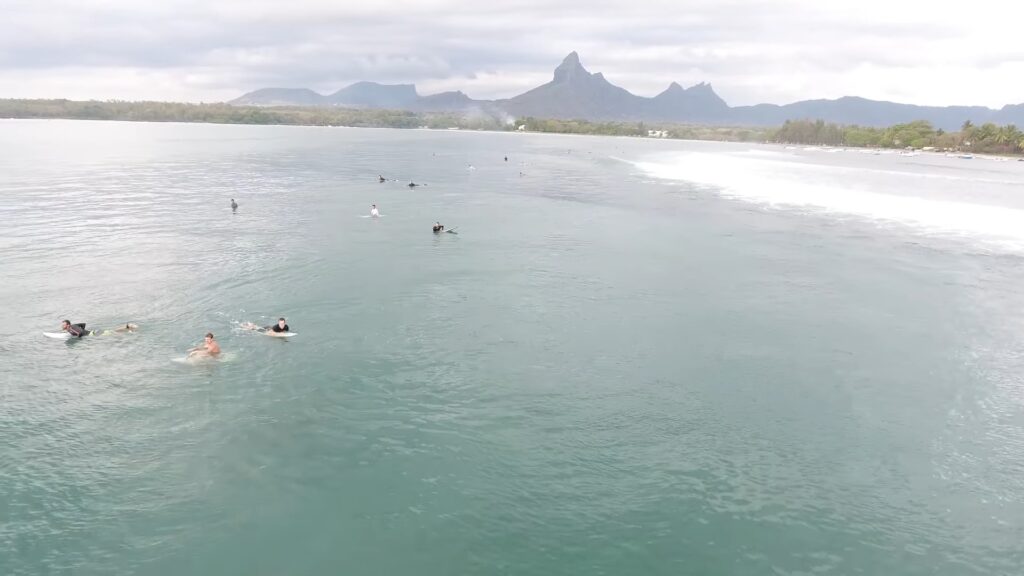 This is one of the many beautiful beaches in Mauritius located in the black river area. Tamarin Bay is one of the best places to visit in Mauritius. Perfect for families with kids who love the ocean, as there are plenty of water activities to enjoy, including swimming.  It is better known for its sunset views, surfing spots, and salt pans. Embark on a day tour to Tamarin Bay and enjoy it fully. The view is very scenic, making it ideal for a walk.
Tamarin Bay is free to visit, so you can have a good time in Mauritius with your family without spending a dime. 
17. Domaine des Aubineaux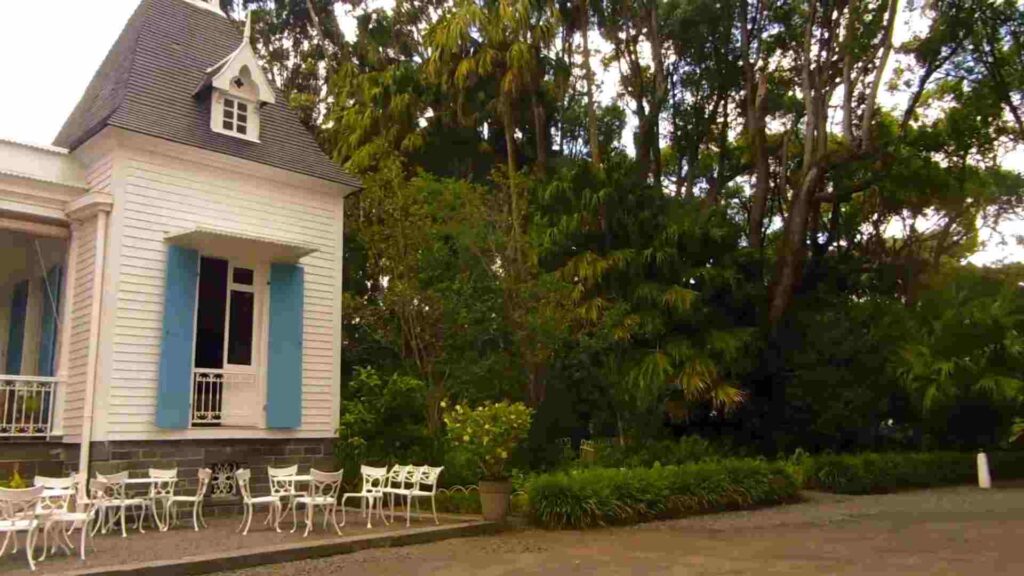 A colonial house located near Curepipe. The popular destination is a 26-hectare nature reserve on an island. Enjoy your tour through the house filled with colonial history and a delicious meal with a great garden view. A guide will show you around during your visit and will guide you on the history.
Visiting the Domaine des Aubineaux is the first step to taking the Mauritian tea route. Enjoy the beautiful insights of the tea plantation and the breathtaking nature. There is a lot more to Mauritius than just sandy beaches and glittering blue water.
18. Domaine de Bel Ombre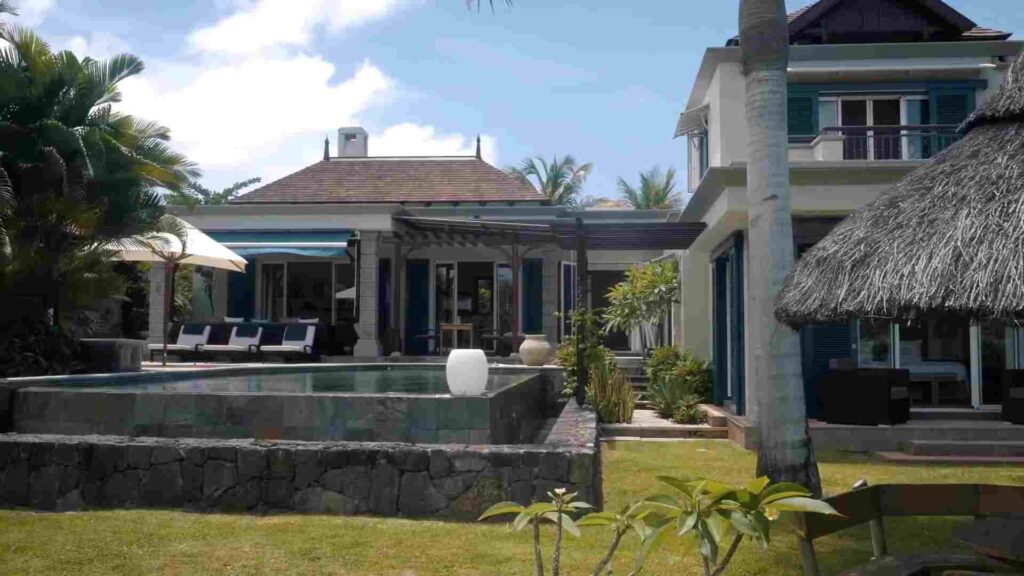 A unique place and home to a vibrant community. It offers a location to enjoy a memorable sundowner with spectacular views over the Indian Ocean. It's home to an impressive selection of attractions and experiences, making it worth a visit. The activities range from hiking and horse riding to entertaining kids of all ages. 
Domaine de Bel Ombre is a must-visit for you and your loved ones. Ready for a fantastic honeymoon? Then, this is definitely for you; you will surely be mesmerized.
19. Mahebourg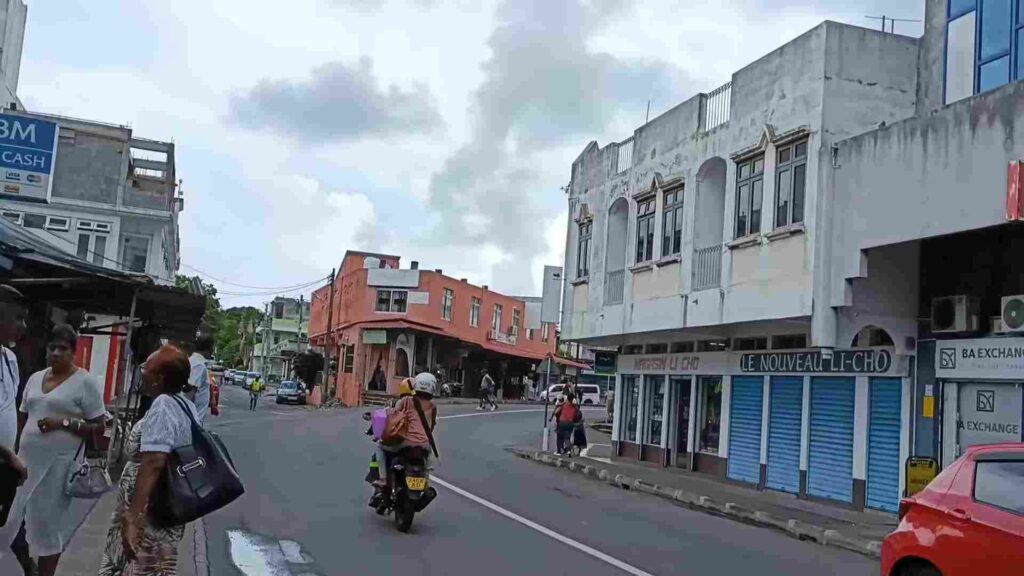 Mahebourg is located on the beautiful island of Mauritius, a destination that captivates visitors with its unique features and rich history. This charming coastal town offers a delightful blend of natural beauty, cultural heritage, and warm hospitality. One of the main attractions of Mahebourg is its stunning coastline with pristine white sandy beaches and crystal-clear turquoise water. It's a paradise for beach lovers and water sports enthusiasts. 
But Mahebourg is not just about beaches. The town is steeped in history, with landmarks like the Naval Museum and the Historical Naval Monument. Another highlight of Mahebourg is its vibrant local market; you can immerse yourself in the authentic Mauritian culture by browsing through various stalls. 
With its unique blend of natural beauty, Cultural heritage, and warm hospitality, Mahebourg is a destination that should not be missed. Whether you seek relaxation or a cultural experience, Mahebourg has something for everyone. So, pack your bag and explore this hidden gem in Mauritius.
20. Ile aux Aigrettes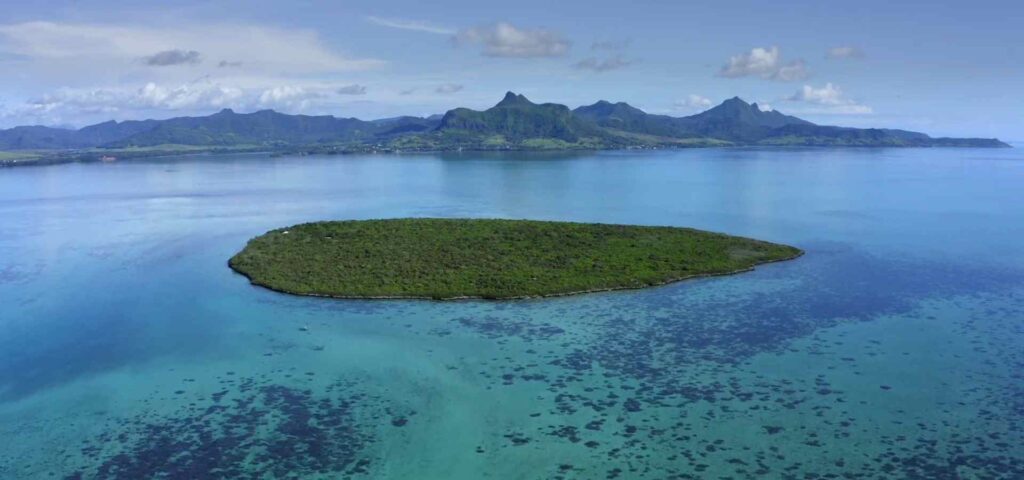 This enchanting island is located off the southeast coast of Mauritius. It's a true natural wonder that deserves a visit.  One of the most unique features of Ile aux Aigrettes is its remarkable biodiversity. Exploring the island's lush vegetation and encountering these rare creatures is a truly remarkable experience.
What sets Ile aux Aigrettes apart is its commitment to conservation and sustainability. Visitors can learn about the conservation projects and the island's rich history through guided tours, making it an educational and inspiring experience. Visiting Ile aux Aigrettes allows you to connect with nature and gives you a chance to contribute to preserving Mauritius's natural heritage.
So, if you are seeking a truly unique, eco-friendly adventure, Ile aux Aigrettes is the place to be. Enjoy its stunning landscapes and participate in the conservation efforts that make this island so special.
21. Le pounce Mountain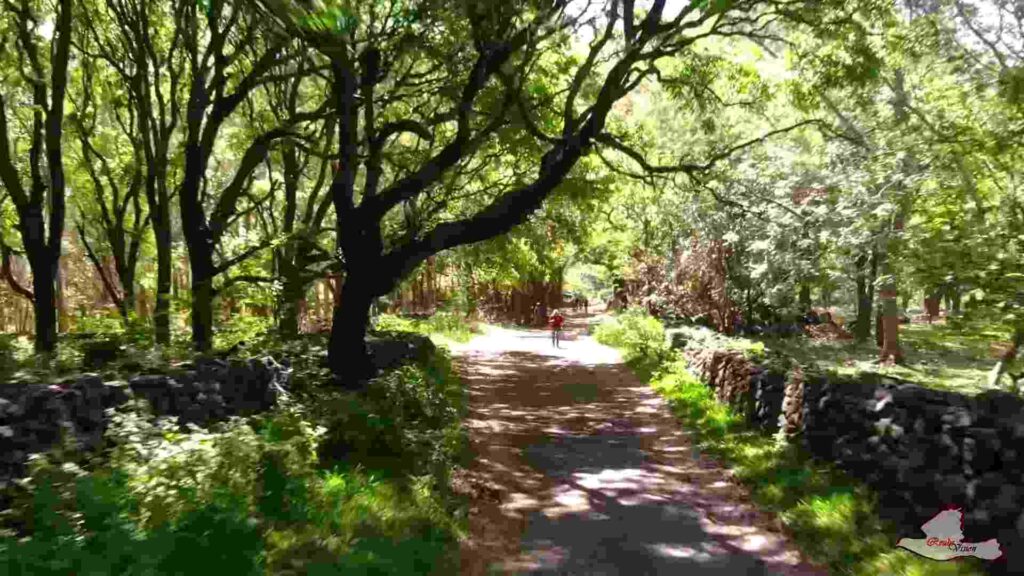 This majestic peak is a must-visit destination for adventure seekers and nature lovers. It's renowned for its unique shape, resembling a thumb when viewed from certain angles. It offers breathtaking views of the surroundings, including the vibrant city of Port Louis and the sparkling Indian Ocean.
The standout feature of Le Pounce Mountain is its hiking trails. Climbing to the summit is a thrilling experience for you. Once you reach the top, you will be rewarded with stunning vistas that make the journey well worth it. Beyond its natural beauty, Le Pounce Mountain holds cultural significance as well.
Whether you are an avid hiker or simply want to admire the captivating views, visiting Le Pounce Mountain is an adventure you won't want to miss. Embrace the challenge, soak in the natural beauty, and create memories that will last a lifetime. 
22. Le Roche qui Pleure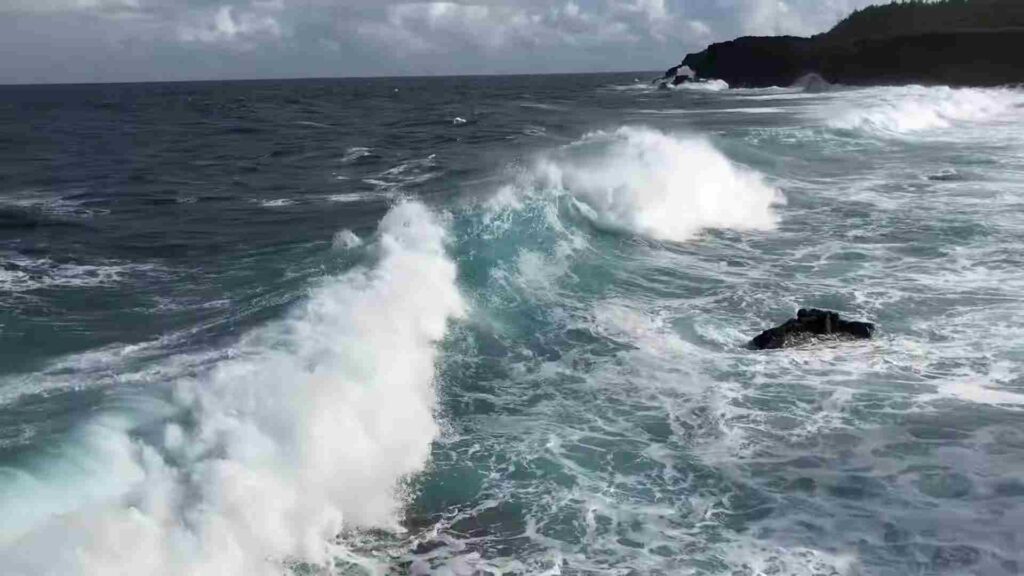 This captivating place in the southern part of Mauritius is a must-visit for its unique features and enchanting beauty. Le Roche Qui Pleure, which translates to ''The crying Rock,'', comes from the natural phenomenon of waves crashing against the rocky coastline. The water splashes against the rocks, creating a mesmerizing effect that resembles tears streaming down a face. It's a sight that is both awe-inspiring and poetic.
Visiting La Roche Qui Pleure allows you to witness the harmonious dance between land and the sea. It's a place where you can find solace, reflect, and appreciate the wonders of nature. So, if you seek a unique and soul-stirring experience, include La Roche Qui Pleure in your itinerary.
23. Chateau de Labourdonnais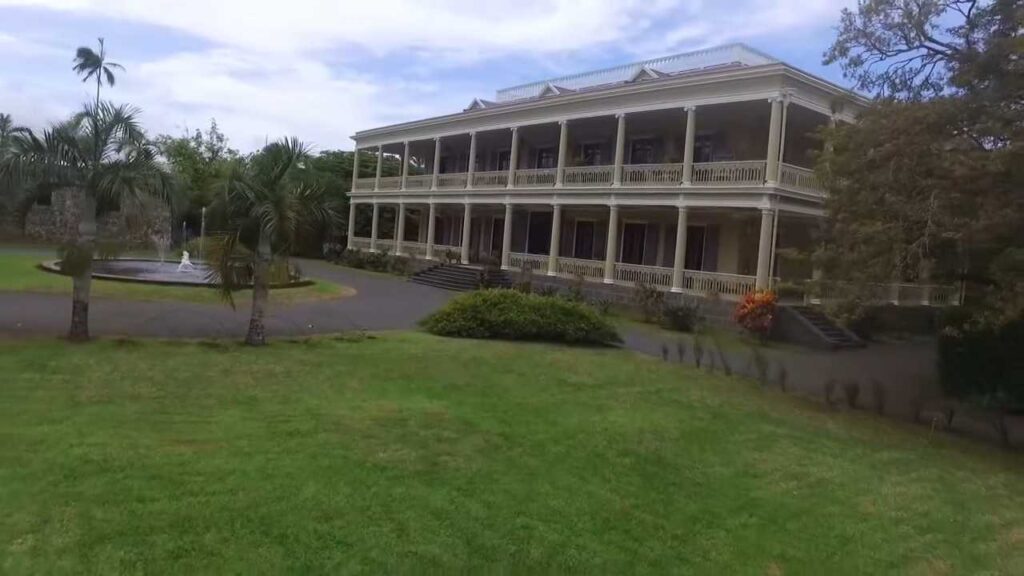 Chateau de Labourdonnais is a beautifully restored colonial mansion that offers a glimpse into the island's past. With its elegant architecture and gardens, it exudes charm and sophistication. Step inside, and you will be transported to a bygone era. Its expensive orchards and gardens make it one of the standout features of Chateau de Labourdonnais. You can stroll through the fragrant fruit trees and admire the vibrant blooms. You can also indulge in a guided tour to learn about the history of the estate or even enjoy a delightful meal at the on-site restaurant.
Visiting Chateau de Labourdonnais allows you to immerse yourself in the island's heritage and experience the grandeur of a bygone era. It's a place where history comes alive, and beauty surrounds you at every turn. So, include Labourdonnais in your itinerary for a truly memorable experience.
24. Ile aux Benitiers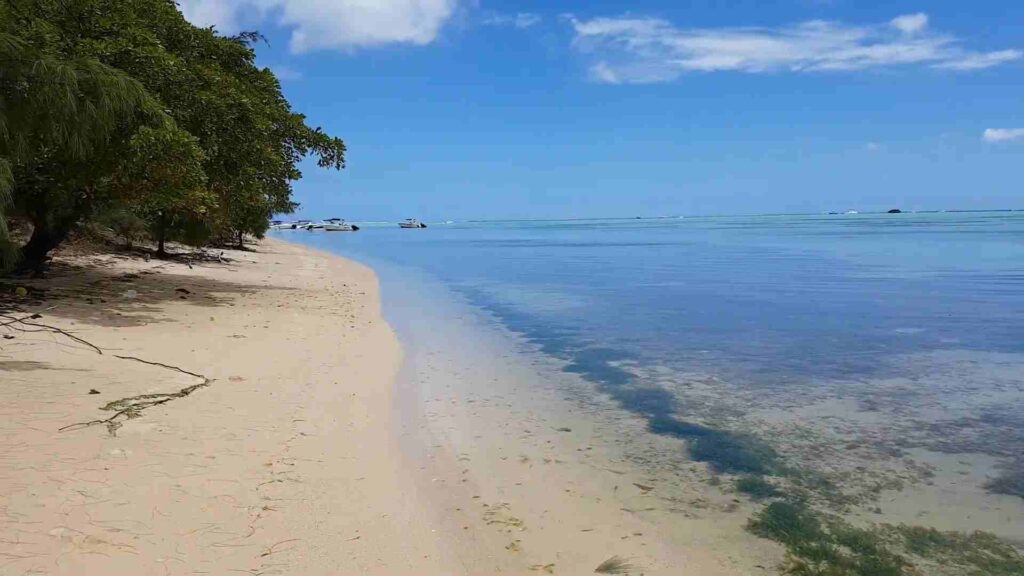 Ile aux Benitiers is a stunning island surrounded by crystal-clear turquoise waters. It's known for its pristine white sandy beaches and landscapes. One of its unique features is its abundance of marine life.
Diving in the surrounding water allows you to explore vibrant coral reefs. It's a paradise for nature lovers and enthusiasts and offers visitors a range of activities. You can indulge in delicious seafood, barbecue on the beach, take a boat tour around the island, or simply relax and soak up the sun.
Visiting Ile aux Benitiers will allow you to unwind in a tropical paradise and connect with nature. It's a place where you can create unforgettable memories and experience the true essence of Mauritius. So, include Ile aux Benitiers in your travel plans for a truly magical experience.
25. Le Souffleur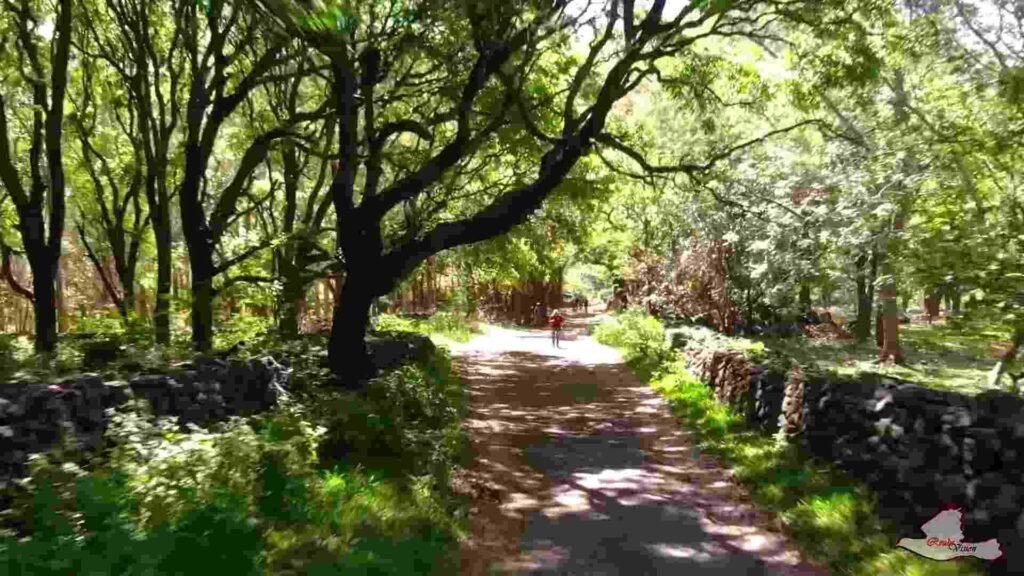 Le Souffleur is a coastal area known for its mesmerizing blowhole. Water shoots through a narrow opening when the waves crash against the rocks, creating a spectacular water sprout. It's a sight that will leave you in awe of nature's power. Its dramatic cliffs and rugged coastline make it unique, and the breathtaking views of the turquoise ocean meeting the jagged rocks are truly captivating.
Beyond its natural wonder, Le Souffleur offers a serene and peaceful atmosphere. You can take a leisurely stroll along the coastline, feel the gentle sea breeze, and listen to the soothing sound of the waves crashing against the rocks. Visiting Le Souffleur allows you to experience nature's raw power and beauty.
26. L'Aventure du Sucre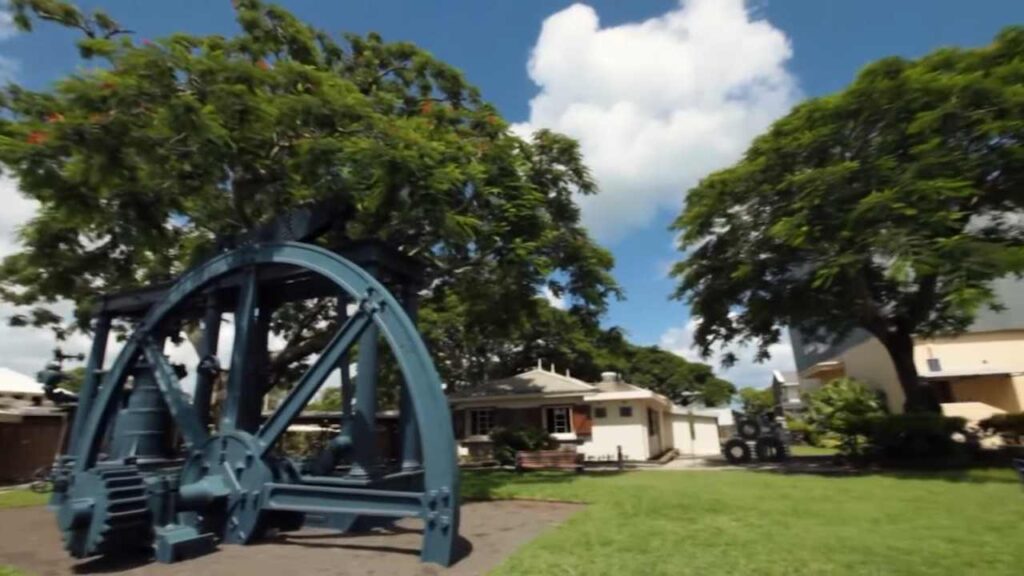 This fascinating place in Mauritius is a museum and heritage site that takes you on a journey through Mauritius's fascinating world of sugar production. It offers a comprehensive experience that showcases the island's sugar industry and its impact on the nation's history and culture. Its interactive exhibits and multimedia presentations make it unique. You can explore the sugar-making process and understand the significance of sugar in shaping Mauritius's economy.
L'Aventure de Sucre offers a delightful culinary experience. You can indulge in delicious sugar-based treats and take home some sweet souvenirs. Visiting the island will give you a deeper understanding of Mauritius's sugar heritage and its role in its development. Be ready to journey into Mauritius's sugar history and a delightful sensory experience. 
27. La Preneuse Beach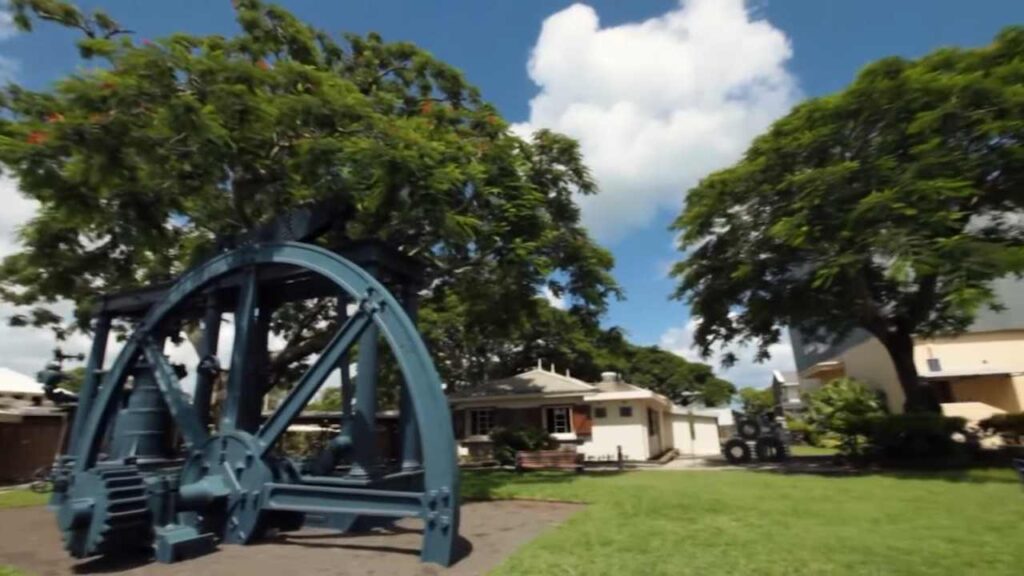 This stunning beach is worth a visit for its unique features and natural beauty. This beach is known for its pristine white sand and crystal-clear turquoise. It offers a serene atmosphere perfect for relaxation and unwinding, and its unique feature is its historical significance. It's home to the iconic Martello Tower. Exploring the tower and learning about its history adds more interest to your beach visit.
Visiting La Preneuse Beach allows you to soak up the sun, take refreshing dips in the ocean, and enjoy various water activities such as swimming. This beach is also a popular spot for picnics and beachside barbecues, making it an ideal place to spend quality time with friends and family.
With its surroundings and peaceful environment, La Preneuse Beach offers an escape from the hustle and bustle of everyday life. Don't miss visiting this beautiful beach and creating lasting memories.
28. Le Waterpark and Leisure Village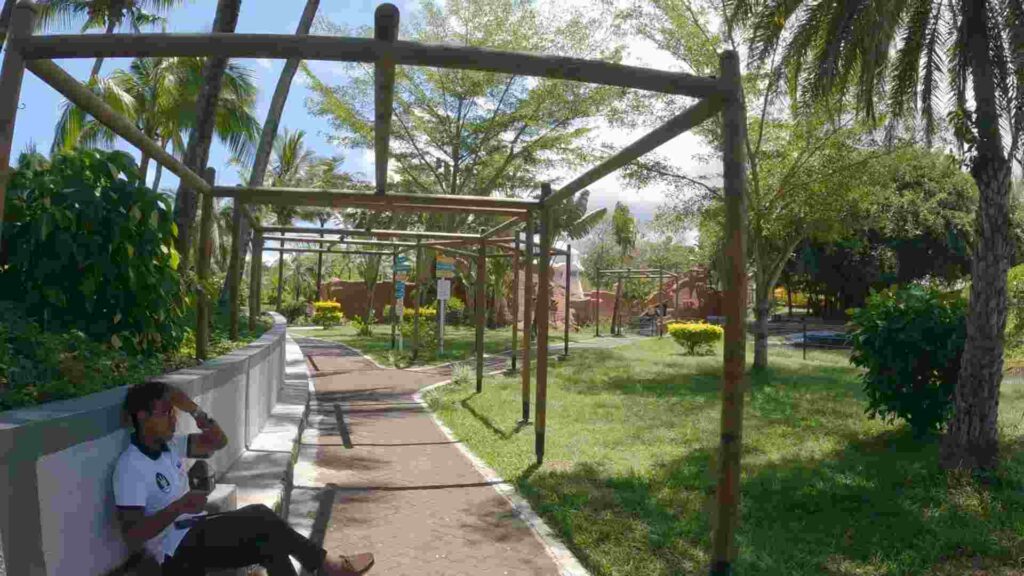 This destination offers a thrilling experience for both locals and tourists alike. Its exciting water slides, wave pools, and lazy rivers make it the perfect place to beat the heat and have a good time. One of the unique features of Le Waterpark and Leisure Village is its wide range of attractions, suitable for all ages.
Whether you are a thrill-seeker looking for an adrenaline rush or a family wanting to enjoy a day of fun together, there is something for everyone at this waterpark. Visiting this village guarantees a day filled with laughter, excitement, and unforgettable memories. You can slide down thrilling water slides, relax in the wave pool, or enjoy the beautiful surroundings.
With its vibrant atmosphere and diverse attractions, Le Waterpark and Leisure Village is a fantastic destination for a day of pure enjoyment. Make sure to include it in your itinerary for an unforgettable adventure.
29. Eureka House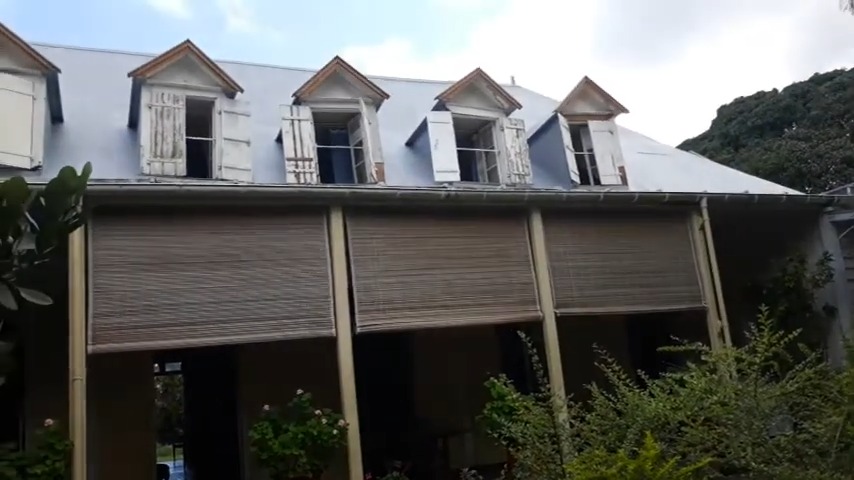 This mansion is a true gem that showcases the island's colonial heritage. Its distinctive architecture, verandas, high ceilings, and wooden floors transport visitors back to the 19th century. Its well-preserved interior is a unique feature that offers a glimpse into the past.
As you wander through the rooms, you will discover vintage photographs and intriguing artifacts that tell the story of Mauritius's cultural and historical heritage. With its captivating architecture and fascinating history, Eureka House is a must-visit. You can stroll through the beautifully landscaped gardens and offer breathtaking views of the surrounding mountains.
30. La Nicoliere Dam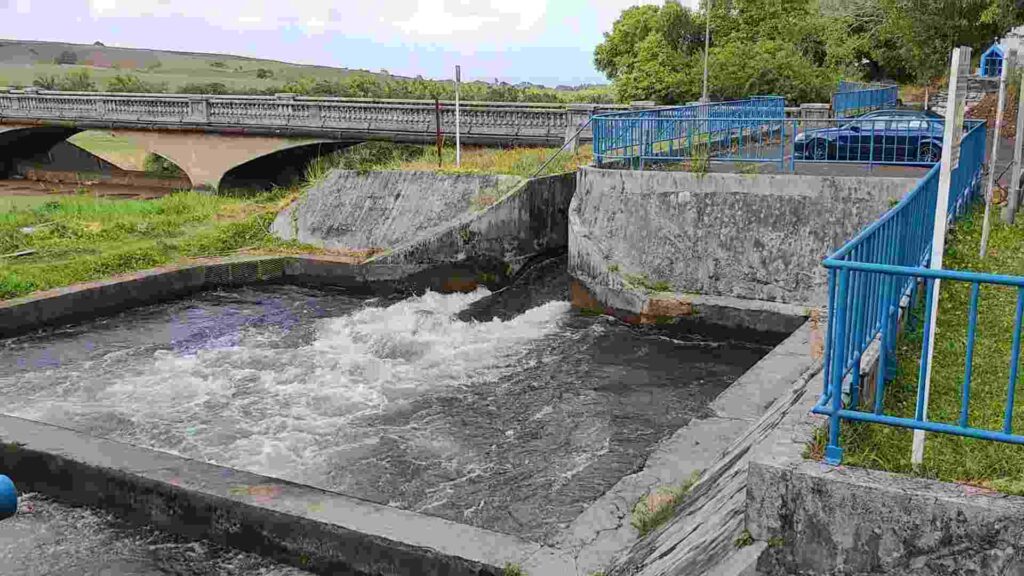 La Nicoliere Dam is a hidden gem that offers a tranquil escape from the hustle and bustle of everyday life, surrounded by lush greenery and nestled in the heart of nature. It provides a serene setting for relaxation and rejuvenation.
The cam water of the dam is framed by rolling hills and dense forests, creating a breathtaking backdrop perfect for nature lovers and photography enthusiasts. Visiting this dam will allow you to connect with nature and enjoy a peaceful atmosphere. You can take a walk along the dam, go fishing, or simply sit back and soak in the beauty of your surroundings.
With its natural charm and serene environment, La Nicoliere Dam is a must-visit for those seeking a peaceful retreat and a chance to reconnect with nature. Don't miss the opportunity to experience the tranquility and beauty of this hidden gem.
31. La Vallee des Couleurs Nature Park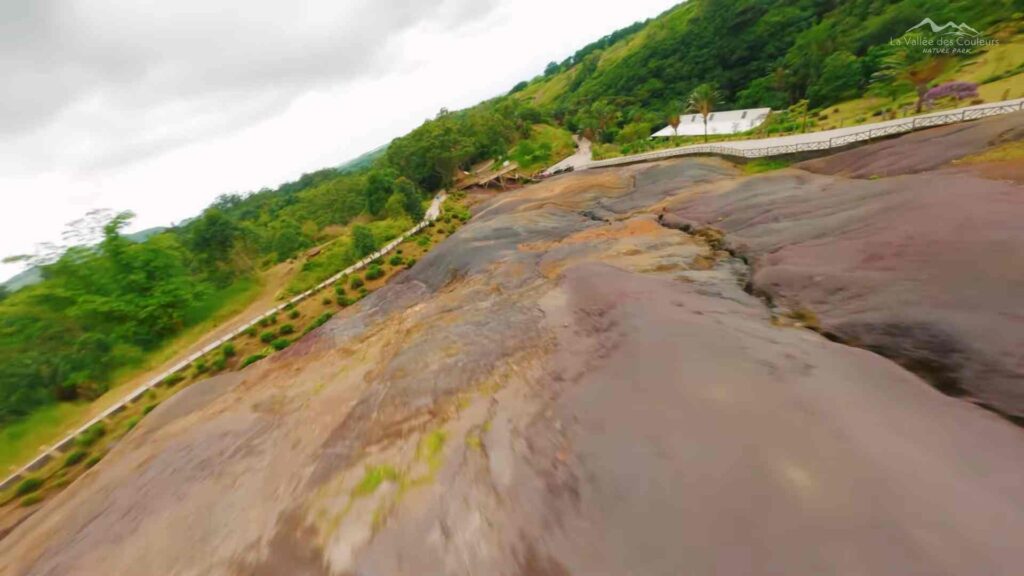 This park offers a truly immersive experience in the heart of nature. One of its unique features is the vibrant and diverse landscape that awaits visitors. From majestic waterfalls to rolling hills, from lush vegetation to colorful earth formations, the park showcases the stunning beauty of Mauritius's natural environment. 
What makes this park special is the Seven Coloured Earths, a natural phenomenon where the soil displays a mesmerizing array of colors. Visitors can witness this enchanting sight and even participate in activities like zip-lining to explore the park's diverse terrain.
With its breathtaking scenery and unique geological formations, La Vallee des Couleurs Nature Park is a paradise for adventure seekers. Don't miss the opportunity to witness the wonders of this extraordinary park and create unforgettable memories.
32. Mauritius Aquarium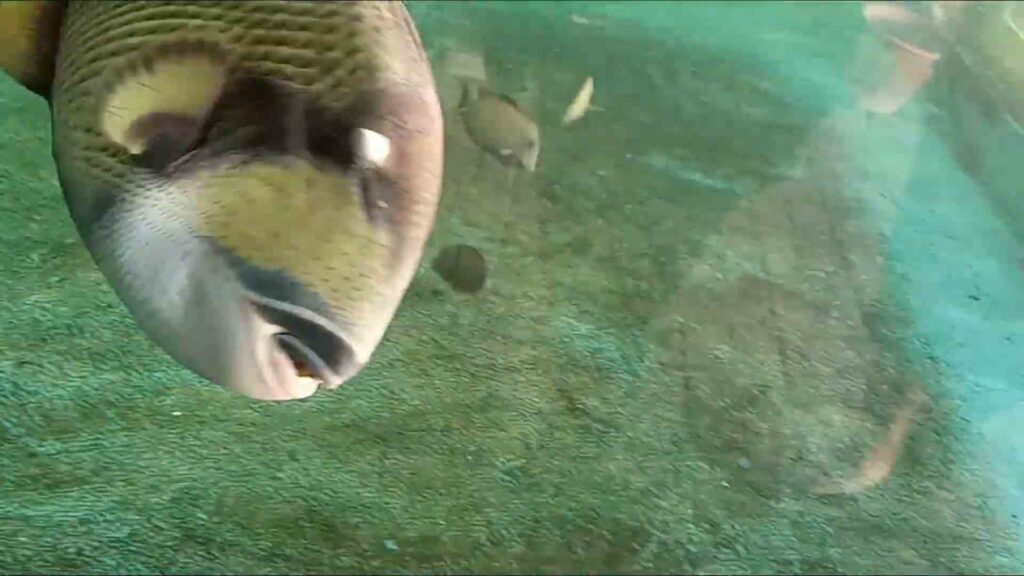 This attraction in Pointe aux Piments offers a fascinating glimpse into the underwater world surrounding this beautiful island. Its diverse collection of marine species provides an immersive experience for visitors of all ages. The unique feature of the Mauritius Aquarium is its stunning coral reef exhibit. You can marvel at the vibrant colors. Visiting this Mauritius Aquarium allows you to get up close and personal with marine life you may not have the chance to see otherwise.  From colorful tropical fish to graceful sea turtles, you can witness the beauty and diversity of the ocean firsthand.
With its educational exhibits and interactive displays, the Mauritius Aquarium is a fun experience and an opportunity to learn about the importance of marine conservation. Don't miss the chance to explore this underwater wonderland and gain a deeper appreciation for the ocean's wonders. 
33. Les 7 Cascades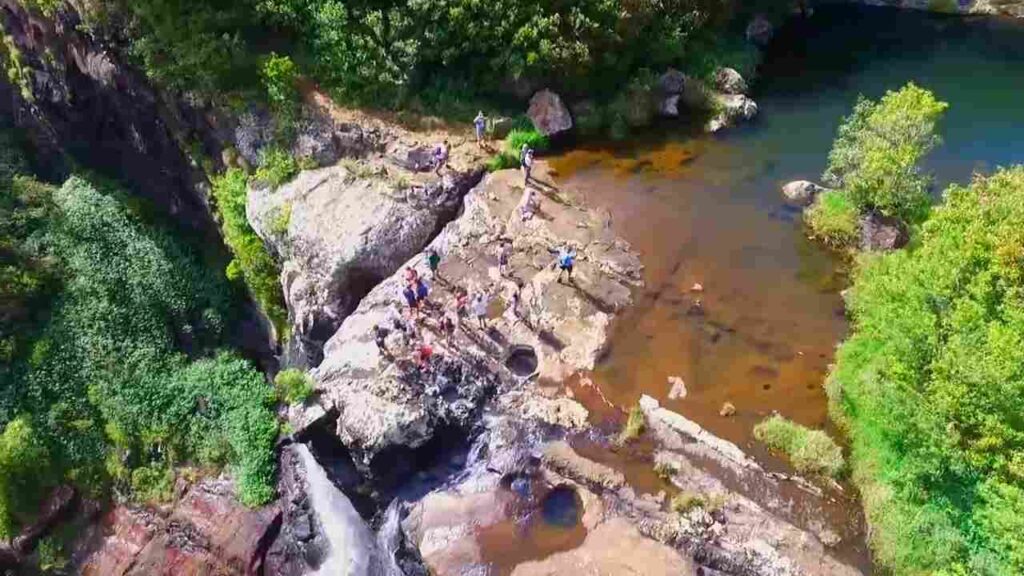 A destination in Mauritius that should be on your must-visit list. A natural wonder known as the Seven Waterfalls will leave you in awe. It's located in the heart of the lush Mauritian jungle. This enchanting site offers a series of cascading waterfalls set amidst magnificent surroundings.
The unique feature Les 7 Cascades provides is the opportunity it provides for adventure and exploration. You can embark on thrilling hikes through the dense forest and climb rocks to reach each of the seven cascades. Beyond the stunning natural beauty, Les 7 Cascades also offers opportunities for activities, allowing you to immerse yourself in the wonders of the landscapes. 
Suppose you are seeking an unforgettable outdoor adventure and a chance to witness the raw beauty of nature. A visit to Les 7 Cascades is a must. So, put on your hiking boots and get ready to be amazed by the awe-inspiring beauty of these magnificent waterfalls. 
34. Pointe d'Esny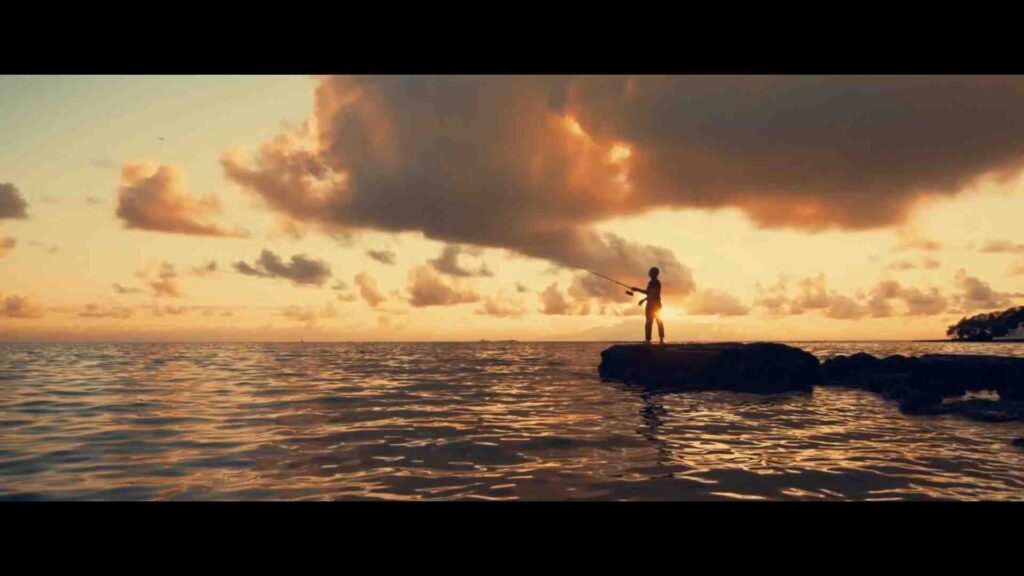 A destination in Mauritius is renowned for its crystal-clear turquoise water. Its untouched beauty and tranquility are its unique features. Unlike some of the more crowded beaches in Mauritius, Pointe d'Esny offers a peaceful and secluded atmosphere, allowing visitors to relax and unwind.
One of the main attractions of Pointe d'Esny is its stunning coral reef. Diving enthusiasts will be delighted by the opportunity to explore this underwater wonderland. The beach also offers excellent conditions for swimming and various water sports. It is one of the best places to visit in Mauritius.
35. Heritage Nature Reserve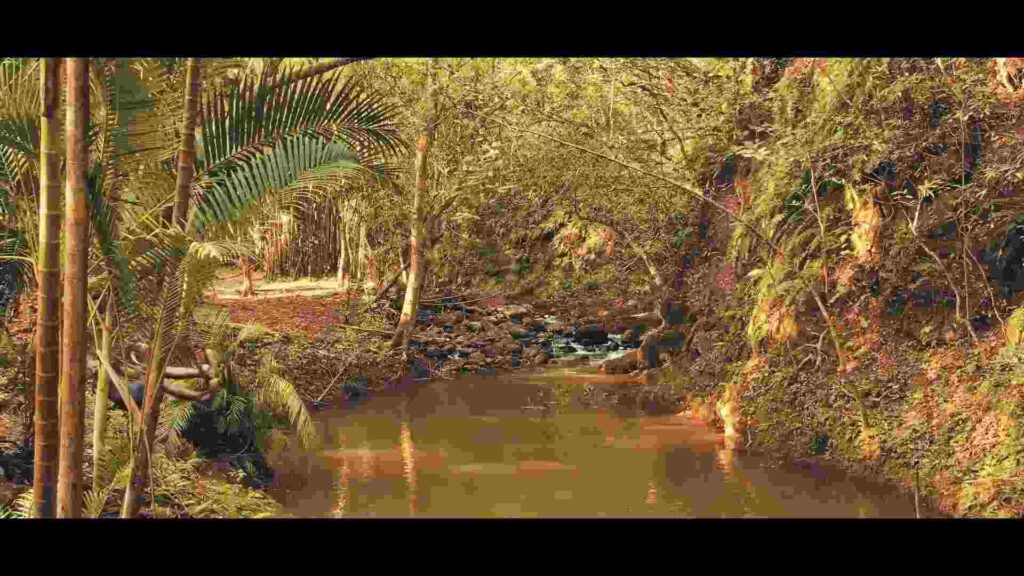 The Heritage Nature Reserve is a haven of natural beauty and diversity. Its unique features, including lush forests, rolling hills, and pristine rivers, set it apart. The reserve is home to incredible flora and fauna, making it a paradise for wildlife lovers and bird watchers.
One of the main highlights of the Heritage Nature Reserve is its extensive network of hiking trails. Beyond its natural wonders, the Heritage Nature Reserve also boasts cultural significance. It is home to preserved historical sites, showcasing the rich heritage of Mauritius and its diverse past. 
Suppose you seek an immersive experience in nature coupled with cultural exploration. Heritage Nature Reserve is a must-visit. Embrace the beauty of the outdoors and embark on an unforgettable journey through this remarkable reserve.
36. Martello Tower Museum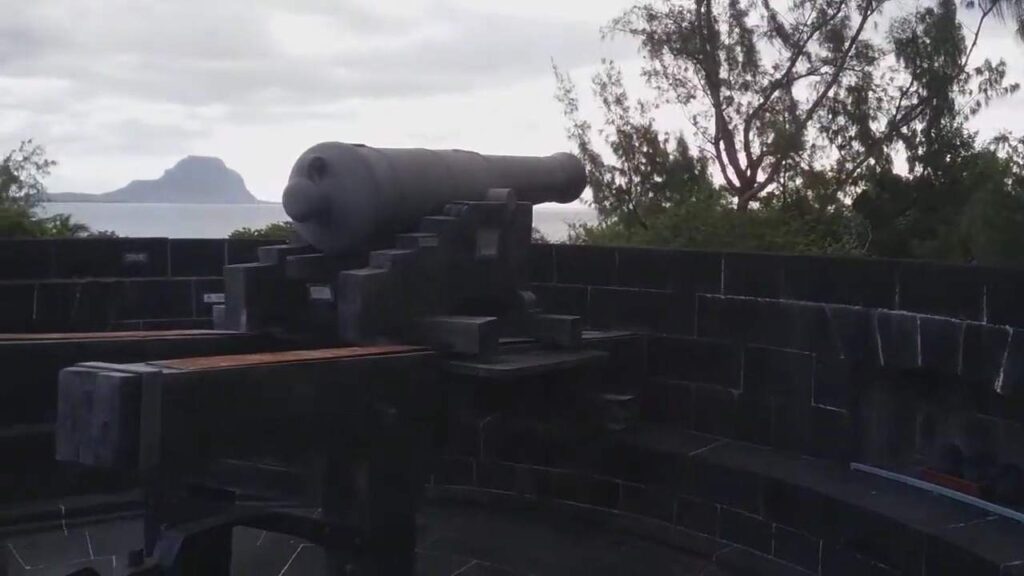 Martello Towe Museum is a captivating historical site showcasing Mauritius's rich heritage. Its well-preserved Martello Tower, a fortified structure built during the colonial era, makes it unique. This tower is a testament to the island's past and offers a glimpse into its strategic importance which makes it one of the unique places to visit in Mauritius.
Visiting the Martello Tower Museum allows you to step back in time and explore the fascinating exhibits that highlight the history and significance of these fortifications. Moreover, the Martello Tower Museum offers a breathtaking view of the surroundings, allowing visitors to appreciate the beauty of Mauritius.
How Long Can I Stay In Mauritius As a Tourist?
Tourists can generally stay in Mauritius for up to 90 days on a tourist visa. There are so many places to visit in Mauritius. This three-month window provides ample time to explore the island's diverse attractions, immerse in its culture, and unwind on its breathtaking beaches.
Whether planning a short getaway or an extended vacation, Mauritius has something for everyone. If you're seeking a leisurely holiday with a mix of relaxation and exploration, a stay of about 1 to 2 weeks can suffice. This duration allows you to experience the beach waves, partake in water sports, savor the local cuisine, etc.
---
Conclusion
So far, it's evident that Mauritius is not just a destination; it is an experience never to be forgotten. From the Azure waters of its coastline to the lush hinterlands that whisper tales of history, each place in Mauritius is a chapter that should be written about in your diary.