Birthday is a special time of the year to celebrate your existence, the joy of life itself. A lovely day for wearing your best cloth, having the most admired people around you to celebrate with you, a day you are not tired of laughing, shouting, dancing, receiving gifts, reading messages, posing for pictures, and saying thank you.
Birthdays are meant to be memorable, and the best way to make them memorable is to spend them with your loved ones, gisting, eating special foods and drinks, and dancing in a cozy environment.
List of 10 Best Places For Birthday Dinner In Ikeja and Their Address
There are a lot of cozy places in the Ikeja part of Lagos where you can celebrate your birthday by having a birthday dinner with your friends and family, depending on your desired population.
Here is the list of the best places for your birthday dinner;
1. Rhapsody Restaurant 
Rhapsody restaurant is a place to be as it has fine dining with many intercontinental dishes for you, your loved ones, and your kids to choose from on your special day at affordable prices. The restaurant has a lounge and bar that operates till midnight with a daily special show, making you worry less about the entertainment part of your birthday celebration.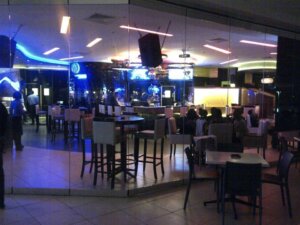 Mondays in Rhapsody is for Dj @bjockey as he hosts a full house, Tuesdays:
Tuesdays: Salsa night with @bodylanguag Wednesdays: KaraOke with @djbeeast; Thursdays: live band music with @saltoftheearthband; Fridays, Saturdays, and Sundays: DJs carnival with the in-house and invited  DJs.However.the program changes.
All you have to do is make a reservation before going according to the number of your invites to prevent disappointment, as the place is always occupied. However, their customer service fluctuates as it might be good today and poor tomorrow.
The most special thing about the place is your spendings are transparent as you see the prices for each dish on the Menu Card.
Address 1:   Ikeja City Mall,Obafemi Awolowo Way,Alausa ,Ikeja,Lagos
Address 2:53-55 Sobo Arobiodu St, Ikeja GRA 101233, Ikeja
Contact No:: 0817 777 7825
Contact Website:rhapsody. ng
Instagram:rhapsodys_nigeria
The restaurant opens at 11 am, closes by 2 am On Mondays to Thursdays, and opens from 11 am to  5 am on Fridays to  Sundays.
---
2. Ocean Basket
Ocean  Basket is a modern seafood restaurant located on two axes of Ikeja, at the Ikeja, Gra, and Ikeja city mall. The restaurant can accommodate a not-too-large crowd in a serene environment, and the delicious seafood and sharing platter menu are enough for a memorable birthday.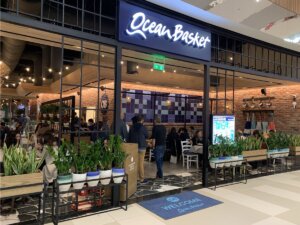 The menu ranges from the affordable main menu, sushi menu, kids menu, and drinks menu with friendly, timely, and welcoming staff that gives attention to details and will even join in the birthday celebration with you singing melodious birthday songs. In summary, their customer service is top notched. 
However, the food might not be as hot as you want, but it sure tastes good and leaves you craving more. The outside is also good for birthdays if you do not love to stay in a cold room as the inside is fully air-conditioned.
Address 1:58c Isaac John St, Ikeja GRA 101233, Lagos
Contact No::  0809 182 6777
Address 2: Ikeja City Mall, Obafemi Awolowo Way, Alausa, Ikeja, Lagos.
Contact No::  0818 295 1963
Contact Website:https://www.oceanbasket.com/
The restaurant opens at 10:30 am and closes by 10 pm on Sundays to Thursdays and from 10:30 am to 11 pm on Fridays and Saturdays. 
---
3. The Orchid Bistro
The Orchid Bistro is perfect for birthdays with just a few friends and family. However, you need a high budget to enjoy yourself fully, as the service charge is high.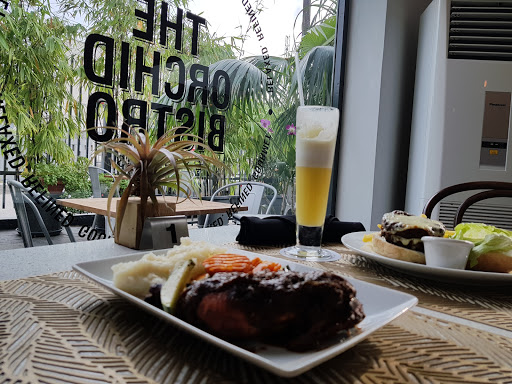 Having your birthday dinner at the Orchid Bistro will be memorable as visiting there alone is a whole experience. The restaurant has a good environment with lovely and welcoming flowers in the garden and delicious meals well prepared and arranged on your plate.
The customer service is lovely as each table has two courteous servers assigned to it depending on what you ordered, and the convenience is so clean with adequate towels to use. 
Address: 58a Isaac John St, Ikeja GRA 101233, Ikeja
Contact No: 0812 584 8463
Instagram: theorchidbistro
The restaurant opens at 7 am, closes by 9 pm from Mondays to Thursdays, and closes by 11 pm and 10 pm on Fridays and Saturdays, respectively.
---
4. Bungalow Restaurant
The restaurant has a quiet and private ambiance, with comfy furniture and different segments for you to enjoy your birthday if it's just you and your spouse. You can also employ the service of the staff to sing a  melodious birthday song if the birthday dinner is a surprise. They have good customer service, great food, and nice cocktails.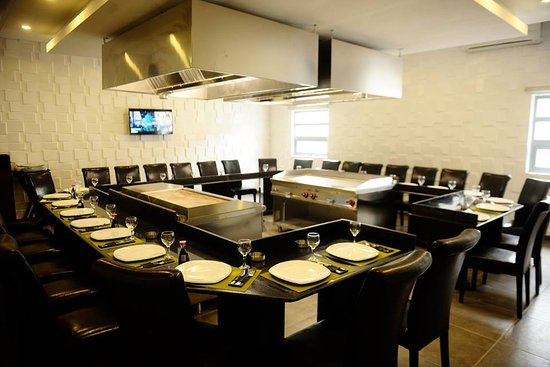 However, the meal price is on the high side as they add value-added tax separately, but with the taste of the food, the cost is worth it. They deal mainly with intercontinental dishes, and you can also order online if you love to taste the food afterward.
Address:

Plot 9, Adekunle Fajuyi Way, Ikeja GRA

Contact No:: 09080000257, 09063796694

ContactWebsite

:

[email protected],

Instagram:

rhapsodys_nigeria

The restaurant opens at 10:30 am and closes by 10:30 pm, from

 Sundays to  Saturdays.
---
5. CUT Steakhouse
The restaurant is on the ground floor at Radisson Blu Hotel. The restaurant is a home away from home as they have nice, friendly, approachable, and courteous waiters.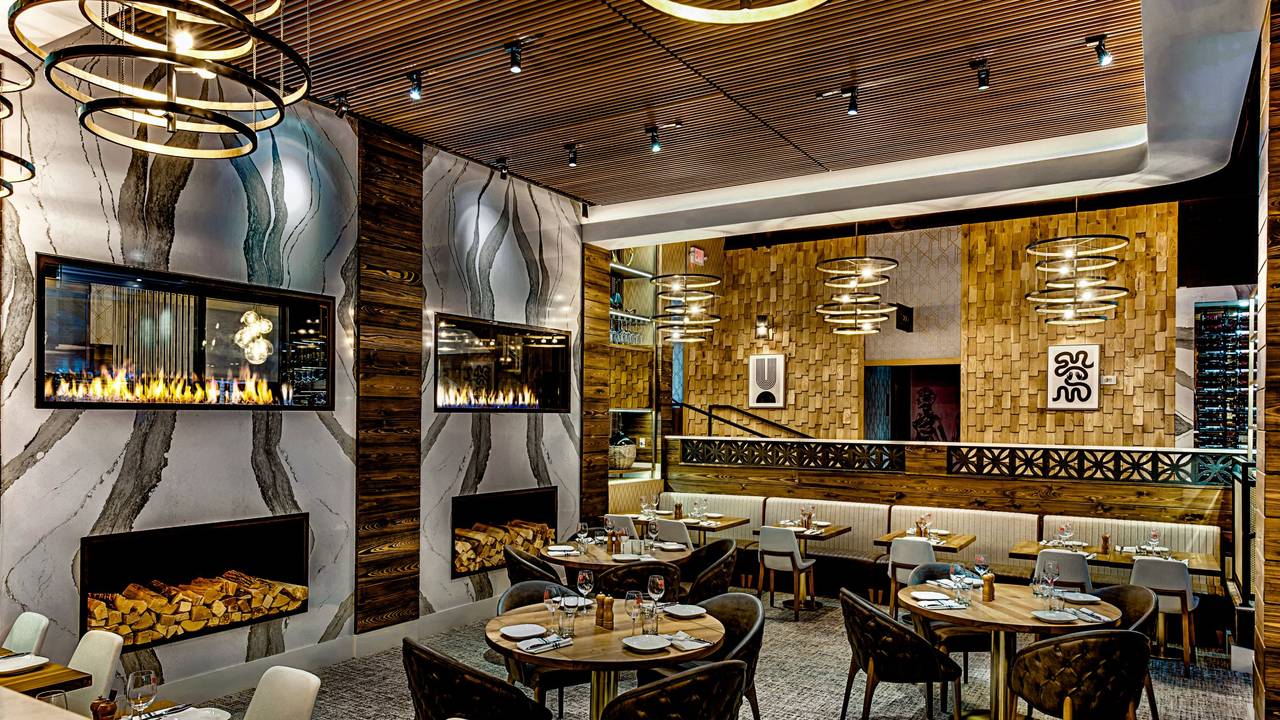 The setup is cool and beautiful to have a memorable birthday dinner without disturbance and a good meal with different fries. One visit is enough for you to return as the meal tastes very good with available, affordable varieties. However, you cannot order food online or plan your budget outside the restaurant.
Address: 38/40 Isaac John St, Ikeja GRA 100271, Lagos
Contact No:: +234 908 780 5555
Contact Website: www.radissonhotels.com
Facebook: RadissonBluLagosIkeja
The restaurant opens at 10 am and closes by 10 pm from Sundays To  Saturdays.
---
6. Zen Gardens 
Zen  Garden is a lovely Chinese restaurant with a fully air-conditioned room, breathtaking interior designs, and segments to enjoy your birthday with friends or family. Comfy chairs for kids are available with toys to play with and extra diapers to change, although you will have to pay for this. My time here was really amazing and I had so much fun.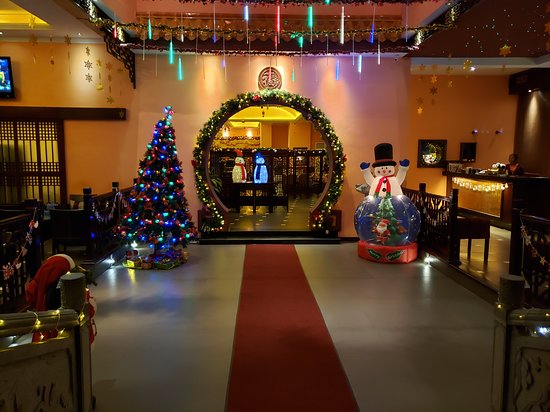 The restaurant management is competent enough to help you plan a birthday dinner with many surprises and good meals. The affordable Chinese meals are generously portioned into your plate, leaving you satisfied with your average budget.
You can place your meal order online( zengarden.com.ng), book reservations on their website, and take away your neatly packed leftover food.
Address: G.R.A, No. 60 Isaac John St, Ikeja GRA 101233, Ikeja
Contact No: 0818 815 7889
Contact Website: zengarden.com.ng
The restaurant opens at 11:30 am and closes by 10:30 pm from Sundays to  Saturdays.
---
7. La Giara Restaurant
La Giara is one of the best Italian restaurants on the ground floor of the Sheraton hotel, Ikeja, with a good Italian ambiance and meal for your birthday dinner.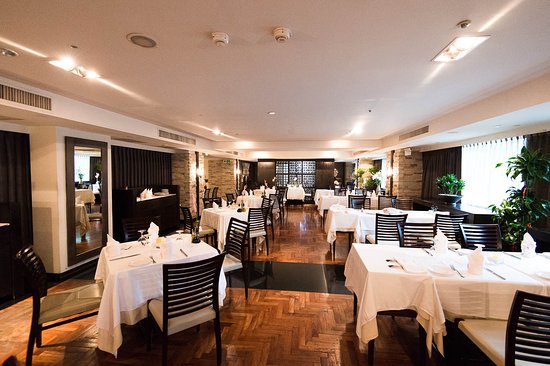 The restaurant has patient and welcoming management staff helping you choose the best meal, and their pasta is top notched.
Address: 30 Mobolaji Bank Anthony Way, Ikeja
Contact No:: 012800100
Contact Website: lagiaralagos.com
The restaurant opens at 5:30 am and closes by 10:30 pm from Sundays to Saturdays. 
---
8. Tilapia and Tinz
It is an African signature Restaurant located in a serene environment that creates an affordable healthy eating and relaxation lifestyle by making available a menu with typical African traditional recipes and varieties of seafood.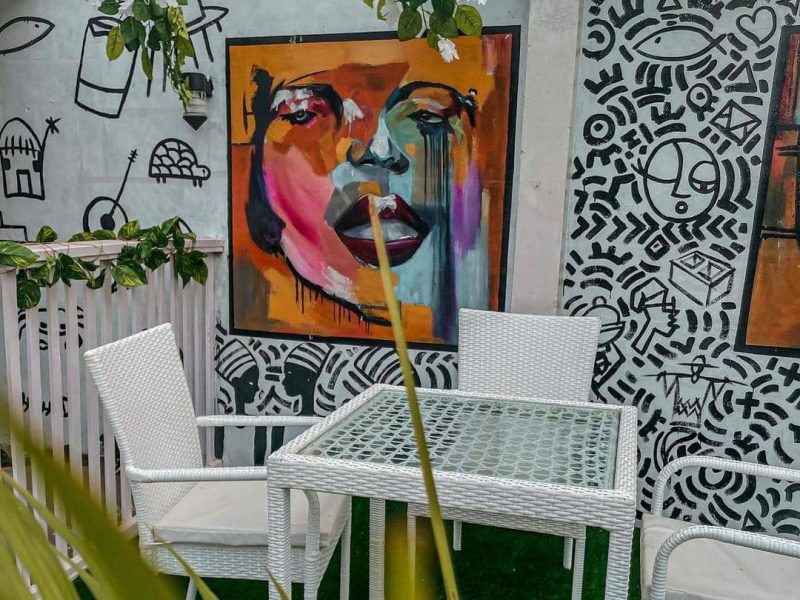 A restaurant is a good place to have your birthday dinner with friends and family, gisting and munching different ocean foods with soft background music. You might be lucky enough to get a birthday gift from them as they are known to celebrate with birthday celebrants.
To reduce wait time, you can make table reservations, place orders on their website or before your birthday, and call them to confirm your reservations. Delivery service is also available across Lagos. The restaurant guarantees a 100% money payback if you are unsatisfied with the quality and quantity of any meal (not for delivered food).  
They also offer indoor and outdoor catering services if you want to taste their food but do not want to use their restaurant for your birthday.
Address :11 Oduduwa Cres, Ikeja GRA 101233, Ikeja
Contact No::0808 888 8235,0802 132 3158
Contact Website: tilapiatinz.com
Facebook:Tilapia&tinz.
Instagram:@tilapiatinz
Whatsapp:tilapia&tinz
The restaurant opens at 11 am and closes by 11 pm from Sundays to  Saturdays.
---
9. Golden Eagles Spur
The restaurant has existed since 1976, with its headquarters in South Africa, and has different branches across Africa, South Africa, and beyond. The family restaurant delivers an excellent and relaxed experience in a comfortable environment for you, your friend and family, or you and your spouse on your birthday. (Table for two).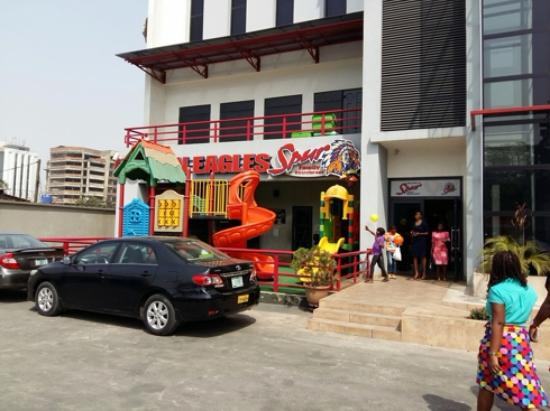 The Golden Eagles Spur has an attitude of celebrating customers' birthdays with a signature of their song, as couples of birthdays can be celebrated just in a day with their courteous staff always available to make you feel loved.However.the food takes too much time to prepare but always tastes good after it comes.
The restaurant has a playpen for kids, nice interior decor and space, and a comfortable seating arrangement making it easy to have a birthday celebration. A spacious parking lot with high security and online delivery is also available through Jumia.
You can make reservations for your birthday in any of their branches, as their website has a special icon for birthdays. Other branches in Lagos include; Amazon Spur at the Landmark Center and Seven eagles spur at Ikeja Center Mall, Alausa, Ikeja, Lagos.
Address: Landmark House, 52-54 Isaac John St, Ikeja GRA 100271, Lagos
Contact No:00234-14 531 270
Contact Website:www.spursteakranches.com
Email Adress:[email protected]
Customer Service:[email protected]
The restaurant opens at 8 am and closes by 10 pm from Sundays To Saturdays.
---
10. Casper And Gambini Restaurant
The international cafe was established in 1996 and provided a serene environment and meal for a birthday dining experience. The restaurant's ambiance has an Italian setting. It offers various meal options for your breakfast and brunch, soups, starters, salads, sandwiches, pizza, burgers, pasta, coffee, tea, beverages, and desserts.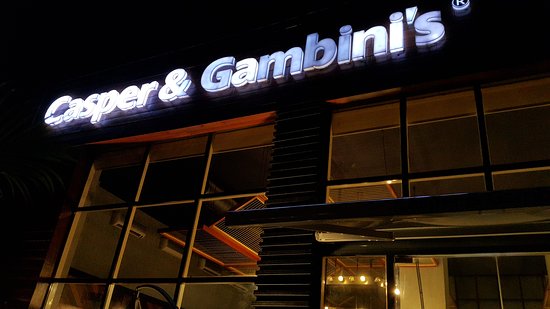 The kids also have their section of meals on their menu cards. Moreover, the restaurant is spacious enough to host up to  100 customers at once, with affordable meals ranging from #1000 to # 13,500(Casper and Gambini's), depending on the meal.
Address: Ikeja City Mall, Obafemi Awolowo Way, Oregun, Ikeja
Contact No:0817 001 1228
Contact Website:casperandgambinis.com
The restaurant opens at 10 am and closes by 2 am on Mondays to Sundays. 
---
Conclusion
You will agree that tasty meals, drinks, gifts, and lots of fun with your loved ones in a serene and beautiful environment make a birthday memorable. This you can get from these restaurants with your average budget plan. However, meal prices in a few restaurants are high, and few have bad customer service.
Enjoy your birthday as you choose one of these restaurants to celebrate your birthday.