Lagos is a beautiful city surrounded by bodies of water. This city, even though some call it simple, has luxurious places and destinations that beautiful beach resorts that can be used as a holiday destination, romantic getaway, or even weekend getaway.
However, not to be a pessimist, getting or reserving a spot at a beach resort in Lagos can be pretty expensive. This is because every visitor is given the same treatment a King or Queen would receive. Ultimately, beach resorts in Lagos are beautiful and should be experienced by everyone.
10 Remarkable Beach Resorts in Lagos & Pictures In 2023
This list is for you if you are looking for the perfect beach resort in Lagos for fun and relaxation. We've taken time to tour around this state, checking various resorts to give you the top 10 remarkable beach resorts in Lagos.
1. La Campagne Tropicana Beach Resort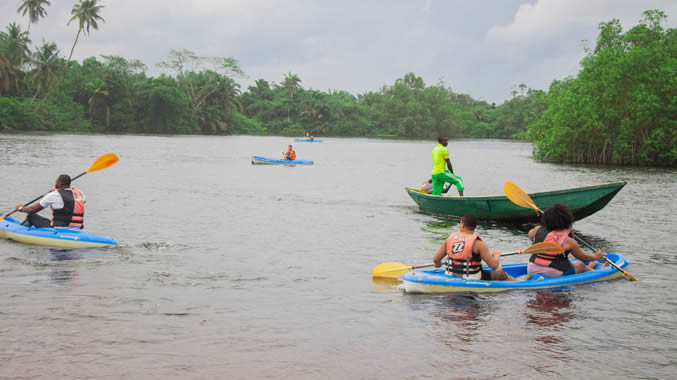 La Campagne Tropicana Beach resort is one of Lagos's most visited beach resorts with an African theme ambiance. The beach is located around the Ibeju lekki area of Lagos.
The name "La Campagne Tropicana" alone should give you a mental picture of how it looks, and I kid you not, it looks better than it sounds. The beach resort covers 65 acres of land mass with a sandy beach, a mangrove forest, and a freshwater lake. The mangrove forest provides tourists will an alluring view of different plants and animals, some of which are squirrels and monkeys. The freshwater lakes allow tourists to go fishing if interested, and you can also chill on the beautiful, shiny sandy beach. 
This beach resort is a mixture of African architecture and infused with modern furnishings and amenities, as you would see in any 5-star resort. They also have experienced chefs capable of making local and continental dishes for their visitors.
Ultimately, this beach resort is definitely at the top of our list, as it's the perfect location for camping, picnic, honeymoon, and even weddings. NOTE: You must show your government-issued identification before being granted access to the resort, and only phone cameras are allowed there. Other forms of cameras are not allowed.
Address: Ikegun, Ibeju-Lekki Area, Off Lekki/Epe Expressway, Lagos, Nigeria.
Phone: (+234)07085292796, (+234) 08052225226
---
2. La Manga Luxury Beach Villa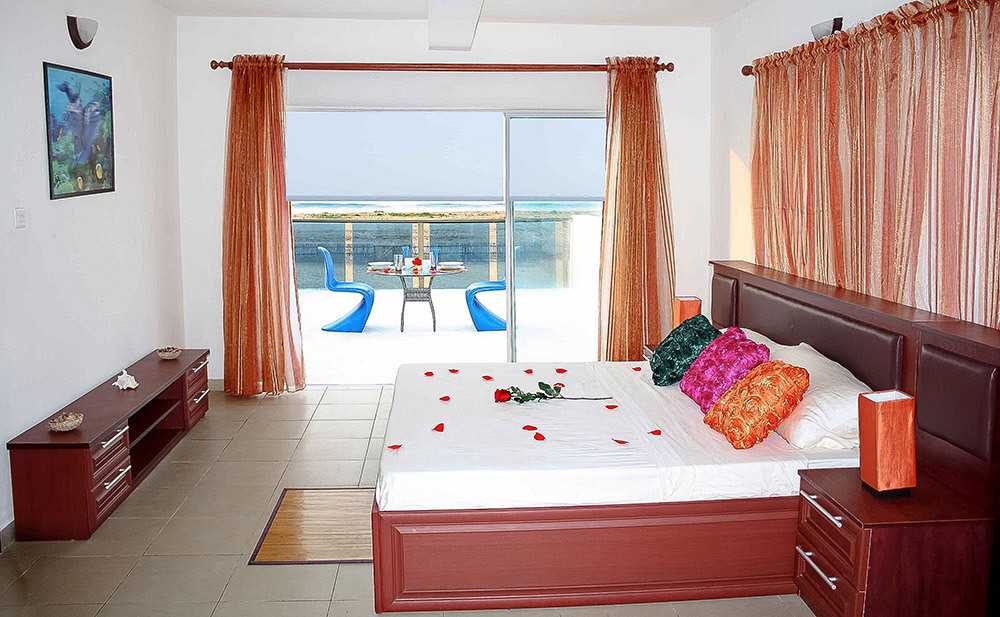 This beach resort is arguably a way to get out of the country without boarding a plane. This beach is constructed with Spanish architecture with a quiet and alluring ocean view. Magnificent right?
This beach resort is one to visit with loved ones for a quick weekend or romantic getaway. Each villa has modern amenities like a rooftop jacuzzi, bar, poolside barbeque grill, and a sizeable swimming pool. 
This beach resort is on Ilashe island, covering 15,000 square meters of land mass. This location is ideal for exclusive private and corporate events such as cocktails, weddings, social and family gatherings, corporate executive retreats, training, seminars, and complete product launch.
The villa also has one of the best spas in the country. Imagine being massaged in an open area filled with coconut trees and fresh air. Fascinating right?
Another intriguing element about this villa is that it has a golf course and a beach volleyball court. And you can also use jet skis and go on a boat cruise. The activities this beach offers will make you want to come back multiple times. The villa has chefs that can prepare both local and international cuisines. They also allow guests to bring their food or bring their chef. 
La Manga Luxury Beach Villa is the place to go if you want second-to-none relaxation, exceptional service, and extraordinary enjoyment.
Address: Ilashe Island, Lagos, Nigeria
Phone: +234-703-724-7212
---
3. La Casa Resorts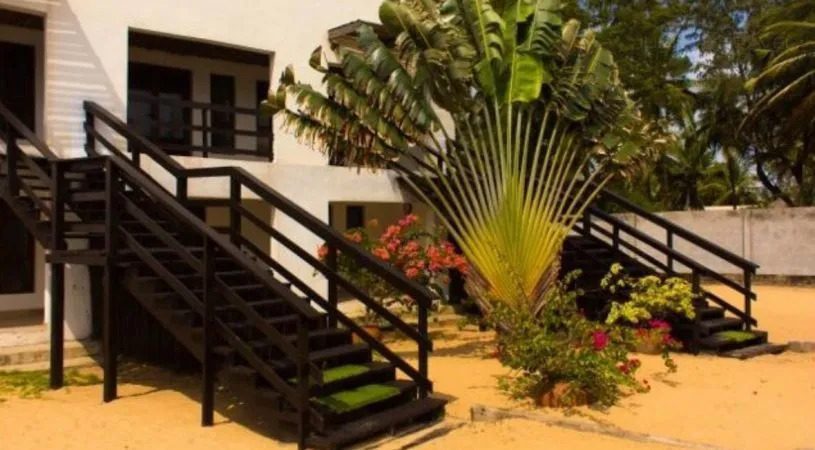 It is a beautiful and captivating resort located in Ilashe, around Badagary Creek. It's a home away from home. This resort is a private beach resort built for people who want to stay away from the ever-busy city life in Lagos.
Essentially, they take relaxation a notch higher. The only people around this resort are the locals, mainly fishermen, and farmers. One fascinating thing about this resort is that the only noise you'll hear is the waves of the Atlantic ocean crashing against the shore and the melodic sounds of birds. If that isn't relaxing, I don't know what is. 
This resort is an ideal place to get away from the buzziness of the city and its wahala (In Nigerian slang). It is also suitable for private parties, beach parties, honeymoons, and corporate events or meetings. Also, they have furnished apartments, cultured foods and drinks, and a 24 hours internet supply.
Address: Ilashe Island, Lagos
Phone: +234 802 255 9602, +234 703 188 2023
---
4. The Omu Resort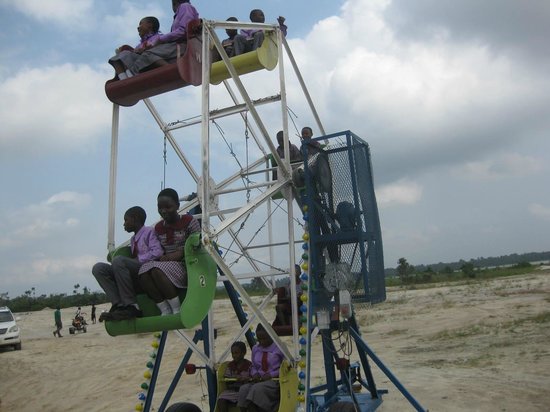 Unlike every other on this list, this resort is not technically a beach resort. It's more like an attraction center or an amusement park filled with a zoo, kayaking, swimming, and the rest. It's a rainforest environment.
According to their website, this resort is called "One location, Multiple Attractions." this location is ideal for adults and children for fun and rejuvenation. They have a variety of activities that you can enjoy when you visit this iconic spot.
They have hunting, swimming, horse riding, fishing, beach football, and many more. Another fascinating thing about OMU RESORTS is its menicus rollercoaster and water slides. Very few resorts have this in them.
Their villa also has magnificent furnishing that makes it appealing and satisfying to visitors. They also have a zoo for tourists to visit and enjoy. Indeed, it's a location multiple-attraction resort. The omu resort is friendly to visit with loved ones, including kids.
Address: 1 Asiwaju Bola Tinubu Way, Ibeju, Lekki
Phone: 0814 281 2406
---
5. Kamp Ikare Beach Resort 

Kamp Ikare beach resort is one of the beach resorts in Lagos that offers maximum and lovely relaxation that every visitor would like to experience. This leading beach resort is located at the edge of the Lagos coast, close to the Ikare village in Badagry, Lagos.
This beach resort can only be accessed by boat. They have many fantastic amenities and services that will help you reach that utmost beach resort experience. The resort has six duplex cabins and private beach gardens.
It also has bright and fine sand, fresh-looking palm trees, and a body of water that's clean and blue. They have two suites for visitors; the Klassic suite is meant for four people, and the Kouch suite is intended for a single person.
They also serve both local and international delicacies. Staying overnight in any of their suits will earn you breakfast and lunch. Ultimately, spending a night in this inviting environment will leave a memory that will never fade.
Booking Type
Normal season

Jan – Oct

Peak Season

Nov -Jan

Day Booking

(11 am – 6 am) Weekdays

₦750,000

₦1,000,000

Day Booking

(11 am – 6 am) Weekdays

₦1,000,000

₦1,250,000

Overnight Stay

(11 am – 9 am Next Day) Weekdays

₦1,000,000

₦1,250,000

Overnight Stay

(11 am – 9 am Next Day) Weekends

₦1,250,000

₦1,500,000

Corporate Retreat

(9 am – 4 pm) Weekdays

Request

Request
Address: Ikare village, Lagos
Phone: +234 802 359 6350, +234 809 028 6444
---
6. Whispering Palm Resort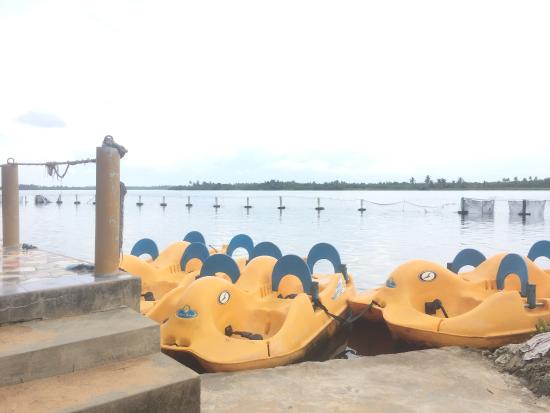 Whispering palm resort was initially created as a family-owned resort for friends and families that metamorphosed into a resort with over 100 rooms. This family-owned beach resort sits over a landmass of 60 hectares.
The whispering resort is every tourist's dream destination. It's filled with excellent rooms embalmed with modern furniture and amenities. It also has an African-themed bar and restaurant filled with local and continental dishes. Their coconut dispensary is second to none in the whole state.
This resort has an outdoor breakfast set up, 24 hours refreshments, and also access to a gym. They also organize live music, karaoke, and African cultural dance events for visitors.
This is arguably the only beach resort in Lagos state with a museum. This museum is filled with African art and historical figurines. Ultimately, this resort is rich with an African ambiance. The waves, sounds, and scenery complement one another in giving you that deserved relaxation and enjoyment.  – They also have a 400 and 120-seater Hall for events like weddings, meetings, and more.
| | | |
| --- | --- | --- |
| Room  | Price  | Benefits  |
| Marina combination rooms | ₦80,000 per night | Free Meal |
| Standard room  | ₦27,000 per night  | |
| Poolside rooms | ₦32,000 per night | Balcony and poolside |
Address: Whispering Palms Hotel & Resort, Whispering Palms-Iwore Road, Off Lagos Badagary Expressway (Aradagan Bus Stop).
WhatsApp– 07083066076
Phone – 09063573686
---
7. JayBee Beach Camp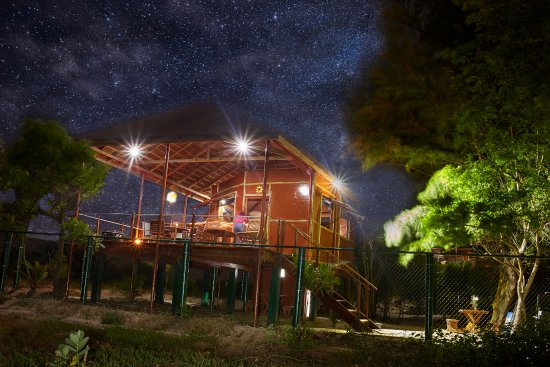 This beautiful little resort is an excellent place to chill and relax with friends and loved ones. This resort is located at Tarkwa bay on the coast of Lagos. This resort, widely recognized locally and internationally, will give you a once-in-a-lifetime experience.
This beach resort has the most enticing and alluring camping cabin made on a wooden platform. They have a mesmerizing view of the Atlantic Ocean. They also have friendly and intelligent staff ready to attend to your needs.
If you want to relax and rejuvenate while having fun and making memories, then the JayBee Beach camp should be your go-to destination.
Beach cabin

Garden 

Cafe

Takwa Bay Beach

Beach to Bush
Address: Takway Bay Beach, Lagos, Nigeria
Phone: (+234 ) 9163628068
---
8. Atican Beach Resort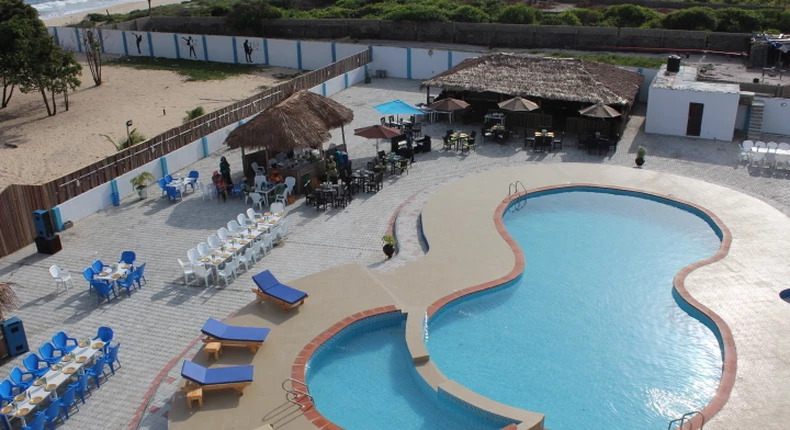 Atican beach resort is a new but fascinating resort. The exciting thing about this resort is the sand's cleanliness and how Blue the ocean water looks. This beach resort is located 20 KM from Victoria Island, Lagos. It's anlog Abraham Adesanya Road.
This resort is a perfect place to view the Atlantic ocean. In addition, you'll see a wonderful beach resort in Atican with a clean environment, fine white sand, an excellent restaurant, and comfortable lodges, to mention a few.
Lodging price:
Standard Room – N10,000

Standard Plus – N12,000

Deluxe Room – N15,000

Double Bed – N18,500

Family Room – N18,500

Executive Room – N20,000

Presidential Room – N25,000
Address: 20 kilometers drive away from Victoria Island, Lagos
Phone: 08136774408
---
9. Inagbe Grand Resort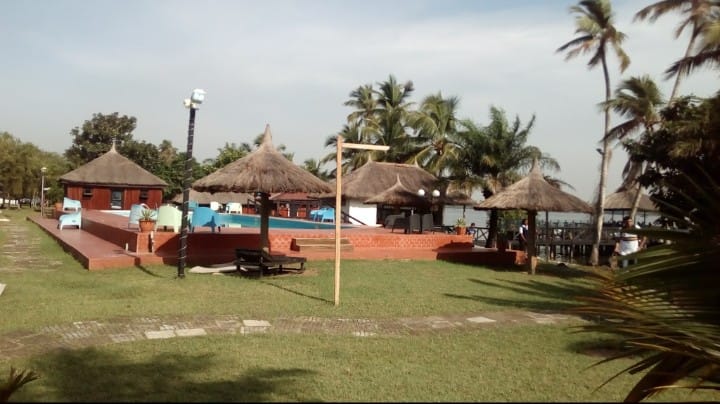 Inagbe Grand resort is arguably one of the best resorts in Lagos. This resort is a mixture of elegance, luxury, and refined etiquette. It is located on Inagbe Island, just 15 minutes boat ride from Victoria Island, Lagos.
This resort gives visitors a mixture of nature, tradition, and culture, evenly complemented by the resort's outstanding landscape. The blue and clear skies, sandy beach, and alluring scenery all work together to give guests maximum relaxation and enjoyment.
Their rooms are filled with modern amenities. A flat-screen TV, in-room telephone, satellite television channels, and en-suite bathroom are some amenities you can enjoy while in this beautiful and cultural location. And also, their rooms are spacious and filled with ambiance.
Inagbe beach house is one of the most incredible and entertaining beach resorts to visit in Lagos. 
Address: Oyinkan Abayomi Dr, Ikoyi 101233, Lagos
Phone: 0817 088 5261
---
10. Eko Tourist Beach Resort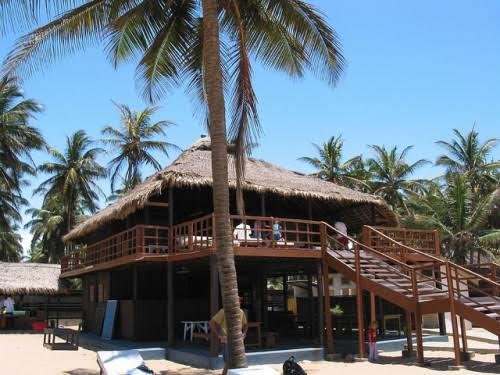 Anyone who stays in Lagos will know this beach resort. It's one of the most popular and most visited beaches in Lagos. Eko Tourist is ideal for outdoor enthusiasts swimming in the ocean. 
This location has beautiful swimming pools, amusement parks, and coconut grooves. If you're looking for cheap but luxurious relaxation from the busy lifestyle of Lagos, then this resort is the place to be. 
Address: Km 22, Lekki-Epe Expressway, Lagos
Phone: 01 261 4138
---
When Is The Best Time To Visit Beaches In Lagos, Nigeria?
The best time to visit a beach in Lagos is during the dry and warm season. This season is around November to march. You can also choose to visit beaches during festive periods like Christmas, easter, Ileya, and the rest.
Can I Do A Honeymoon In Any Beach Resort In Lagos, Nigeria?
Yes, you can do your honeymoon in any beach resort in Lagos. They all accommodate and accept newly married couples. Some alternatives will give discounts for newly married couples.
---
Conclusion 
These resorts offer the finest facilities, professional management, fine dining, and personalized services. A relaxing atmosphere and the finest amenities make these resorts the ideal setting for a memorable vacation—a perfect destination for everyone.
While there are many beach resorts and relaxation centers in Lagos, the above-discussed ten beach resorts in Lagos are the most beautiful and highly celebrated.