Apart from just the fun places, you can also try out the traditional dishes on Victoria Island. The traditional dishes in Victoria Island speak a lot about their culture which is why you should try the best amala joint in Victoria Island. There are a lot of beautiful delicacies in this country that you should try out, but the most delicious of them is Amala.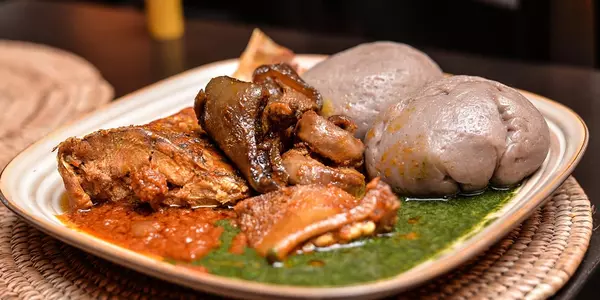 Amala is a traditional Yoruba dish made from yam flour. It is usually served with soups such as Eforiro, Ewedu, Gbegiri (Bean soup), and many others. There are many different ways to make amala, and each restaurant has its unique recipe.
Reviews of Best Amala Joint In Victoria Island and Address
Victoria Island is a popular destination for tourists and locals alike. There is something for everyone on this vibrant Island. Amala is a type of Yoruba food that is particularly popular in Nigeria. It is made from yam and plantain and is usually served with a stew or soup. 
There are many great places to enjoy amala on Victoria Island. Here are 7 of the best amala joints on Victoria Island.
1. Oyo Amala Place, Victoria Island
The best amala joint on Victoria Island is the Oyo Amala place. The Oyo Amala place is a small restaurant that is always busy. It is so popular because it has the best amala in Lagos. The amala at the Oyo Amala place is very thick and creamy. It is also served with a very tasty sauce. 
Oyo amala place prepares their amala using the original recipes that Oyo people use in making theirs. You can also take out your food if you don't want to eat at their restaurant. 
They are open Monday through Friday from 10 AM to 5 AM. Their prices are very affordable. With just ₦3,500, you can get amala enough for two people. If you are looking for the best amala on Victoria Island, you should go to the Oyo Amala place.
Address: 18 Balarabe Musa Street, Behind 1004 flats, Victoria Island, Lagos
Phone: +234 907 997 9997
Instagram: @Oyoamala
---
2. Morocco Amala Joint
There are a lot of things that make the Morocco Amala joint restaurant unique from other restaurants on the Island. From its customer service to its outdoor catering service, this restaurant gives you many reasons you should try them if you need a restaurant in yaba that serves Amala. It is also one of the best amala joint in Victoria Island.
This restaurant is located at 1B Victoria Ariobeke Street, Lekki Phase 1, Lagos, and gets many customers from within and outside the city. They are also very affordable; you can get a plate of Amala for two people for as low as #2,500, which includes meats and drinks. They also sell other local dishes like jollof rice, beans, and the rest.
Their outdoor services are also affordable as they don't strain your pocket. The Morocco Amala joint is one of the restaurants you should try while you spend some time on the Island.
Address:  1B Victoria Ariobeke Street, Lekki Phase 1, Lagos
Phone: 0803 861 6374, 0909 862 6148
---
3. Topshot Amala
This is another restaurant that should be on your mind if you are looking for good restaurants that sells amala on the island. This restaurant doesn't just allow you to relax with plenty of space; it also allows you to enjoy the best of tasty local dishes for a very low price. You can get an amala meal there for ₦1,500
This restaurant is located at Parkview Estate, Ikoyi, Lagos, and they are open Monday through Friday from 7 AM to 8 Pm daily. This restaurant also has a fully air-conditioned event center and a lounge perfect for relaxation.
You can enjoy an Amala meal at Topshot with Ewedu – Gbegiri combo known as Abula or Egusi. Their food is always served hot, making it tasty and healthy.
Address: Parkview Estate, Ikoyi, Lagos
---
4. Amala Phase 1
Amala Phase 1 is one of the oldest restaurants to hit the scene on Lagos island, and it is already making quite a name for itself. Amala Phase 1 has been preparing and serving customers amala for over 30 years. The restaurant specializes in Amala cuisine and quickly became popular among amala fans.
They also sell indigenous soups, assorted meats, and fish to complement your Amala dish. They are open Monday through Saturday from 8 AM to 9 PM daily. Their foods are also very affordable.
The menu at Amala Phase 1 is extensive and features a variety of traditional Nigerian dishes with a modern twist. The food is amazing, and the service is top-notch. I highly recommend this restaurant to anyone looking for a unique Amala dining experience.
Address: Durban street, Lekki Phase I 106104, Lagos
Phone: 0807 258 0059
---
5. Amala 4 Real
Whether you're in the mood for a hearty plate of amala and ewedu soup or a light and refreshing plate of rice and beans, you're sure to find something to your taste at Amala 4 real. This restaurant offers a wide variety of traditional Nigerian dishes, all of which are prepared with the freshest ingredients. 
And don't forget to try the restaurant's namesake dish, amala 4 real, a traditional Nigerian dish made with yams or plantain. With its friendly staff, delicious food, and reasonable prices, Amala 4 real is sure to become your new go-to restaurant for Amala. 
This restaurant is open from Monday to Saturday, from 9 AM to 6 PM. with just ₦1,500, you can get a plate of Amala with your preferred soup.
Address:  8 Ifiok Ojuolape St, Lekki Penninsula II 106104, Lekki
Phone: 0809 955 0973
---
6. Amala Dot Com
Amala dot Com is the perfect spot if you're in the mood for some authentic Amala. Located in Lagos, this restaurant serves traditional dishes like amala (a yam-based dish) with various soups like Ewedu, Egusi, Efo Riro, and Gbegiri. The amala is cooked to perfection, and the soups are also delicious. The service is excellent, and the staff is friendly, making Amala dot Com a perfect choice for an Amala meal.
The service at Amala Dot Com Restaurant is lovely, and the staff is very friendly. The prices are also very reasonable, so you won't break the bank. They are open from 9 AM to 5 AM on Monday to Sunday.
The restaurant has a relaxed and comfortable atmosphere, and the staff is friendly and helpful. The food is reasonably priced, and the portions are generous. The other dishes on their menu are fantastic, so you'll want to come back and try everything.
Address: Oniru Beach Entrance Lagos, Lagos
Phone: 0818 192 1323, 0903 829 9033
---
7. Yellow Chili Restaurant
Yellow chili restaurant is a restaurant that incorporates African dishes with modern amenities. This restaurant is the perfect place to eat local dishes while having a date. It is also one of the best amala joint in Victoria Island.
Aside from this restaurant's amala-making prowess, it is also an expert in making other African meals. The service here is great, and the staff is friendly and accommodating. The ambiance is also perfect, and it's the ideal place to relax and enjoy a delicious meal.
If you're in the mood for a fantastic Amala Dish, you must head to Yellow Chili in Lagos. This restaurant is well-known for its amazing dishes, and you'll not be disappointed.
Address: Bishop Oluwole Street, 27 Oju Olobun Cl, Victoria Island, Lagos
Phone: 0814 113 0890
---
Can I Order Amala Online In Lagos?
 Yes, you can order Amala online in Lagos. There are a few different ways to order Amala online. One option is to find a restaurant that offers Amala delivery. Another is to order from online grocery delivery services like Jumia foods or Uber Eats. 
Finally, you could find a home chef who cooks and delivers Amala meals to customers.
How Much Do Restaurants Sell Amala On Victoria Island?
There is no definitive answer to how much restaurants in Victoria Island sell Amala for. It likely varies depending on the establishment, time of day, and other factors. However, Amala is generally affordable in this area of Lagos.
Can I Go To An Amala Restaurant For A Date?
Yes, you can take your date to an Amala restaurant. The food is fantastic, and the atmosphere is perfect for a romantic evening. Plus, the staff is incredibly attentive and will ensure that your every need is taken care of.
What's The Best Soup To Take Amala With?
There are a few different soups that can be taken with Amala. Some people prefer to take it with Ewedu, while others prefer using a thicker soup like Gbegiri. Ultimately, it depends on personal preference. However, some soups that pair well with Amala include Ewedu, Gbegiri, Efo Riro, and Egusi.
What Is Amala Made Of?
Amala is made from yam or plantains. All you have to do is dry the yam tuber, preferably under the sun. Once completely dry, take it to the miller and grind it into powder.
---
Conclusion 
There are a lot of excellent restaurants where you can find Amala on Victoria Island. It, however, mainly depends on your pocket and preference.
However, if you want to tour around the Amala joint on Victoria Island, try any of the restaurants listed above for your Amala and enjoy a tasty experience.