Africa, a continent known for its diverse landscape, wildlife, and rich culture, is also home to some of the world's most breathtaking beaches.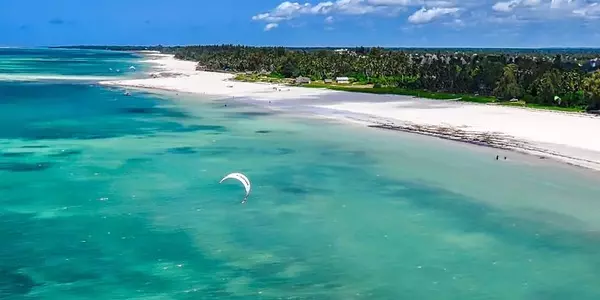 From the pristine shores of the Seychelles to the vibrant coastal gems of Kenya and South Africa. And that's why we are here to let you know more about the best beaches in Africa, highlighting their unique features, travel tips, and activities to help you plan your dream vacation.
List of Best Beaches In Africa Explained
Besides its mineral resources, Africa offers a plethora of stunning beach destinations that cater to every traveler's dreams. So, whether you seek adventure, relaxation, or a blend of both, these coastal gems are guaranteed to give you unforgettable memories.
1. Diani Beach, Kenya
Diani Beach is located on the South coast of Kenya, with its powdery white sands stretching for miles. It is a tourist destination in Africa with that touch of relaxation and adventure.
What's more to Diani Beach is that visitors can participate in kite surfing, deep-sea fishing, Scuba-diving, Snorkeling, and windsurfing. And the coral reefs near the shore are home to a diverse range of marine life, making it an excellent spot for underwater exploration.
Besides being known for the beach's nice environment, it is the home to the Diani Marine Conversation area, which aims to protect and preserve the region's marine ecosystem, and close to it is the Shimba Hills National Reserve.
For accommodation, you'll always find one along the beach, from boutique hotels and luxury resorts to beachfront and budget-friendly guesthouses. So, you can always find where to stay according to your preference and budget.
Is it safe? Yes, it is considered a safe tourist attraction in Africa, but take common precautions like staying aware of your environment and safeguarding valuables. In addition to being safe, Diani Beach is home to restaurants that serve a variety of delicious seafood and international cuisine, catering to diverse tastes. And, of course, you'd witness the nightlife scene with beach bars and clubs where you can enjoy live music and dance under the stars.
---
2. Nungwi Beach, Zanzibar, Tanzania
Like Diani Beach, it boasts powdery white sands, providing ample space for beachgoers and tourists to relax and soak up the sun. And it is lapped by the clear, calm waters of the Indian Ocean, making it an excellent spot for swimming, wading, and other various water activities.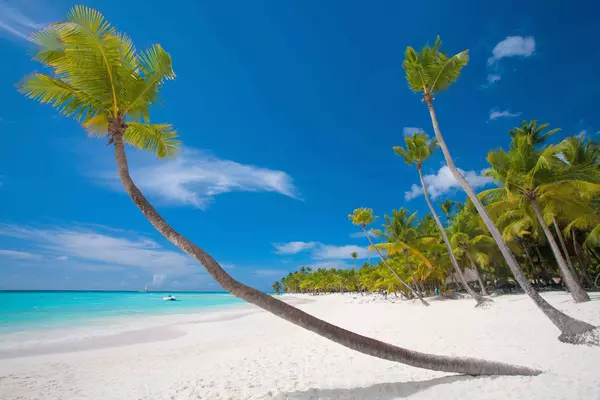 It can be said that Nungwi Beach is home to colorful fish and marine creatures. As if that is not enough, adjacent to the beach is the Nungwi village, which has retained its traditional Swahili culture for years and offers tourists a glimpse into their local way of life. Imagine strolling through the narrow streets where you see colorful markets and handicraft shops where you can get unique souvenirs and meet friendly locals.
A few steps from the beach are resorts, hotels, and guesthouse catering to different budgets and preferences. – When staying in your rooms, don't forget to taste a range of dining options, from local Swahili foods to upscale international cuisine.
Nungwi is approximately 6o Kilometres(37 miles) from Zanzibar's main airport, Abeid Amani Karum International Airport(ZNZ). You can arrange a taxi or pre-arrange transportation with your accommodation to get to Nungwi from the airport.
What is the best time of the year to visit? The best time of the year to visit is during the dry season, which typically runs from June to October. At this time, the weather is generally sunny and dry, making it ideal for beach activities and water sports. However, you can year-round.
---
3. Camps Bay, Cape Town, South Africa
South Africa is home to amazing beaches in Africa, and Camp Bay is one of them. It is a crescent-shaped bay flanked by towering cliffs and overlooks the Atlantic Ocean. Other than being a good place for sightseeing, the azure water offers a refreshing escape for swimming, however, you should be cautious as the sea can be rough sometimes.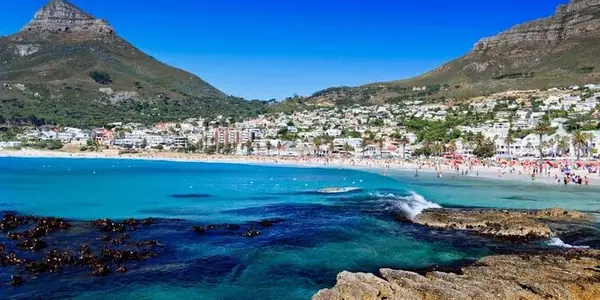 Like every other beach listed here, it's a nice place for swimming, sunbathing, beach volleyball, shopping, and environment.
Regarding your security and safety, you should know that the South African sun can be intense. Remember to wear sunscreen, a wide-brimmed hat, and sunglasses to protect yourself from sunburn. And don't forget to pay attention to the lifeguard warning and flags indicating water conditions, so avoid swimming alone and stay within the designated swimming area.
---
4. Sharm El Luli, Marsa Alam, Egypt
Sharm El Luli is situated along the Red Sea coast in Marsa Alam, a coastal town in southern Egypt. Marsa Alam is renowned for its untouched beauty and is rapidly gaining popularity among travelers seeking a beach escape.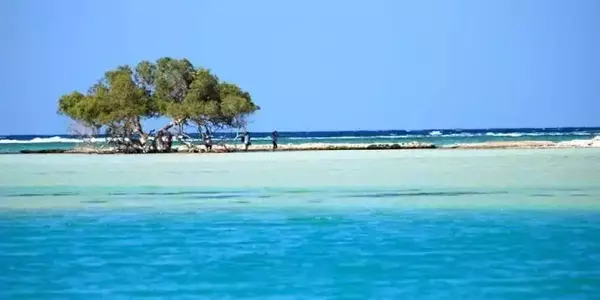 It boasts a breathtaking horseshoe-shaped bay, shielded by coral reefs, which creates a natural pool with calm, shallow waters. The beach's fine white sands gently slope into the sea, making it ideal for swimmers of all ages and experience levels. The clear, turquoise waters allow for excellent visibility, making it a haven for snorkelers and scuba divers.
While Sharm El Luli is generally considered safe, it's essential to keep the following safety tips in mind:
Swimming: Be cautious of the underwater currents, especially during low tide. It's advisable to stay within the designated swimming areas.
Sun Protection: The Egyptian sun can be intense, so don't forget to apply sunscreen regularly and wear a hat and sunglasses to protect yourself from sunburn.
Marine Life: While marine life is fascinating, some creatures can be potentially harmful. Avoid touching or disturbing marine animals and coral reefs to protect yourself and the delicate marine ecosystem.
The best time to visit Sharm El Luli is during the milder months, from October to April when the weather is pleasant and not overly hot. The water temperatures remain comfortable for swimming and snorkeling throughout the year, but winter months may require a wetsuit for extended underwater exploration.
---
5. Cape Maclear, Malawi
Cape Maclear, over the years, has maintained its popularity as a paradise to holidaymakers, groups, backpackers, and families. Hence, you can spend your days at the coolest beaches in Africa, snorkeling, kayaking, windsurfing, paddleboarding, sunbathing, and sailing.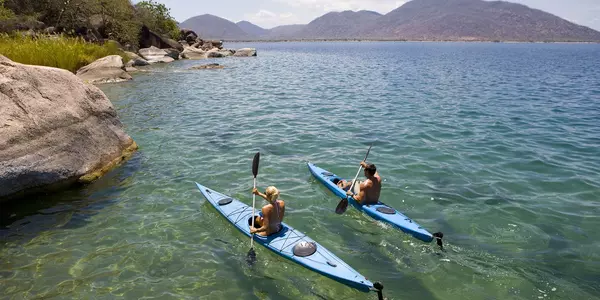 It is worth noting that Cape Maclear is not only a place to visit for water-related activities. It is home to Lake Malawi National Park, which covers only 94km, including the Thumbi, Domwe, and Cape Island, and of course, the lake is up to 100 meters offshore. Interestingly, hiking on the trails isn't too challenging but takes enough water.
Travel Tips and Recommendations:
Accommodation: Cape Maclear offers a range of accommodation options, from charming guesthouses to eco-lodges that blend seamlessly with the natural surroundings. Book your accommodation in advance, especially during the peak tourist season.
Local Cuisine: Don't miss the opportunity to sample Malawian delicacies, such as chamber fish, nsima (a maize-based dish), and mandasi (fried doughnut).
Sustainable Tourism: Embrace eco-friendly practices to preserve the delicate ecosystem of Lake Malawi. Avoid single-use plastics and follow responsible snorkeling and diving guidelines.
Cultural Etiquette: Respect the local culture and customs. Always seek permission before taking photos when interacting with the villagers, and be courteous.
---
6. Belle Mare Plage, Mauritius
Whether you seek relaxation or adventure, Belle Mare Plage has something for everyone. The calm and shallow waters make it ideal for swimming and wading, perfect for families with young children. Water sports enthusiasts can enjoy snorkeling, kayaking, and paddleboarding to explore the vibrant marine life below the surface.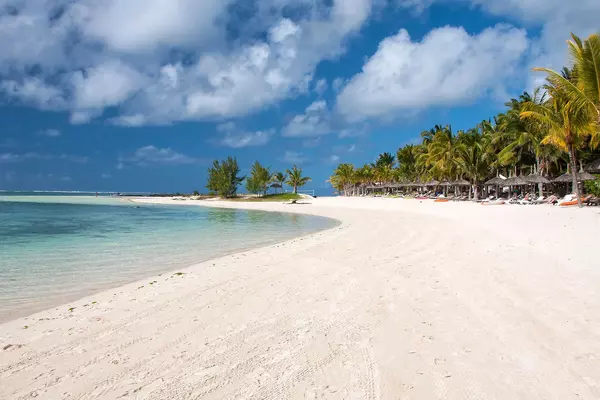 For those seeking adrenaline-pumping adventures, the nearby kite surfing, and windsurfing spots offer thrilling experiences. Guided boat tours to nearby islets, such as Ile aux Cerfs, provide opportunities for exploration and discovering the region's natural beauty.
While Belle Mare Plage is known for its waters, paying attention to tide timings and ocean conditions is essential, especially during the monsoon season. Always swim in designated areas and follow safety guidelines provided by beach authorities.
---
7. Saly Beach – Saly, Senegal
Saly Beach is renowned for its stunning soft golden sand stretching that beckons you to relax under the warm African sun. The palm-fringed shoreline offers a serene and tranquil atmosphere, providing the perfect escape from the hustle and bustle of daily life. The gentle sea breeze and the rhythmic sound of the waves create a sense of tranquility that will soothe your soul.
It offers various exciting activities to cater to every traveler's preferences. Water enthusiasts can indulge in various aquatic adventures, such as swimming, snorkeling, and jet skiing. If you're feeling more adventurous, consider trying your hand at windsurfing or kite surfing in the refreshing sea breeze.
For those seeking a deeper connection with nature, take a boat excursion to explore the nearby Saloum Delta, a UNESCO World Heritage site, where you can witness an abundance of colorful birdlife and serene mangrove forests.
---
8. Sidi Bou Said Beach – Tunis, Tunisia
The beach at Sidi Bou Said is a fusion of sandy and rocky stretches, which gives it a unique character. The azure blue waters gently kiss the shores, creating a soothing and picturesque setting. Adding to the charm are the iconic blue and white buildings that line the beach, offering a postcard-perfect view. The beach's relaxed atmosphere and inviting waters make it a delightful spot for locals and tourists to unwind and enjoy the coastal beauty.
Sidi Bou Said Beach is ideal for leisurely activities that allow you to immerse yourself in the beauty of the Mediterranean. Here are some activities you can enjoy:
Swimming: The calm and shallow waters make swimming a pleasurable experience for visitors of all ages.
Strolling and Sunbathing: Take leisurely walks along the shoreline or find a comfortable spot on the beach to bask in the warm Tunisian sun.
Exploring the Village: After enjoying the beach, wander through the narrow, winding streets of Sidi Bou Said to discover its distinctive architecture, vibrant blue doors, and bougainvillea-covered walls.
Café Culture: Embrace the local café culture and savor traditional Tunisian coffee or mint tea while soaking in the tranquil atmosphere.
---
9. Tofo Beach – Inhambane, Mozambique
Tofo Beach is a tropical paradise that captivates visitors with its pristine beauty and marine wonders. Whether you seek relaxation on sandy shores, thrilling encounters with marine creatures, or cultural immersion, Tofo Beach has it all compared to other beaches in Africa. From exploring the ocean's depths to embracing the warmth of Mozambican hospitality, this beach destination promises an unforgettable experience for every traveler.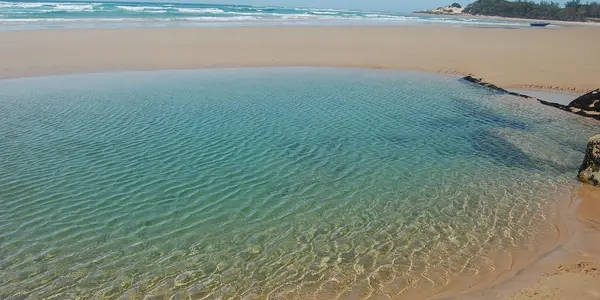 While Tofo Beach is generally safe, it's essential to practice basic beach safety:
Swim in designated areas and be aware of the tides.
Listen to instructions from dive instructors and boat operators during water activities.
Use reef-safe sunscreen to protect the delicate marine ecosystem.
Respect local customs and traditions.
The best time to visit Tofo Beach is during the dry season, which runs from April to November. The sunny and pleasant weather provides excellent conditions for water-based activities and wildlife sightings. Avoid the wet season (December to March) when heavy rains may disrupt travel plans.
---
10. Sidi Ifni Beach – Sidi Ifni, Morocco
Sidi Ifni Beach is in the coastal town of Sidi Ifni, in the southwestern part of Morocco. With its laid-back atmosphere and pristine coastline, Sidi Ifni has become a beloved destination for travelers seeking a quieter beach experience. It is also among top visited beaches in Africa.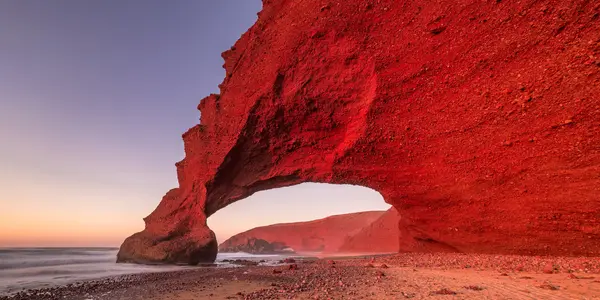 In addition, the beach is known for its impressive rock formations, which add to the beauty of the landscape. The Atlantic waves crash against the rocks, creating a mesmerizing symphony that soothes the soul.
While Sidi Ifni Beach is not a bustling tourist hub, it offers a range of activities for visitors to enjoy. Take leisurely strolls along the shore, bask in the warm sun, and embrace the serenity of the surroundings. If you are an adventure enthusiast, try surfing, as the beach is known for its consistent waves and favorable conditions for surfers of all levels. As the tides recede, explore the fascinating tide pools that reveal an array of marine life, providing excellent opportunities for marine enthusiasts and children to discover unique creatures.
---
Which Beach Is Best for Water Sports and Diving?
Amongst the top beaches in Africa, Watamu Beach in Kenya is considered one of the best for water sports and diving. Watamu is located near Malindi on the Kenyan coast and boasts a pristine shoreline, clear waters, and a vibrant marine ecosystem. The Watamu Marine National Park, a protected area, is a diver's paradise with abundant coral reefs and diverse marine life.
Water sports enthusiasts will find plenty of activities, such as snorkeling, deep-sea fishing, and exploring the underwater wonders. The marine park offers guided snorkeling and diving excursions, allowing visitors to witness colorful corals, tropical fish, and even encounters with gentle sea turtles and dolphins.
What Is the Best Time to Visit These Beaches?
The best time to visit the beaches in Africa varies depending on the location and country. Generally, the dry seasons, often from May to October, offer the most favorable weather and ideal conditions for beach activities. However, it's essential to research each beach's seasonal patterns for more accurate information.
Are There Any Safety Concerns on These Beaches in Africa?
While the beaches listed in Africa are generally safe for visitors, there are some safety concerns. First and foremost, it's essential to exercise caution while swimming, as some beaches may have strong currents and tides. Always swim in designated areas, adhere to local guidelines, and pay attention to any warning signs on the beach.
In areas with wildlife, like Boulders Beach in South Africa, respect the animals' space and maintain a safe distance, especially when observing penguins or other wildlife. While encounters with marine life can be thrilling, avoid touching or disturbing them to ensure their well-being and your safety.
Additionally, it's advisable to stay hydrated, wear sunscreen, and seek shade during peak hours to avoid heat-related issues. To prevent theft or loss, keep an eye on personal belongings, especially in crowded areas.
Before visiting beaches in Africa, familiarize yourself with local emergency contact information and be prepared for potential weather changes or natural hazards. By staying informed and being mindful of your surroundings, you can enjoy a safe and memorable beach vacation in Africa.
Are There Nearby Accommodations and Amenities Available?
Many beaches are located near resorts, hotels, and beachfront accommodations, providing easy access to the beach and various amenities. Additionally, nearby cafes, restaurants, and shops offer convenience for visitors seeking food and supplies during their beach vacation.
Can I Find Secluded and Off-The-Beaten-Path Beaches on the List?
Yes, you can find secluded and off-the-beaten-path beaches in Africa. While many of the beaches mentioned are popular and well-known, there are hidden gems that offer a more intimate and tranquil experience away from the crowds. For instance, Sidi Ifni Beach in Morocco and Lamu Island Beaches in Kenya are two such examples.
Sidi Ifni Beach is known for its unspoiled beauty, with its golden sands and dramatic cliffs, making it a serene escape for those seeking a more secluded beach experience. Lamu Island Beaches, located off the coast of Kenya, offer pristine stretches of sand, clear waters, and a laid-back ambiance, providing a peaceful haven for beachgoers.
These lesser-known beaches allow visitors to connect with nature, unwind peacefully, and immerse themselves in the unspoiled coastal landscapes. While reaching these secluded beaches might require effort and local guidance, the rewards are extraordinary, offering a chance to create unforgettable memories in some of Africa's most untouched and picturesque locations.
---
Conclusion
This diverse and vibrant continent holds an array of breathtaking coastal treasures. From Seychelles' enchanting Anse Source d'Argent to the serene shores of Lamu Island in Kenya, each beach on our list offers travelers a unique and captivating experience.
Africa's beaches cater to many preferences, whether you seek an adventure-packed getaway with water sports and diving or an escape in secluded havens. The continent's beauty extends far beyond its wildlife and landscapes, revealing pristine coastlines, turquoise waters, and awe-inspiring sunsets that captivate the heart and soul.
When planning on visiting one of the beaches in Africa, consider the best time to visit, the activities available, and safety precautions to ensure a smooth and enjoyable trip. Additionally, remember to respect local customs, wildlife, and natural habitats, contributing to sustainable and responsible travel.