Air Peace is one of Nigeria's most popular flight companies, with its airplanes flying to over 39 destinations worldwide. Cities like Johannesburg, Dubai, Lagos, and Accra are among these destinations.
With its wide reach and affordable rate, air peace is the go-to company for most individuals looking to take a flight within or outside the country.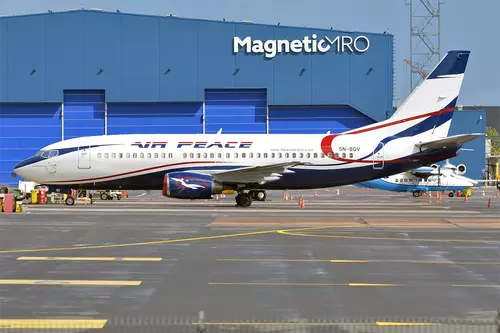 However, problems such as a change of business plans, a family emergency or a list of other things might necessitate you to change or reschedule your already booked flight on the air peace flight company online.
''How do I go about this? Is the process complicated?  What are the step to step methods of rescheduling air peace flights online?'' you might ask.
Below are the answers you need. We give you the step to step guide on how to reschedule an air peace flight online.
Step-by-Step Guide on How to Reschedule Air Peace Flight Online
You don't have to worry about rescheduling your air peace flight online after you have made a reservation. If you would like to reschedule your flight, below are the simple steps you can take
 Go to the air peace official website on your phone or pc. The official website is https://www.flyairpeace.com/
 Input your PRN details.  Your PRN is the details consisting of the electronic number given after you book a flight.  It is the abbreviation for passenger, name, and record. Your PRN details are your booking reference number and email id / last name.
Click on change flight and proceed.
Select your booked flight. That is, the flight you already made a reservation for, which you would like to change.
Choose the new date and time that is best convenient for you. This date and time will be the schedule for your new flight.
Choose your new flight.
Click on finish, and your flight is rescheduled automatically.
The above and the steps by step guide on how you can change or reschedule your air peace flight online.
If you are not too comfortable with using the online method of rescheduling flights, you can also contact their airline support line or meet your agent and demand a change of date for your flight.  Just like the online process, you do not have to tender any reason for your decision to reschedule your flight.
There are some general rules you should know just as you are about deciding to reschedule your flight. This rule applies to every airline, and air peace is one of them. Below are the following rules.
 General Rules You Should Know Before Rescheduling Your Flight
Changing names on your ticket is not allowed. The name used when you booked a flight is the same name that will reflect on your rescheduled ticket.
 You cannot give the ticket to someone else. You can only change dates and times of departure.
Do not try to reschedule your air peace ticket to another airline. Such a request isn't possible or logical. Your rescheduling has to be on the same air peace airline.
You can only reschedule your airline before the departure time.  Your ticket can only be rescheduled if you reschedule or cancel your flight at least two hours before the departure time on-air peace.
Failure to do so would result in a no-show. That is, trying to reschedule after your flight renders your ticket invalid.
It is also important to know that you may be charged a slight modification fee for rescheduling your flight on air peace. The modification fee is the difference in fare from your previous reservation to the new scheduled date you choose.
If your new scheduled time of flight is a date when ticket prices are higher than your previous date, you will be required to pay a modification fee. However, if the flight price is lower on your new date, you will neither be required to pay any modification fee nor be refunded for the changes in prices.
You can read their terms and conditions or get more information about this on their official website, through their customer support, or through your travel agency.
How Can I Cancel my Air Peace Flight Ticket?
It is also possible for you to cancel your tickets online on the air peace official website. However, being refunded the money for the ticket depends entirely on the type of ticket you booked.
If you booked a refunded air peace airline ticket, you could cancel your ticket. Such tickets usually cost more than normal tickets. On the other hand, if you booked an economy ticket, you only have a 24-hour window from when you booked a flight to cancel your ticket.
If you booked a non-refundable airline ticket, you would be required to pay a certain amount to cancel your ticket.
People tend to have different questions about air peace and aviation in general.
'What happens if I miss my flight? Will I be compensated if my flight gets canceled? What are the services air peace offers?'' you might ask.
Below are some frequently asked questions that you might find useful.
Frequently Asked Questions and Answers
'What happens if I miss my flight? Will I be compensated if my flight gets canceled? What are the services air peace offers?'' you might ask.
What Happens When My Air Peace Flight Gets Canceled
This is one question most people have when they want to book a flight on air peace. Different reasons might warrant the cancellation of a scheduled flight, such as bad weather, environmental hazard, etc. these reasons can warrant a delay or cancellation of flights.
When this happens, you do not need to worry about the cost of your ticket. You will be fully compensated if your flight gets canceled.
Can I Reschedule My Airline Ticket Online Without Paying?
You can reschedule your airline ticket online without having to pay a fee. There are different ways you can go about it. Below are the most common ways you can go about it.
Do it within 24 hours.
Reschedule 60 days ahead of time
Buy a refundable ticket
Change for a flight on the same scheduled date
How much is Flight Cancelation Fee?
The cancellation fee for airline tickets varies according to the airline company you use. Average cancellation fees for most flights in Nigeria vary from #20,000 to #120,000.
---
Conclusion
Air Peace is one of the best airlines in Nigeria and beyond. If you are looking forward to rescheduling your flight tickets with them, simply follow the steps listed above and your flight will be rescheduled in no time.