Are you ready for a fantastic family getaway? Well, get ready to pack your bags because today, we're going to explore some awesome places called "Family Resorts" in South Australia. These places are like special holiday spots where families can have tons of fun together.
It's like going on a big adventure with your mom, dad, brothers, sisters, and maybe even your grandparents.
Imagine having a super cool vacation with lots of exciting things to do, like swimming in pools, playing on the beach, and trying yummy food. That's what family resorts are all about.
15 Family Resorts In South Australia To Explore
Imagine a place where the sun always shines, the beaches are beautiful, and the adventures never end. Well, you don't have to dream about it because it's real.
In this section are a fantastic part of our big world where families like yours can have the best time ever.
1. Wilpena Pound Resort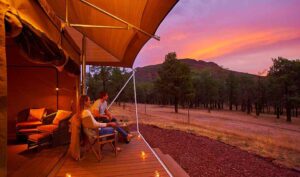 One of the most visited, attractive and magnificent family resorts in South Australia, highly beautiful with its huge plain area covered with Flora and trees. Wilpena Pound is the perfect place to explore age-old history for every budget.
The pound is about 450km north of Adelaide with its huge cultural significance. During your visit to this mesmerizing resort, you will learn about the Dreamtime story about how the place was formed. 
All tourists and explorers are always amazed by the view of the Wilpena pound with the flocks of galahs, euros, and yellow-footed rock wallabies during their daytime trek. There is a wide range of activities which could be enjoyed by visitors on their tourism with Wilpena Pound and as Wilpena Pound is located in Flinders Ranges National Park in Australia, it allows its visitors to enjoy the beautiful world of wildlife. Be ready for a speechless experience with your family.
2. Stamford Grand Adelaide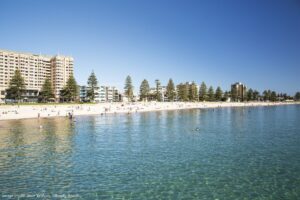 Stamford Grand Adelaide is a great place for a wedding, holiday or conference. It's located right on Glenelg Beach which offers some great off-site restaurants, bars and shopping along with plenty of opportunities for other social activities.
For families interested in vacationing, consider Stamford Grand Adelaide and you will enjoy the hotel package to enhance your family beach holiday. From the free breakfast, free Wi-Fi and free in-room movies. The Grand is not just for families but also for couples to enjoy romantic moments, with their seduction package like the rose petals and candlelight.
Stamford Grand Adelaide is one of Australia's leading resort-style hotels with impressive function facilities that cater for any occasion with a capacity of up to 750 people, and it's just a 10-minute drive from the airport. Tour to Adelaide when you visit Australia.
3. Clare Country Club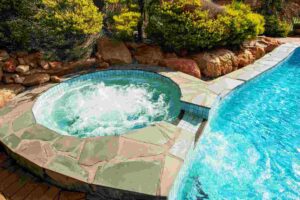 A lot of travellers and tourists make Clare Country Club their choice of resort when visiting Australia. It's a stunning location with the beautiful rolling hills of Clare Valley, providing an ideal mix of value, convenience and comfort. It offers a romantic setting designed for travellers like you.
You can also visit the sauna for relaxation and stay connected to free in-room Wi-Fi. You are not likely to run out of things to do up in Clare, wineries are the main attraction and there is so much to choose from. 
There are a lot of captivating and great events in Clare, including The Clare Valley and A Day on the Green. Enjoyment is an understatement for your family when you visit the Clare Country Club.
4. Southern Ocean Lodge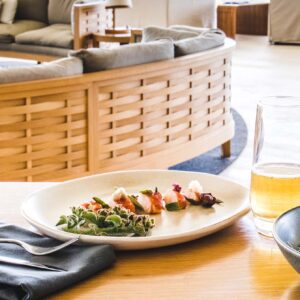 Southern Ocean Lodge is Australia's first true luxury lodge that offers guests an unforgettable experience with the taste of Kangaroo Island. Everywhere you look, you will find mesmerizing views of the Southern Ocean. The resort provides guests with guided excursions around the island with luxury experiences to match.
Southern Ocean Lodge is one of the most unique and isolated properties in the world. The property has an outdoor terrace where guests can listen to the pounding surf. Some of the top suites have outdoor Jacuzzis, bar and restaurant that offers a contrast of land and sea. There is also a modern French fireplace and a deck with a plunge pool that juts towards the ocean.
If you are looking for a once-in-a-lifetime experience and you want to immerse yourself in Australia's incredible flora and fauna, then you will want to consider it for your next trip.
5. Discovery Parks-Hahndorf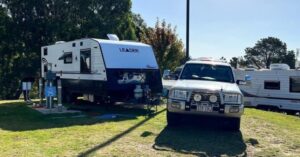 Discovery Parks-Hahndorf is located in Hahndorf, the oldest surviving Germanic settlement in Australia founded in 1839, nestled on 13 hectares of open surroundings with amazing views of Adelaide Hills. This park is suitable for couples, families or groups looking to camp.
This picturesque retreat offers the perfect location to discover Hahndorf and the surrounding areas with its many attractions, you are in the perfect location to enjoy all that the Adelaide Hills has to offer. At Discovery Parks-Hahndorf Tourist Park, you will find lots of open space and a bar, including a children's playground, mini golf, camp kitchen, swimming pool and self-service laundry facilities with BBQ and Wi-Fi. 
There are also plenty of family-friendly activities nearby with hiking trails and National Park. Are you ready to visit Hahndorf? Then consider visiting the Discovery Parks-Hahndorf and you will surely enjoy every bit of the experience together with your loved ones
6. The Murray River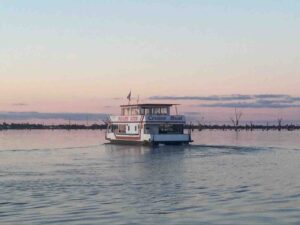 This is the longest river in Australia that offers endless activities taking in the most majestic landscapes in Australia. The Murray is abundant with native wildlife, supporting over 350 varieties of birds, as well as many species of mammals, reptiles and fish. Whether you are looking for an adrenalin rush or a relaxing afternoon on the river, you will surely find it in The Murray.
If you are the type that loves riverside recreation and outdoor experiences, Murray River is the best for you with its sun-drenched magnet and it is also a lure for lovers of fresh food, wine and the good life.
The Murray River is steeped in legends, heritage and museums. Enjoy the Murray River Passport and a road trip through New South Wales and Victoria. You can also relax on some of Australia's best beaches or try some fishing for the famous Murray River cod. The experience will be one of the best you can have in a lifetime.
7. Majestic Old Lion Apartments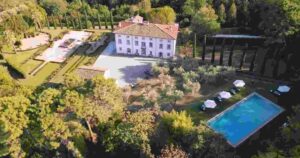 Majestic Old Lion Apartments are located in cosmopolitan North Adelaide and are set against magnificent European-inspired landscaped gardens and a courtyard. The apartment is luxurious and has everything you will need, surrounded by heritage buildings such as the old Fire Station right next door, with a variety of restaurants and boutiques within walking distance. 
The property's apartments are comfortable and it is ideally located for guests wanting to visit local attractions. The Majestic Old Lion Apartments Adelaide is also close to popular bars and clubs. Adelaide Botanic Garden, Adelaide Zoo and St Peter's Cathedral are also a few blocks away. 
Make yourself home in one of the 66 guestrooms in the apartments and enjoy the views from a garden. Embrace the beauty of the outdoors, and embark on an unforgettable journey to create beautiful memories.
8. The Fleurieu Peninsula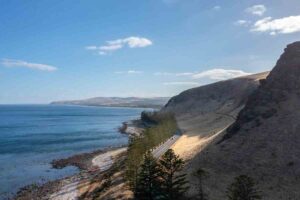 The Fleurieu Peninsula is a hiker's paradise known for its world-famous wine and stunning white sand beaches. The Fleurieu offers a Mediterranean ambience, vineyards and farmland, pretty coastal towns near the entrance to Australia's longest river, local wildlife and world-renowned wetlands.
 Explore the peninsula with the remote southern coast lined with bubbling creeks that cut deep into the rock and offer clifftop views to Kangaroo Island.
If you are seeking a slower pace of life, the Fleurieu Peninsula is the right place for you, with its rich cultural heritage and stunning scenery.
For those seeking adventure, take a hike through Deep Creek National Park, or set out on a canoe trip through the Coorong National Park, where you will witness the breathtaking convergence of two great natural forces- the Murray River and the Southern Ocean.
Spend quality time in nature's playground discovering charming towns.
9. Yorke Peninsula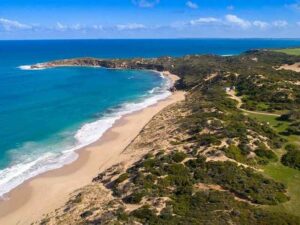 The Yorke Peninsula is one of the most beautiful regions of South Australia. With its stunning beaches and friendly coastal towns, tourists and visitors always find their way to the Yorke Peninsula, blessed by nature.
There are a lot of social activities you will enjoy during your stay, including fishing, swimming, camping and wildlife. Spend your day lounging on sandy-white shores and cooling off. The Yorke Peninsula produces some of the finest seafood in the world, including King George whiting and Australian salmon, becoming a magnet for nature lovers.
Aside from the fact that Yorke Peninsula is a popular camping destination, Innes National Park, has stunning beaches, an adventure playground and historic adventures. There are enough to keep you busy, you will love it here. 
If you are looking for a family playground, Yorke Peninsula is definitely for you, explore this peninsula and be mesmerized.
10. The Barossa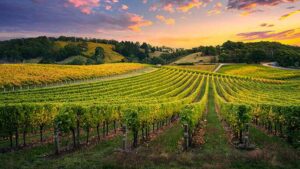 The Barossa is famous for its wineries, making it one of the world's best wine-producing areas, the uniqueness of the wine is the experiences you can have within them. The wine produced is known for its bold and intense flavours.
When you visit the Barossa, you probably know what you are in for; good food, wines and landscapes to mention but a few. The gorgeous Barossa Valley has been Australia's favourite wine region with over 150 wineries.
In addition, the region is also home to joyous activities, from hot air balloon rides to tranquil walking trails with stunning and amazing views, giving this region a spectacular experience, you will forever remember.
Visiting Barossa Valley wineries is the perfect way to have a great experience in the region and to get some needed social interaction, it will be worth your time. Be ready to relish the views of the Barossa.
11. Cober Pedy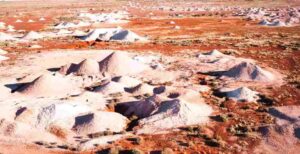 Cober Pedy is a wonderful place and the biggest opal-producing town in Australia. The town is stark and moon-like and it's a relaxed and friendly place with many charming quirks, making it one of those places that you have to see to believe it's real.
You will visit underground houses, underground churches and underground hotels. And when you had enough of the underground places, there is a lot to explore around the area: the Moon Plains, the Dog Fence, and the Breakaways. 
The town is full of quirky sights-like the unusual sculpture that's up near the Big Winch and right near a lookout that will give you panoramic views of the town. 
Not to worry about where to stay when you visit the town, the town has a lot of accommodation choices both underground accommodation and above-the-ground options. The best time to visit this mesmerizing place is Winter (May – September). 
12. Mc Cracken Country Club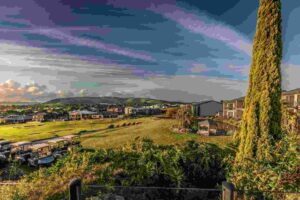 Mc Cracken Country Club is a gorgeous place located in Victor Harbor, SA, Australia. The resort is all about relaxation and comfort making it the number one choice for accommodation and functions in Victor Harbor.
Mc Cracken Country Club offers a luxury holiday experience for your family with resort-style accommodation and panoramic views across the Hindmarsh Valley. It's also an ideal base for exploring the Fleurieu Peninsula and enjoying local shopping. End your day in total relaxation with a visit to the spa, which offers massages and facials. 
Some activities that the club possesses are golf, outdoor tennis courts and an indoor pool. There is a lounge on site where guests can unwind with a drink. This hotel offers a health club, a spa tub and a terrace. 
When you visit Australia, never miss the chance to visit Mc Cracken Country Club, believe it, you will have a fun-filled experience. 
13. BIG4 Breeze Holiday Parks-Port Elliot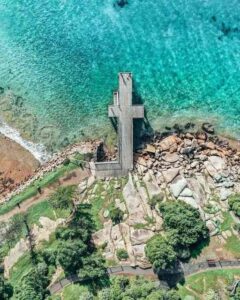 BIG4 Port Elliot Holiday Park provides the perfect destination for a relaxing getaway with the family. Experience the refreshing beauty of nature where ocean views wave at you every morning. The main focus in the park for families is the beach activities, playground facilities and coastal walks.
The park also offers an extensive children's adventure playground, beach volleyball, basketball and lawned games area. There is so much to see and do in the BIG4 Breeze Holiday Parks. The area's natural beauty can be seen at Pullen Island Conservation Park and Nangawooka Flora Reserve, while Encounter Coast Discovery Centre and South Australian Whale Centre are cultural highlights. 
Plan your holiday with a low budget and enjoy the holiday vibes. The experience will be one of the best you can have in a lifetime.
14. Oaks Glenelg Plaza Pier Suites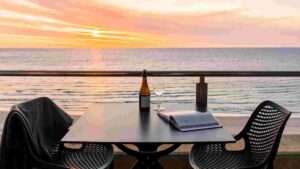 Oaks Glenelg Plaza Per Suites is among the best hotels in Glenelg. The beauty of this hotel is the amazing and sensational ocean views it offers, making it a fabulous accommodation for travellers.
The award-winning hotel is set in Glenelg with a lovely sandy beach and beach house amusements, you will surely love the excellent location with tour booking facilities, an indoor pool, beachfront dining, palm-lined walkaways and a thriving nightlife scene. When you are exploring the restaurants and cafes close by, you can soak yourself in the bubbling jacuzzi and return to the hotel afterwards.
Pamper yourself in Australia and visit the great Oaks Glenelg Plaza Pier Suites with a memorable experience and feel like you are in a different world entirely. 
Oaks Glenelg Plaza Pier Suites awaits you, spend your day at the beach and enjoy the onsite gym. It warrants a visit.
15. Mount Gambier and The Limestone Coast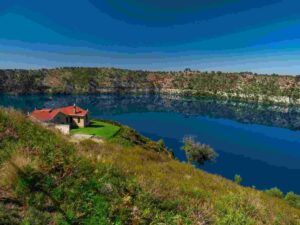 The second largest town in South Australia full of geological treasures with some of the best parks, hikes and cultural attractions in the region. Mount Gambier is a must-see destination for tourists and visitors in Australia.
You will be amazed at the diversity of the landscape, beautiful gardens, festivals and events, fresh local food and galleries. Mount Gambier is known for the Blue Lake and there are plenty of impressive places to visit in Mount Gambier, a hidden gem full of sinkhole gardens.
The climate here is quite similar to other parts of Southern Australia, so you can expect dry summers and cool wet winters.
For budget tourists and travellers, Mount Gambier is the right place for you. There are a lot of boutiques, hotels and coffee shops you can explore. The great accommodation options also make it a wonderful place to visit.
How Do I Choose the Right Family Resort for My South Australia Vacation
Planning a family vacation is like setting off on a grand quest, and choosing the perfect family resort is a bit like finding the treasure at the end of a treasure map. Just like what was discussed in the best island resorts in Australia, the below can also guide you before choosing.
1. Decide What You Want to Do
First things first, think about what kind of fun you want to have on your vacation. Do you want to swim in the pool, build sandcastles at the beach, or maybe explore the wildlife in the countryside? Knowing what you want to do will help you pick the right resort.
2. Check the Activities
Now, let's look at the resorts. See if they have cool activities for kids like you. Do they have a playground, a game room, or even a kids' club where you can make new friends? The more fun stuff they have, the better.
3. Think About Food
Food is super important, right? Check if the resort has yummy food that you like. Some places even have special menus for kids. So, make sure you'll get tasty meals during your stay.
4. How Far Is It?
Think about how far the resort is from the places you want to visit. If you want to go to the beach or see cool attractions, it's best if your resort is not too far away. Shorter drives mean more time for fun.
5. Read Reviews
Grown-ups often read reviews to learn more about places. You can ask them to do that too. Look for reviews from families who stayed at the resort. They can tell you what it's really like.
6. Ask Your Family
Your family's opinion matters a lot. Talk to them about the resorts you found. Ask what they think and what they'd like to do on vacation. It's a family adventure, so everyone should be happy.
Are Pets Allowed at Family Resorts in South Australia?
Yes, some family resorts in South Australia do allow pets, but not all of them. It's like some schools allow pets, and some don't.
For example, imagine you have a cute dog named Buddy, and your family wants to take Buddy on vacation with you. You would need to find a resort that says, "Pets are welcome here!" Just like some schools have a sign that says, "Pets are allowed on the school grounds."
But there are rules, too. Just like at school, where you have rules to follow, at pet-friendly resorts, Buddy would need to follow some rules, too. He might need to stay on a leash, be well-behaved, and not make too much noise. These rules make sure that everyone has a happy and safe time.
Do South Australian Family Resorts Have Childcare Services?
Yes, some family resorts in South Australia do have childcare services. Childcare services are like having nice adults who can take care of you and play with you while your parents take a little break.
For example, at the "Kangaroo Island Wilderness Resort," they have a special program called "Kids Club." You can join in and have lots of fun activities like games and crafts, and they'll make sure you're safe and happy while your parents enjoy their vacation.
Another place with childcare services is the "Novotel Barossa Valley Resort." They have a play area just for kids and sometimes even a babysitter who can look after you if your parents need some time alone.
It's essential to check with the resort you plan to visit because not all of them have childcare services. But when they do, it can make your family vacation even more exciting and relaxing for everyone.
---
Conclusion
Family resorts in South Australia are like special places where families can have lots of fun and make wonderful memories together. You can go swimming, play games, and explore the beautiful nature all around.
Whether you want to visit the beach, the mountains, or the countryside, South Australia has a family resort waiting for you. So, the next time you plan a family vacation, remember to check out these amazing resorts down under.
---
Written By:
Damian Ogedengbe 
Travel and Lifestyle Writer.