Ofada rice is the local unpolished Nigeria rice mostly consumed by the Yoruba tribe and grown in the southwestern part of Nigeria and named after Ofada town in Obafemi Owode Local Government in Ogun state, where it was first cultivated. If you are looking for where to buy Ofada rice in Lagos then keep reading.
The best part of the rice is that it is unpolished, providing high nutrition and health benefits compared to the polished white rice consumed mainly by Nigerians. However, the aroma and stress of picking the stones in the rice could be a throw-off for a few people, and most households do not cook but prefer to buy it in a restaurant close to them.
A few of these restaurants in Lagos with their address are discussed in this article.
Where To Buy Ofada Rice in Lagos?
Below are the restaurants to get your Ofada rice with their location and uniqueness.
1. Ofada Hut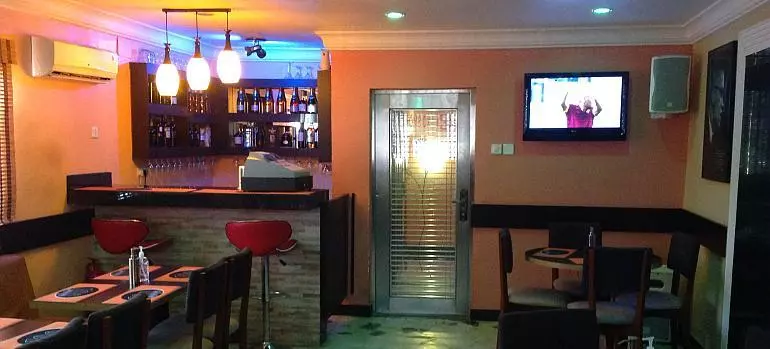 Ofada Hut is located at 110 Awolowo Road, Ikoyi, Lagos, and is open from Monday to Friday from 7a.m to 6 p.m.It runs with a mission to satisfy the needs of its clients and make the quality of its foods a dining experience; this they do by making available dynamic delicious Ofada rice with no preservative or additive at an affordable price of NGN 1,600 per plate.
A Combo of Ofada rice, Assorted plantain, and chicken with Ofada sauce for a fee of NGN 2,500 per plate.
Getting food from Ofada hut is stressless as you can order food online via their website, Jumia, and Glovo. However, there is a high disadvantage of ordering food online as their customer service fluctuates, making it non-reliable, although their food tastes homemade and delicious.
It sells other delicious main meals, Special combos, and soups such as Moi Moi and oatmeal, Porridge, Jollof rice, Plantain and egg sauce, Amala Combo, Edikaikong, Indomie with egg, and lots more.
 Check out more on its website,https://ofadahut.com/, or call 07038844391 or 2348089570968.
---
2. Ofada Rice Special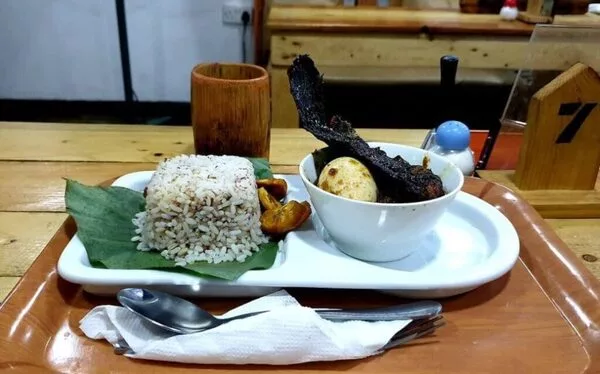 Ofada Rice Special is an Africa Restaurant located at 16 Ogunnusi Road, Oremeta street, Isheri Rd, Ojodu 300001, Ikeja, and open from the hour of 9 am to 7 p.m from Monday to Saturday and from 2 pm to 7p.m on Sundays. The restaurant has a perfect air conditioning temperature and excellent customer service with a  top notched.
However, the restaurant seems to be hidden in a lousy environment which might demand that you order food simply by calling customer service on 08035796419. It is also into event catering and sells Ofada Combo, raw Ofada rice, Ofada sauce, and Sharwama. 
Further inquiries can be made by reaching out to their customer care at 08035796419 or mailing them at ofadarice4all@gmail.com, as they leave you craving more.
---
3. Ofada Boy

The restaurant's interior design brings back to memory the traditional way of life coupled with the conventional presentation and taste of the locally made Ofada rice and other Nigerian delicacies, which makes you want to come back for more.
Ofada Boy is located at  1 Mba St, Surulere 101241, Lagos, and opens from Mondays to Saturdays between 10:30 am to 10 p.m and 11 am to 9 pm on Sundays. It offers different packages of Ofada rice, which includes the general combo of  Ofada rice served in a leaf, garnished with plantain, the sauce with a smoked turkey and egg served in a calabash for the price of 4,350 with palm wine for the cost of 2,000 Naira coupled with tax payment.
Food can be ordered via WhatsApp or call on  0708 866 7382 as they have a good delivery service and can be checked out on Instagram @ofadaboy and Twitter;@ofadaboy.
---
4. Crystal Kitchen(Ofada Rice And More)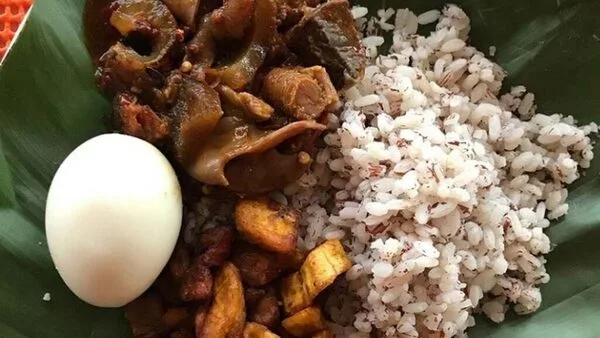 Crystal kitchen is another plug for  0fada rice, located at junction/B. stop, Goshen Land, 117b Obafemi Awolowo Way, Allen, Ikeja, NG, and open from Monday to Friday between 8 am and 5 pm. They also offer catering and delivery services for Ofada rice and other local dishes.
For inquiries on the food price, contact crystal kitchen at 0706 267 2286 or follow them on Facebook; Crystals kitchen.
---
5. Ofada Rice And Abula Special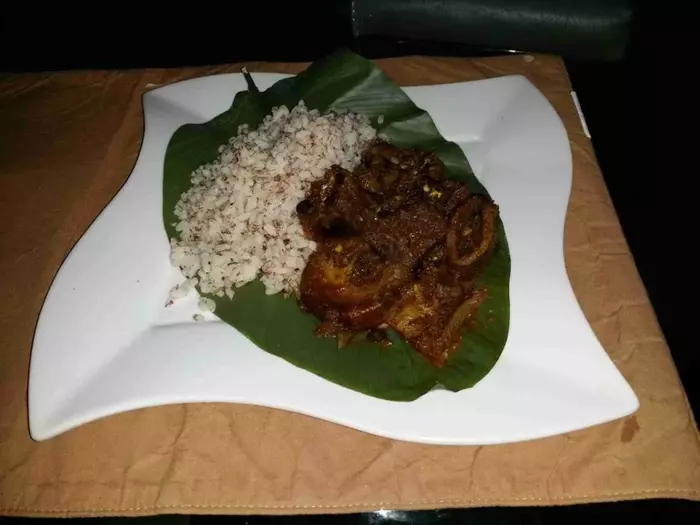 Ofada rice and Abula special  located at 4A Alh. Basheer Shittu Ave, Magodo GRA Phase II 100248, Lagos, is a home away from home as it has different interior designs and settings from the traditional to the modern home settings with delicious Ofada rice and sauce filled with assorted meats and fish.
More local dishes such as Amala and Abula, Semo, Pounded yam, and intercontinental dishes with beverages and palm wine is also available.
The cost of Ofada rice is affordable and delicious. The restaurant is reliable as you can get meals free of preservatives or additive agents from 8 am to 8  pm, with a good delivery service. 
Contact them on  0909 966 0464 as you do not want to miss eating something good and healthy on your next visit to the Magodo part of  Lagos.
---
6. Ofada Heaven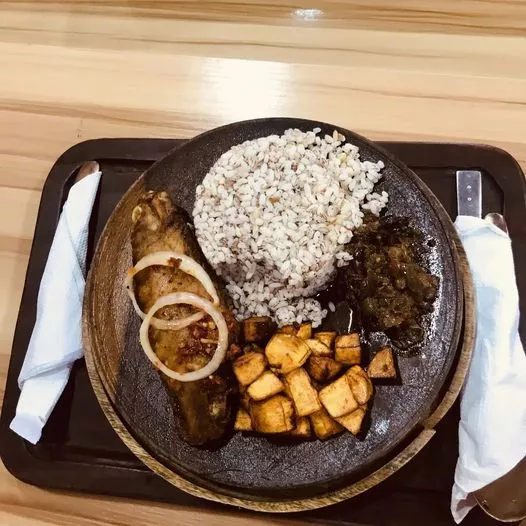 Located in a serene environment at 63, Adeniran Ogunsanya, Surelere Ikeja part of Lagos, is the  Ofada Heaven Restaurant, with various Ofada rice and soup packages to satisfy your cravings. It offers other meals such as Ofada spaghetti, Jollof Ofada, pepper soup, grills such as Sharwama, BBQ fish and chips, BBQ chicken and chips, BBQ turkey and chips, Grilled plantain and sauce, Asun, and small chops such as spring roll, Samosa, Gizdodo, prawn batter and lots more.
The price of the food depends on the package you are interested in. Still, the basic one(2 portions of Ofada rice with assorted meat) goes for 2,500 per one.
---
7. All Spices Food Buka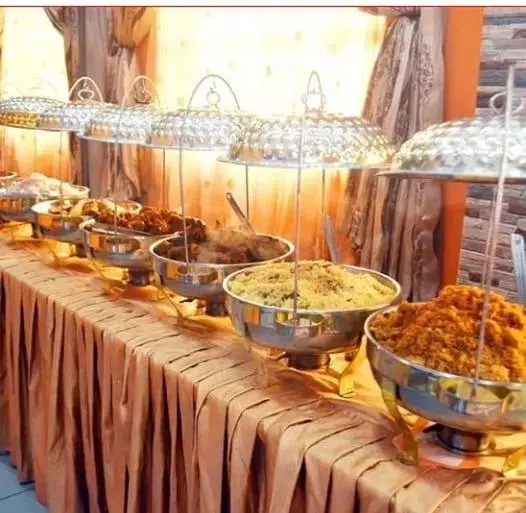 The restaurant at 37 Marina Rd, Lagos Island 102273, Lagos, offers different delicacies of food such as Ofada rice, White rice, Jollof rice, coconut rice, and beans, and opens from Mondays to Fridays between the hours of 7 am to 7 pm.
The delivery service is top notched as they deliver your food within minutes depending on your location and the interior design of the buka is enough to make you feel comfortable as it is well air-conditioned.
---
8. Yaqudi's Food Restaurant
The air-conditioned African restaurant has existed since 1989. It is located at 5 Mobolaji Johnson Avenue, Ikoyi, Lagos, with varieties of affordable food available, including your most loved Ofada rice and other local delicacies. Their delivery service is always on point, with healthy food and good customer service, as long as they are open from 7:30 am to 5:30 pm on Mondays to Fridays and 8 am to 3 pm on Saturdays.
However, you might not be able to get Ofada rice in the evening time as they do not specialize in it as much as they do with other local meals. You can contact them via their website: Yaqudis Food Restaurant, or call 0812 142 4597,0708 116 1865 to order food.
9. Ofada Empress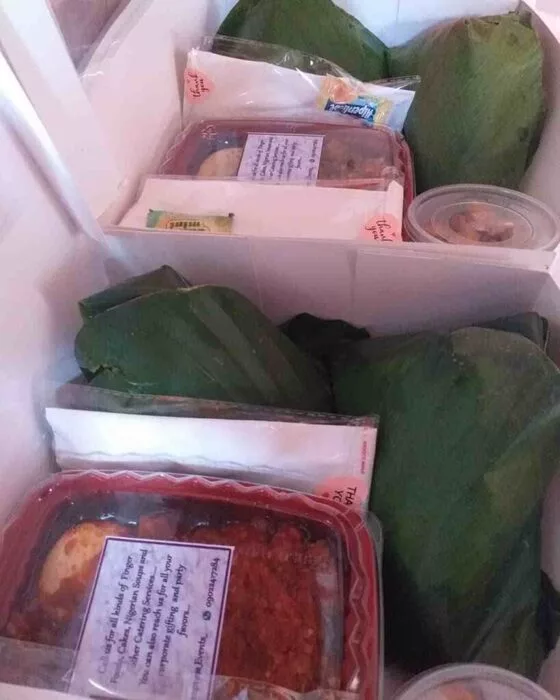 The address of the Ofada empress is at  9 Ojo St, Akoka 102216, part of Lagos. It specializes in event and catering services, making the delivery the best part of its service.
You can make your orders on  08132088087, check them out on Facebook: Ofada Empress or on Twitter; Empress Events And Catering.
---
10. Second Kitchen Ofada Spot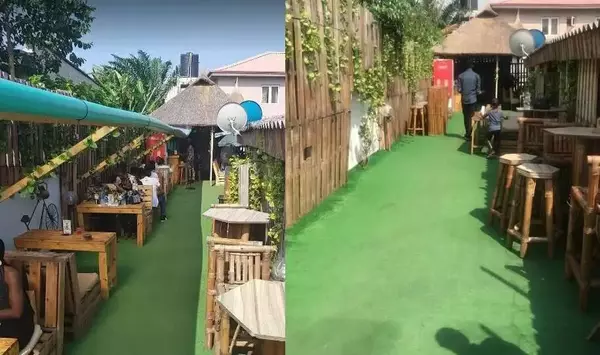 The taste of the Ofada rice is compared to none at  Ofada Spot, located at 13 Ahmed Muhammed street, Oja oba B/stop, Alimosho, Lagos. The other local meals sold here are delicious and affordable, as well as the price of the Ofada rice.
It engages in indoor and outdoor services and is open from 7 am to 6 pm; you can also dine in,  take away or order food on 08023357870.
How Much Is A Bag Of Ofada Rice In Lagos?
Ofada rice is a local unpolished rice that is more expensive than polished rice, and it can go for #9,000 for 5 kg, and within the range of #48,000 to #59,000 for 50 kg,  depending on the brand of product you are getting and how neat the Ofada rice is as some are filled with stones.
The neater the rice, the higher the price.
Does Ofada Rice Increase Blood Sugar?
No. Ofada rice is good for reducing blood sugar levels. It is rich in fiber content and nutrients such as calcium, vitamin c, and magnesium. It helps in weight loss and has a glycemic index of 50 which has little or no impact on blood sugar.
What  Other Health Benefits Do I Get From Consuming Ofada Rice?
Consuming Ofada rice for pleasure is not as important as consuming it for health purposes. However, you can get a dual benefit from consuming it; highlighted below are the benefits of consuming Ofada rice.
It aids the rate of digestion.

It supports bone health and reduces the risk of diabetes. 

It promotes a healthy heart and weight loss.

It boosts the immune system.

It prevents constipation and help reduces the risk of having breast cancer.
How Much Do Restaurants Sell Ofada Rice In Lagos?
The price of Ofada rice depends on the restaurant, location, interior design, and food taste. An average restaurant in Lagos sells  Ofada rice with the sauce alone for #1,600 per two scoops of rice.
Then you decide what you want to accompany, such as meat, turkey, chicken, Ponmo, or fish, but you can be sure the sauce is garnished with Ponmo, dried fish, and other things.
What Is Ofada Sauce Made Of?
You are wondering why Ofada sauce tastes differently. It is due to the ingredients; palm oil, locust beans, green and red ball pepper, crayfish, stocked fish, Ponmo, and other things to garnish. The sauce is otherwise called Ayamase Stew or designer stew. If you get to where to buy Ofada rice in Lagos, then be sure of the sauce.
---
Conclusion
Ofada rice tastes differently depending on the cook and the sauce ingredients, so you can give one of the restaurants a try if you are close to any of the locations in Lagos or order food online or via their phone numbers during working hours and have it deliver to you during lunch break, hot and delicious as you want it.
However, few of these restaurants have bad customer service, and the price is on the high side compared to the taste and quality of the food, so check properly and make further inquiries before you decide to visit or order food from any of them.
One important thing to note is that ordering food from their website is less active than ordering through calls or using  Glovo or Bolt food. Just know that if you are looking for where to buy Ofada rice in Lagos, these top lists will serve you well.