Everyone needs a place to work. A coworking space offers numerous benefits over other methods of working. It's easy to start, is affordable, gives you the flexibility and freedom you want, and allows
This article features a comprehensive list of coworking spaces in Lagos that are perfect for technology professionals, freelancers, and startups to stay productive throughout the day. 
8 of the Best Co-Working Space In Lagos, Amenities & Address
Lagos, which happens to be the mega and global city that tops the air of Africa's most significant cities list, is a promised land, a gateway to the world for your business boom.
Here is a list of the Best Co-Working Spaces in Lagos with their locations, amenities, prices, and Access Hours.
1. Lead Space Yaba/Ojodu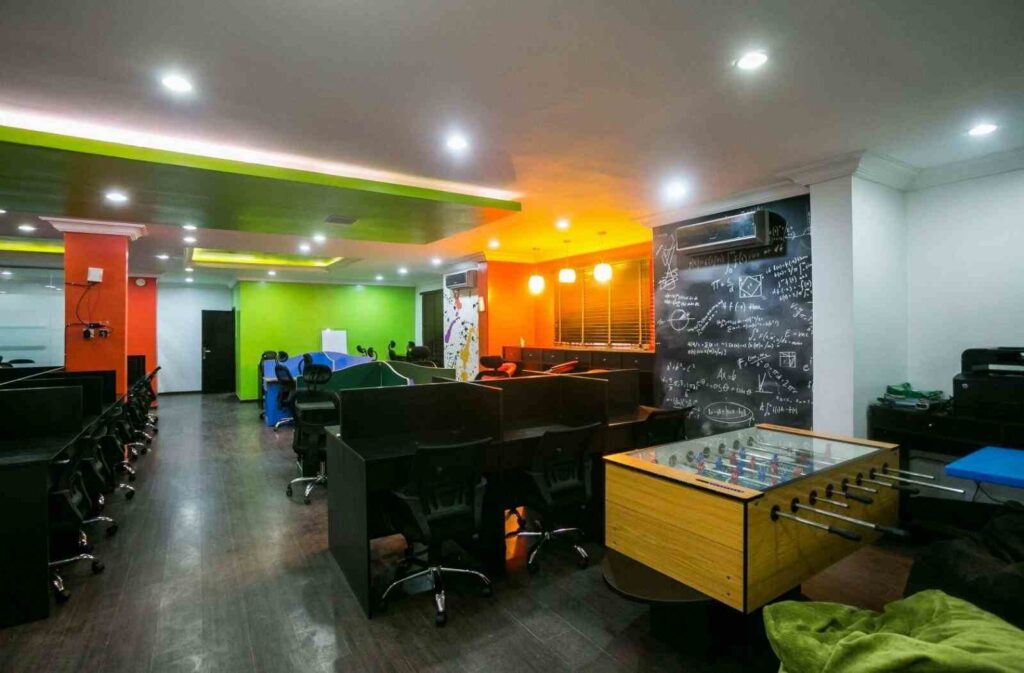 10 Hughes Avenue, Alagomeji, Yaba 101011, Lagos, Nigeria.
17, Akinsanya Street, Ojodu, Ikeja, Lagos, Nigeria.
Access Hours: 9 AM – 6 PM [Mondays – Fridays]
Lead Space is a beautiful, comfortable co-working space with many versatile and cheap membership plans. It provides a suitable workspace for operating professionals, creative artists, and small or medium business enterprises that need appropriate coworking space. It also has a productivity-enhancing atmosphere and essential amenities to help you focus on your work.
Amenities:
Free Parking Space

High-Speed Wifi

Free Coffee/Water

Meeting Room

Lounge/Relaxation Area 

Scanning/Printing/Projector

Workshops/Events

Accelerator programs

Standing Desks/Ergonomic Chairs

Board Games/Football Games
Plan Prices:
Daily Pass

₦

3,000/seat

Meeting Room

₦

5,000/hour

Virtual Lite

₦

5,000/person (Monthly)

Flexible Desk

₦

25,000/seat (Monthly)

Dedicated Desk

₦

40,000/seat (Monthly)

Virtual Office

₦

100,000/Annum (Yearly)
Visit http://theleadspace.co 
---
2. Intrepid Spaces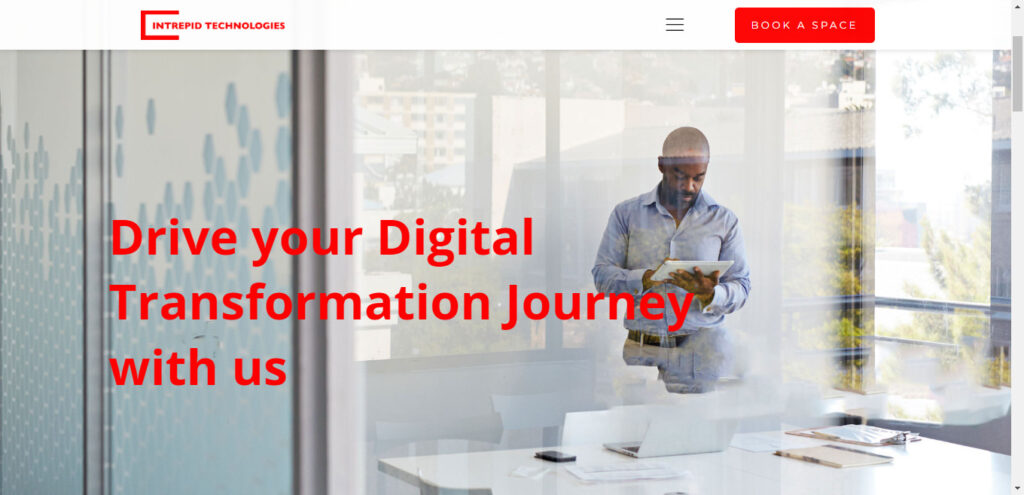 Suite 201, Unit 11B Maben Terrace LFS Maben Rd., Lekki, Lagos, Nigeria
Access Hours: 8 AM -6 PM [Mondays – Fridays]  10 AM – 6 PM [Saturdays]
Intrepid Space is a beautifully designed co-working space that provides intelligent solutions for solopreneurs, freelancers, or if you're self-employed. The area creates a work atmosphere that lets you concentrate on essential things and efficiently get work done. 
Amenities:
Studio

High-Speed internet

Scanning/Printing

Free Coffe/Tea

Parking Space

Private Office/Dedicated Seats

Meeting Rooms/Training Rooms
Plan Prices:
Training/Meeting Rooms

₦

3000/hour

Co-work Desks

₦

3000/day

Virtual Office

₦

3500/session

Lightboard Studio

₦

5000/hour

Pop-Up Shop

₦

5200/day

Private Offices

₦

100000/month

Team Room

₦

135000/month
Visit https://spaces.intrepid.com.ng/
---
3. Workbay Ikeja/Maryland/Onikan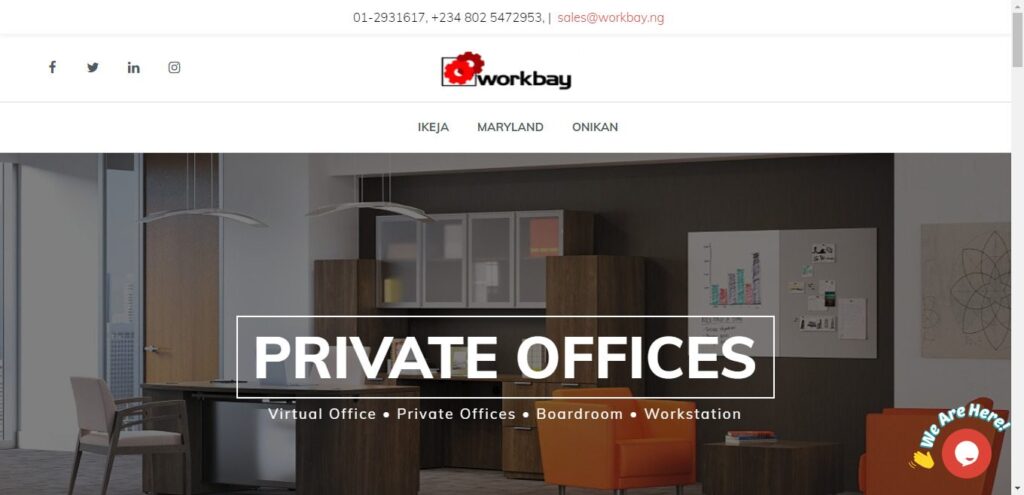 3-9, Olu Koleosho Street, Off Medical Rd., Ikeja, Lagos, Nigeria.
14A, Bayo Dejonwo Street, Maryland Estate, Lagos, Nigeria.
The City Mall, Onikan Roundabout, Lagos Island, Lagos, Nigeria
Access Hours: 8 AM – 5 PM [Mondays – Fridays]  9 AM – 4 PM [Saturdays]
Workbay provides office solutions, start-ups, and cost-effective office spaces for entrepreneurs with the advantages of versatile most minor set-up and exit prices. They have excellent customer service, and the workspace environment is also favorable and comfortable.
Amenities:
Their amenities are based on your space plan, i.e., the price plans have amenities and facilities assigned to them.
Constant Power Supply

Free Car Park

Reception Service

Kitchen Service

Office Assistant/Cleaner

High-Speed Free Internet Service
Plan Prices :
Virtual Office

₦

6000 – N 30000/month

Board Room

₦

15000/day

Workstation

₦

35000/month

Private Office

₦

200000/month
Visit https://workbay.ng/ 
---
4. Cranium One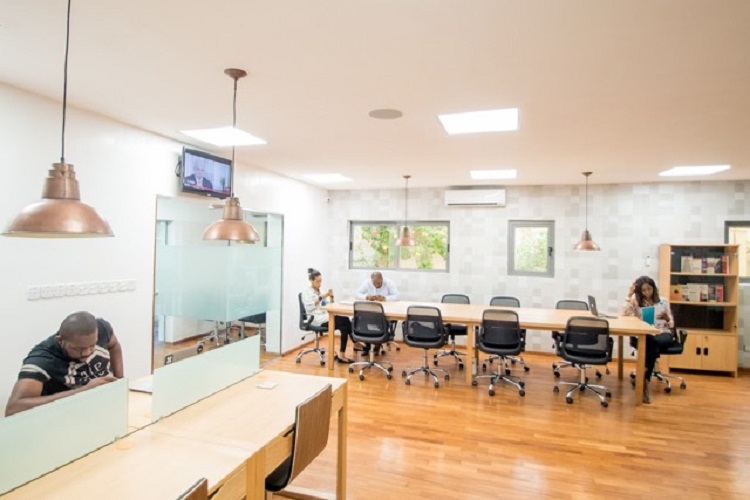 Plot 1, Towry Close, Off Idejo Street, Victoria Island, Lagos.
Access Hours: 9 AM – 7 PM [Mondays – Saturdays]
Cranium One is a beautifully designed, warm, open, and inviting co-workspace for small business enterprises and entrepreneurs. It is an office space that fosters connectivity, creativity, innovativeness, sustainability, and community.
Amenities:
High-Speed Internet Service

Scanners/Printers

Workshops

Consultancy Services

Kitchen/Dining Space
Plan Prices:
Meeting Room

– Contact for pricing

Shared Desk

– Contact for pricing

Private Office

– Contact for pricing

Dedicated Desk

– Contact for pricing
Visit https://cranium-one.com/ 
---
5. Venia Business Hub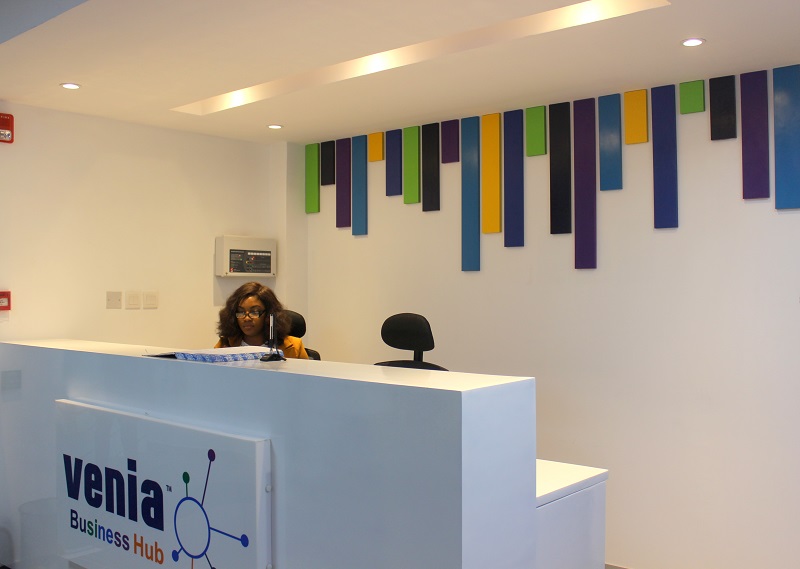 The Venia Place, Providence Hub Plot 8, Providence Street, Lekki Phase 1, Lagos, Nigeria.
Access Hours: 8 AM – 6 PM [Mondays – Fridays]
Venia Business Hub is a well-designed co-workspace situated in a serene environment. They provide the best working solutions for you as a small business, entrepreneur, or freelancer. They form a thriving and enthusiastic community of entrepreneurs who can make magic happen across various industries.
Amenities:
Fast Internet

Flexible Plans

Office Supplies

Business Services

Front Desk Services

Mail and Packaging

Projector

24/7 Constant Electricity Supply

White Board Markers

Entrepreneurs Networking and Collaboration
Plan Prices
Co-working Space

₦

3500/day

Private Office

₦

170000/month (or more)

Corporate Offices

₦

420000/month (or more)
Visit http://www.veniabusinesshub.com 
---
6. TyWorkSpace Mainland/Onikan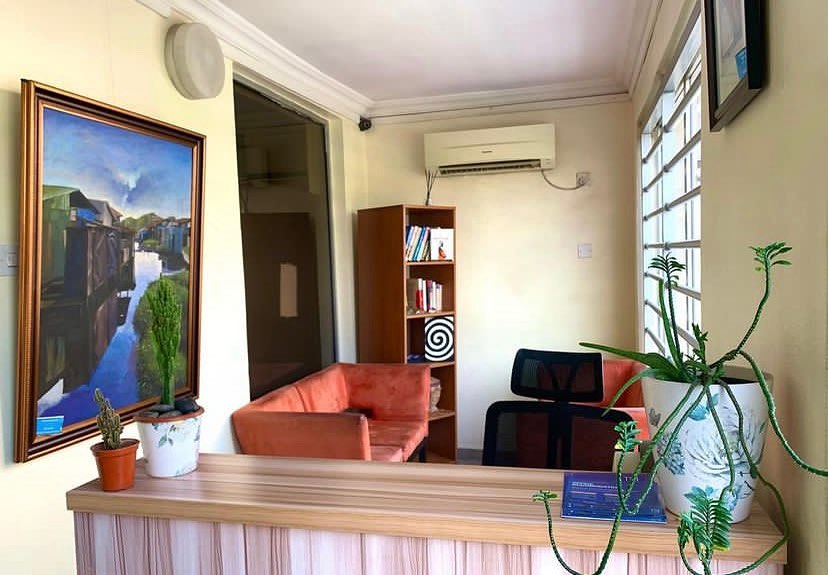 No 17, Ibikunle Street, Off Herbert Macaulay Way, Yaba, Lagos, Nigeria.
No 32, Lawson Street, Onikan, Lagos, Nigeria.
Access Hours: 8 AM – 5 PM [Mondays – Fridays]
TyWorkSpace is a beautifully designed and luxurious workspace. They provide non-public, virtual, and shared workspace areas and offer services to people or businesses for productivity with no distractions.
Amenities:
High-Speed Wifi

Library

Onsite Cafe

Coffee

Drinking Water

Personal Lockers

Kitchen Services

Constant Power Supply

Scanning/Printing

Complimentary Tea/Coffee
Plan Prices:
Private Office

₦

340000/month (4 people)

Dedicated Desk

₦

150000/month (1 person)

Hot Desk/Open Seating

₦

5000/day or N 40000/month (1 person)
Visit https://www.tyworkspace.com/ 
---
7. Seedspace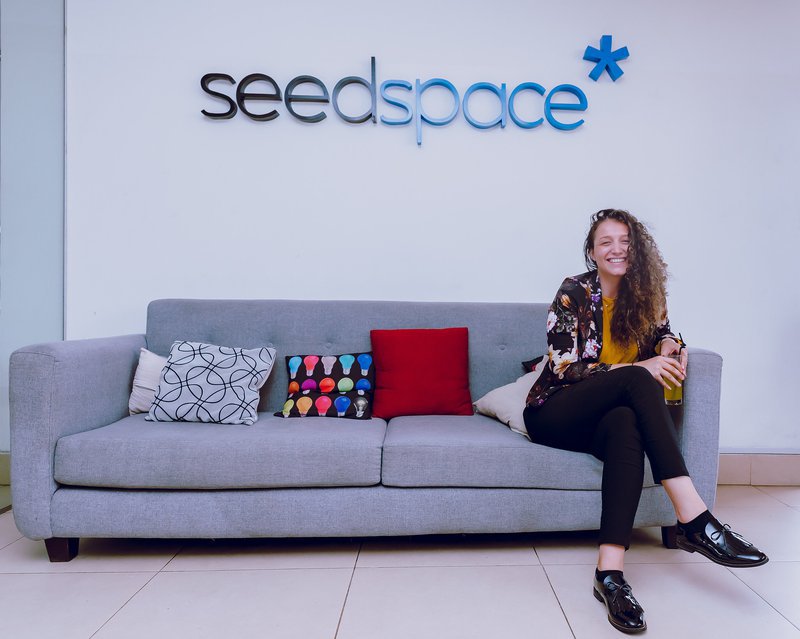 No 23, Agodogba Ave, Parkview Estate, Ikoyi, Lagos.
Seedspace workspace meets and exceeds expectations in providing suitable and required work productivity solutions.
It is one of the few co-working spaces with a coliving setting with several bedrooms for travelers, all of the same relaxing atmospheres that are suitable for all.
Amenities:
Air-conditioning

High-Speed Wifi

Kitchen Catering Services

Parking Space

Phone Booths

Printers

Scanners

Photocopiers

Projectors

Outdoor Terrace

Events and Events Spaces

Workshops and Seminars

A 24Hours member access

Swimming Pool

Board Games
Price Plan:
Private Office

₦

500000/month (10 people)

Dedicated Desk

₦

50000/month (1 person)

Hot Desk/Open Seating

₦

2000/day (1 person)
Visit https://www.seedspace.co/cities/seedspace-lagos/ 
---
8. 360 Creative Hub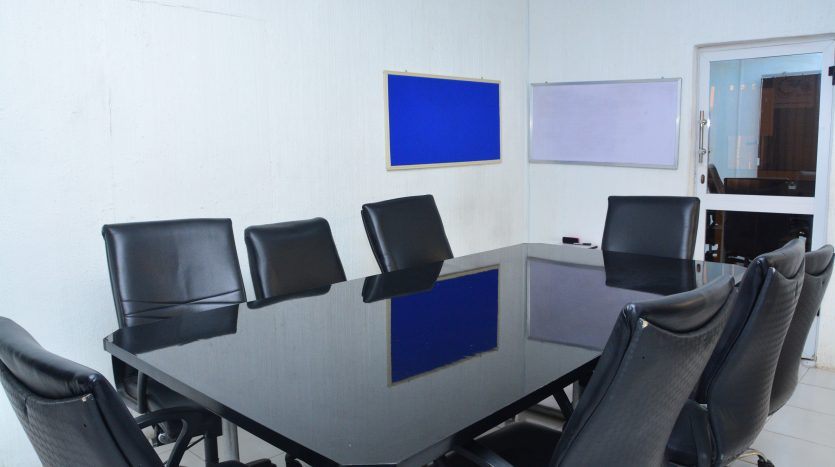 No 34, Ajao Road, Off Olufemi Street, Surulere, Lagos, Nigeria. 
Access Hours: 9 AM – 6 PM [Mondays – Fridays]  10 AM – 2 PM [Saturdays]
360 Creative Hub is a Co-working and Co-sewing place designed to promote fashion and local designs. It also establishes lean manufacturing and enables sustainable and meaningful entrepreneurial design success.
It allows fashion entrepreneurs have access to private spaces or a collaborative workspace to create designs. Its workspace is committed to nurturing, expanding, and accelerating emerging fashion creativities through investment, management, mentoring, and equipment availability in a position for excellent success.
Amenities:
Digital Materials

Staffed Reception Service

Fashion Business Coaching

Modern Sewing Equipment

Kitchen, Dining, and Bar

Uninterrupted Power Supply

Business Tools and Templates

Fast and Reliable Internet Service

Free Member-only Webinar software 
Price Plan:
The Commuter Plan ₦ 3500/day

The Cruiser Plan

₦

70,000/month

The Camper Plan

₦

30000 or more (10 days)
Visit https://360creativehub.com/spaces/ 
---
Is Renting A Co-Working Space Expensive?
Yes, renting a co-working space is more expensive than a traditional office space. There are, however, cheap prices based on access hours and amenities, i.e., if it's a long hour usage or full amenities. Co-working spaces tend to be more expensive when you go for fancy and beautifully designed workspaces.
What Are The Benefits Of Using A Co-Working Space?
A Co-Working Space has several benefits, and you enjoy them based on your business or work need. There are quite a large number of benefits, but here are five (5) benefits for a freelancer, solopreneur or small business owner:
Co-Working Spaces are productivity optimized. They help reduce work interference with creativity and on-time delivery.
A well-designed workspace setting with educational events, perks, and a creative 
community aids greater work creativity. When you're working with other 
like-minded companies or people, you acquire extensive ideas and knowledge that 
creating your next project would require. 
Network Opportunites, Collaborations, and Events
The network opportunity and collaboration you get make the co-working space 
significantly different from traditional working space. The networking events held help to have a brainstorming session with like-minded, to meet with new business partners and clients, such as luncheon events, educational events or workshops, workout classes, and others. 
Using a Co-working Space allows you to arrive or exit the office at will. 
A Co-Working Space helps you get surrounded by a network of professionals to 
engage you and reduce loneliness. This is an alternative to reducing the isolation of 
working from home.
Disadvantages Of Using A Co-Working Space
Despite how beneficial using a Co-Working is, there are also quite a few disadvantages attached to it, and here are 5 of them:
Space Limitation and Restriction
In every Co-working space, there's a restriction on how your space should look or       
how it should be decorated, and alongside these restrictions, there's limited use of 
the space.
Co-Working Offices tend to be noisy and cause distractions with keyboards tapping, phones ringing, and talking around. This is, however, attached to a co-working space with many businesses or companies.
Working in a public area tends to be challenging, especially if it's confidential work or sensitive data files; competitors can either eavesdrop on your ideas.
A Co-Working Space benefits freelancers or small business enterprises, while those with a more significant business or corporation require more workspace and structure.
Most Co-Working Spaces have limited equipment, making it very hard to work as most needed equipment might be unavailable or out of use.
What To Consider When Choosing A Co-Working Space
When choosing or deciding on the type of Co–Workspace, make your business consideration the central aspect. Here are a few things you should consider when selecting a Co-working Space for your business:
Your Co-Working Space location is the main and first thing you should consider. If 
Your business demands that you've got regular meetings with your team members 
or clients, so you should choose a Co-Working Space close to them.
Co-Working Spaces should offer more than just an empty room. Ensure that you check through the maintenance, business service, security, lockers, airconditioning, constant power supply, kitchen and dining services, parking space, and many others which might not be included in the package plan. However, some Co-Working Offices allow you to opt for the needed amenities, reducing the plan price.
Workers or team members prefer flexible working hours and locations, so while choosing a Co-Woking Space, consider the working hours and familiarize yourself familiarized with the environment and workspace within the office.
The fact that you know and trust your team members doe4snt guarantee that you're secured because a Co-Woking Space also includes several other companies, businesses, and individuals. For a more secure space, some Co-Working Space offer offices with locked doors, security guards, or entry access into the building.
Environment and Atmosphere
When choosing a Co-Working Space, you should be more specific about the type of work environment and atmosphere you want. The atmosphere of an office has effects on the workers in it. 
When you're choosing a Co-Working Space, it shouldn't go beyond your budget or pocket.
Reliable and High-Speed Internet Service
An office with a reliable and fast internet service makes work more fun and enhances productivity. A Co-Working Space with excellent internet service is best advised.
Professional Requirements
For work productivity and success, your choice of Co-Working space should meet your professional requirements. Before you choose, have a self-application of these questions:
Am I prone to interruption and distractions?
Do I require natural light?
Can I work in a noisy area?
Do I enjoy working around while on the phone?
When you can answer these questions, you will get a Co-Work Space that meets your needs.
---
Conclusion
What's your take on the list above?
The list above is a compilation of the 8 Co-Working Spaces in Lagos just for you. They have a conducive atmosphere with basic and essential facilities and equipment for interactions, collaborations, and network opportunities. They also allow you to work at will with increased productivity, creativity, and connections.
Your business is your life, do not choose a place that won't work for you.
Enjoy a productive workspace!