Do You Crave For A More Luxurious Life?
Nothing is more luxurious than living in a house with well-structured buildings, beautiful designs, and serene environments.
Checking through Lagos State Map, it has many luxurious residential areas, and it is, however, no doubt that Lagos is one of the most cost expensive cities to live in or work in Nigeria but has a well-built, beautifully designed. The visually appealing residence is the best life to live.
We bring you 9 of the most expensive, top-notch, and luxurious estates in Lagos.
Top 9 Most Expensive Estates In Lagos, Facilities, and Pictures
Estates in Lagos are based on your preference – either the mainland or the Island. Several people prefer living on the Island regarding its beauty, high-life status, and economic opportunities on the continent; however, there are also perfect and beautiful areas comparable to the Island.
Today, we have a compiled list of the nine estates from both areas, with their addresses, facilities, and picture for more view.
1. Oniru Estate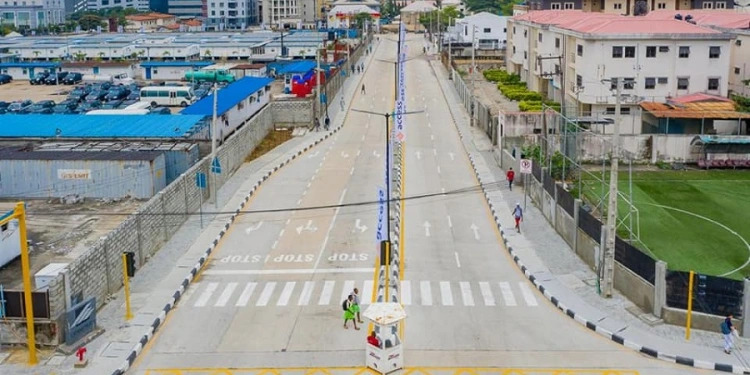 Oniru (formerly Makoro) Estate is located in the heart of Victoria Island and bordered by Lekki Phase 1. It was named after the ruling family in the area. It is a residential address that also houses the palace of the King (Oba) Oniru. It is a gated community with a well-built, serene, attractive, and beautiful environment. It is a classy and elegant neighborhood of apartments or flats with progressive styles.
The Oniru Space is one of the state's foremost wanted locations for property acquisition. Several people love the area when selecting residential areas, and some firms have offices around the estate.
The roads in the estate are interlocked and have drainage channels on both sides. Most houses within the estate also have green areas in front of them. They are safe to reside in as it provides a reasonably reliable security service with security men positioned at the gate.
The estate has other smaller notable estates and various landmarks within the area. The smaller estates are Mabel's Court, Crescent Park Estate, Crown Court Estate 1 & 2, Philipanni Court, Tofarati Court, Demville Court, and others. The landmarks are Shoprite (Palms Mall), Twin Waters Towers, Landmark Centers, Four Points by Sheraton Hotel, Oniru Beach, and many more.
Oniru Estate has several properties for rent and sale, including underdeveloped lands for those who want to build houses. Purchasing A 3-Bedroom or 4-Bedroom Apartment, Townhouse, Detached House, or Service Terraced Duplex will cost you about ₦ 70,000,000 – ₦ 220,000,000, while renting a 4-Bedroom Apartment will cost between ₦ 4,000,000 – ₦ 8,000,000. 
Facilities:
Banks

Market

Swimming Pool

Health Facilities

24 Hours Security

Good Schools Nearby

Pouch For Parking

Nearby Supermarket

Bars/Lounges/Hotels

Spacious Compound

Waste Management

Constant Water Supply

Ensuite Room and Servicing

24/7 Constant Electricity Supply
---
2. Parkview Estate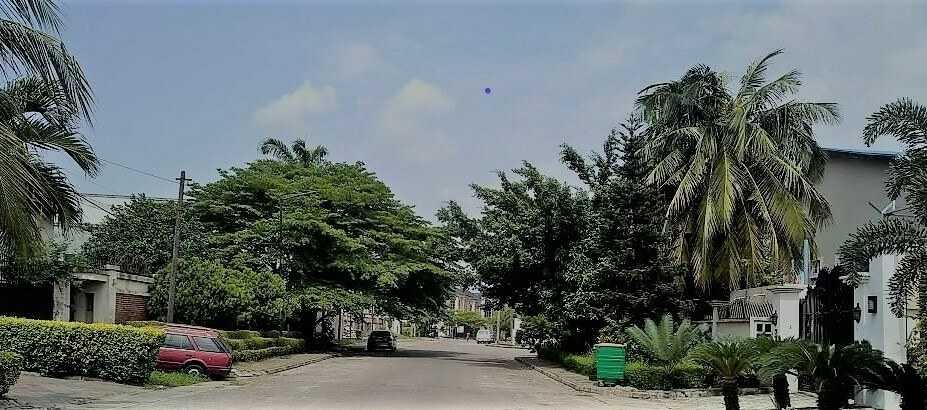 Parkview Estate is a high-class, deluxe, suburb, and luxurious residential estate in Ikoyi. The estate is majorly for residing, and houses are individually built by private developers or landowners who sell, rent, or lease out to the public. The estate includes fully detached houses, semi-detached houses, townhouses, bungalows, terraces, and penthouses, with Security personnel staffed at the gate.
The estate was mainly designed to fit people of a certain caliber who are influential and belong to the high class, like Wealthy and Influential Business Owners known as Business moguls, MDs/CEOs of notable Companies, Politicians, High-Earning Society members, and Expatriates.
The estate is managed by an association called Parkview Resident's Association which is subdivided into eight committees – Chairman, Environmental, Finance, Legal, Street Coordinators, Security, Publicity/Social, and Administration. Residents and Businesses pay annual dues to the association.
It is worth noting that the estate affairs are overseen by an Estate Manager in line with the office of the General Secretary, and the environmental aspect in line with the Environmental Officer and Operation Manager.
In Parkview Estate, properties are available for sale or rent; this depends on the type of property you want. If you're planning to purchase a 3-Bedroom flat, it would cost between ₦ 85 Million to about ₦ 130 Million, while renting the apartment is ₦ 3 Million to about ₦ 7 Million. A 4-Bedroom and 5-Bedroom Duplex, Terrace, or Townhouse is ₦ 150 Million – ₦ 320 Million for sale, while renting a 4-Bedroom or 5-Bedroom Duplex is ₦ 5 Million – ₦ 13 Million, and purchasing a Land is about ₦ 270,000/sqm.
Facilities:
Bars/Hotels

Banks

Malls/Market

Parking Space

 

Sports Facilities

Good Schools

Environmental Taskforce

Constant Water Supply

Security

Market/Commercial Centers

Health Facilities

Electricity Supply

      
---
3. Lekki Gardens Estates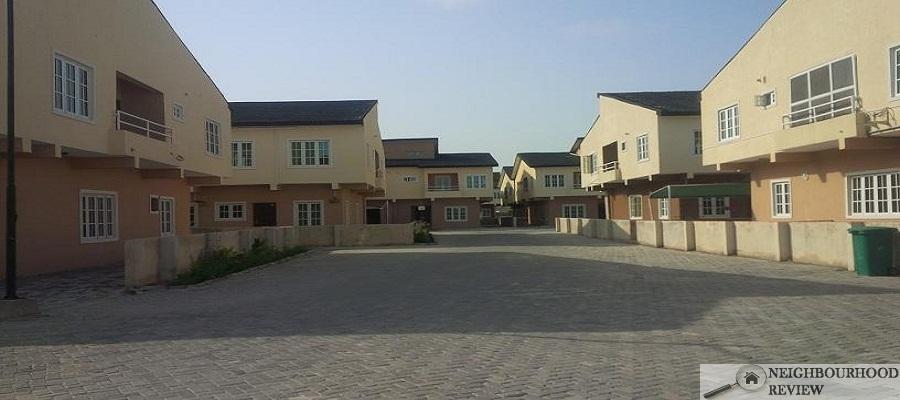 Lekki Gardens Estate is located in each phase of Lekki with an aesthetic, serene, attractive environment. It provides quality and competent homes within an affordable budget. The garden targets property development, marketing, management, and real estate products and services with high facility maintenance skills.
The estate has luxurious apartments, detached homes, duplexes, and commercial outlets. There is restricted entry into the estates, and non-residents must call their hosts before being allowed into the estate.
Note that the estate has contemporary home designs and locations that offer good living space and pretty simple and timeless features, including the facilities required to live a luxurious life. The estate has a central management authority that oversees environmental maintenance and waste management.
In Lekki Gardens Estate, houses are majorly 3-4 Bedroom Terraces. The regular terraces are sold for ₦ 13,500,000, while the corner piece is sold for ₦  14,500,000. However, presently, their sales and rent prices depend on the finishing level, and this is about ₦ 17,000,000 – ₦ 40,000,000 for sale and rent approximately out ₦ 1,200,000 – ₦ 2,000,000.
Facilities:
Constant Water Supply

Banks

Mall

Parking Space

Fast Food

Good Schools

Environmental Taskforce

Constant Water Supply

Security

Hospitals

Electricity Supply

Bars
---
4. Amen Estates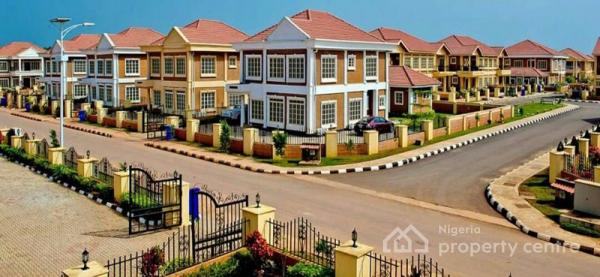 Amen Estates is an aesthetically luxurious and beautifully designed estate situated in the Ibeju-Lekki Axis with 3 phases – Amen Estate Phase 1, 2, and known to be a development of Redbrick Homes International Limited. Amen Estate Phase 1 is a completed estate, phase 2 is finished but not fully furnished, and phase 3 still needs to be developed as the lands are for sale presently.
Amen Estates offers premium world-class luxury and hospitality. Phases 1 and 2 are royalty fit as they're well designed and structured with luxuriously furnished living rooms, enhancing rest time bedrooms, modern installations,, fitted bathrooms, and many more facilities to make you enjoy living.
Securing your properties, Amen Estate has put in place armed security guards and professional and cautious staff who help to run the estate smoothly. Amen Estate allows you have that desired lifestyle of yours.
The Estate has various types with unique layouts – The Iga, The Afin, The Nze, The Lolo, The Agbala, Queen Amina, and The Olori. There are quite a several landmarks close to the estate, like the Dangote Refinery, Lekki Free Trade Zone, Eleganza Industrial City, Ancient Eleko Beach and Resort, Shoprite Ibeju Lekki, and many more.
As of the time of writing, Amen Estate Phase 1 is said to be sold out. However, there are quite a several openings in Phases 2 and 3.
In Phase 2, purchasing a 3, 4, or 5-Bedroom Apartment, Bungalow, Mid or End Terrace, Semi or fully detached duplex or villa will cost about ₦ 38,000,000 – ₦ 98,000,000 ($88,000 – $220,000) and the serviced or commercial plot will cost ₦ 24,000,000 – ₦ 26,000,000 ($ 55,000 – $60,500).
In Phase 3, the residential plot costs about  ₦ 12,000,000 – ₦ 13,200,000 ($28,000 – $30,000), while the commercial property costs about ₦ 15,000,000 – ₦ 16,500,000 ($34,000 – $38,000). However, the prices vary on the outright or spread the payment.
Facilities:
Waste Management and Fire Hydrants

Uninterrupted Electricity Supply

Solar Power Street Lights

Fast Speed Internet Service

Integrated CCTV

24 Hours Armed Security

Janitorial and Concierge Services
---
5. Shonibare Estate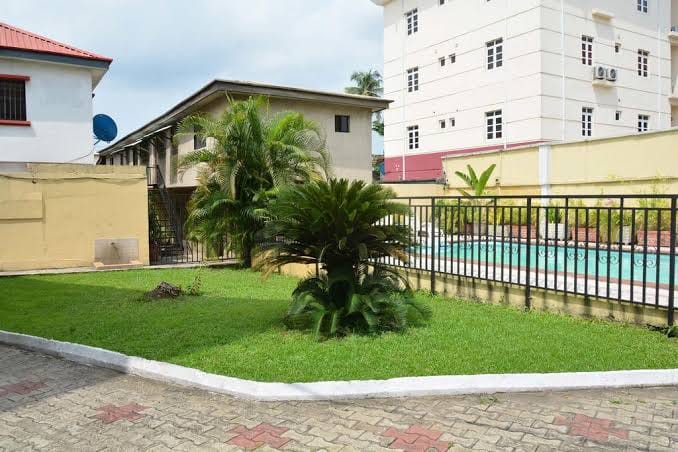 Shonibare Estate is one of the fanciest and most classic estates in Lagos and a top-notch for high-class business executives located in Maryland and bordered by Ikeja. Shonibare Estate is one of the top exquisite residential estates to live in and own a property. It is attractive to its high-level security.
It has a calm ambiance with duplexes, terraced and detached houses that are well-structured and beautifully designed, and top-rate amenities that make a living comfortable.
There are also companies within the area, such as Bedmate Funiture, Shonny Memorial Park, Sheraton Hotel, and many others.
In Shonibare estate, purchasing a 3-Bedroom Apartment will cost about ₦ 4,000,000 – ₦ 7,000,000. A 4-Bedroom Terrace will cost approximately ₦ 8,000,000 – ₦ 10,000,000. A 5-Bedroom detached is about ₦ 12,000,000 – ₦ 15,000,000 annually.
Facilities:
Facility Management

Gym

Swimming Pool

Parking Space

Security

Fitted Kitchen

Electricity Supply

Constant Water Supply
---
6. Orchid Court Estate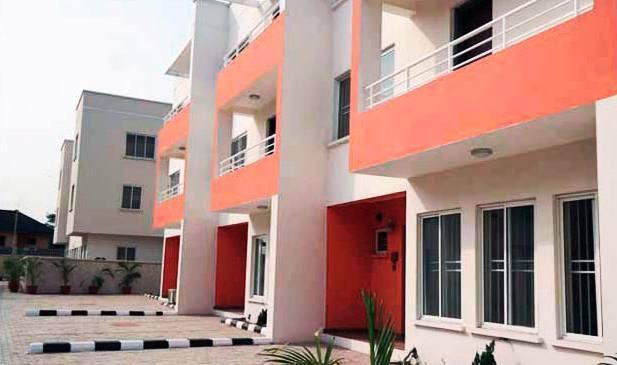 Orchid Estate is a residential estate that has brightened up Ikeja GRA since its inception. It has apartments and family homes for everyone. It is structured and designed to the European Standard with seven different types of units and unique layouts. Orchid Estate has a serene environment and offers a high level of security. 
In Orchid Court Estate, properties cost about ₦ 75,000,000 – ₦ 150,000,000. A fully serviced 3-Bedroom Penthouse will cost Bout ₦ 1,500,000 – ₦ 2,500,000.
Facilities:
Interior finishes and furnishings

Gym

Waste Management

Parking Space

Security

Electricity Supply
7. Living Gold Terraces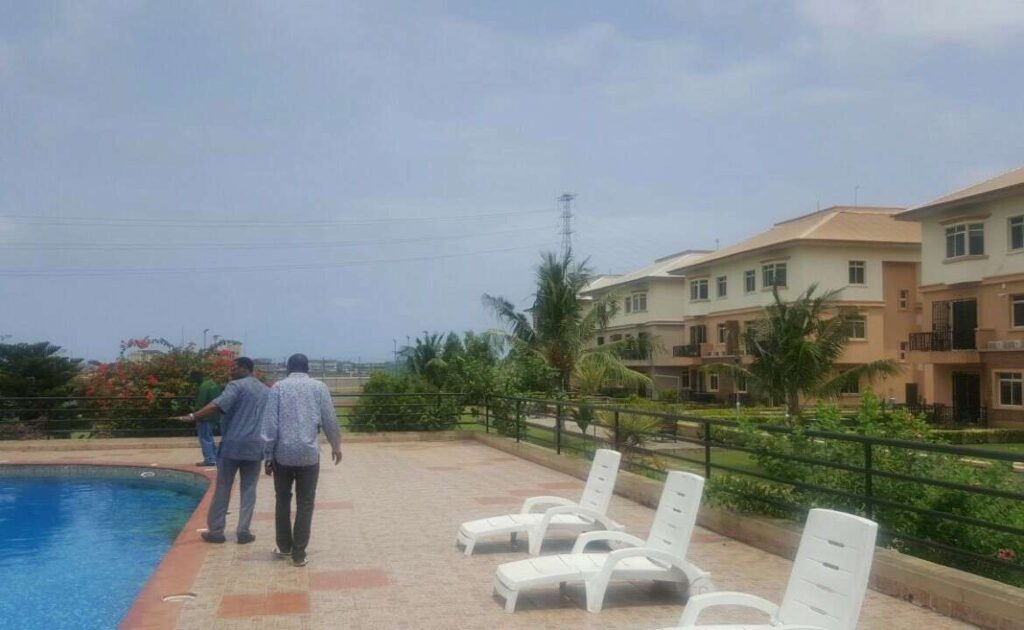 Living Gold Terraces is a luxury and deluxe residential developed estate with an ocean view and state-of-art facilities in Banana Island. This gives residents the same benefits those living on Banana Island enjoy. Prominent, High-class, and Influential business moguls and celebrities have their houses close to the estate.
In Living Gold Estate, a townhouse with 4-bedrooms will cost about ₦ 260,000,000 – ₦ 350,000,000. 
Facilities:
Air-conditioned accommodations
Gymnasium

Swimming Pool

Parking Space

Security

Fitted Kitchen

Electricity Supply

Squash Court

Constant Water Supply
---
8. Chevy View Estate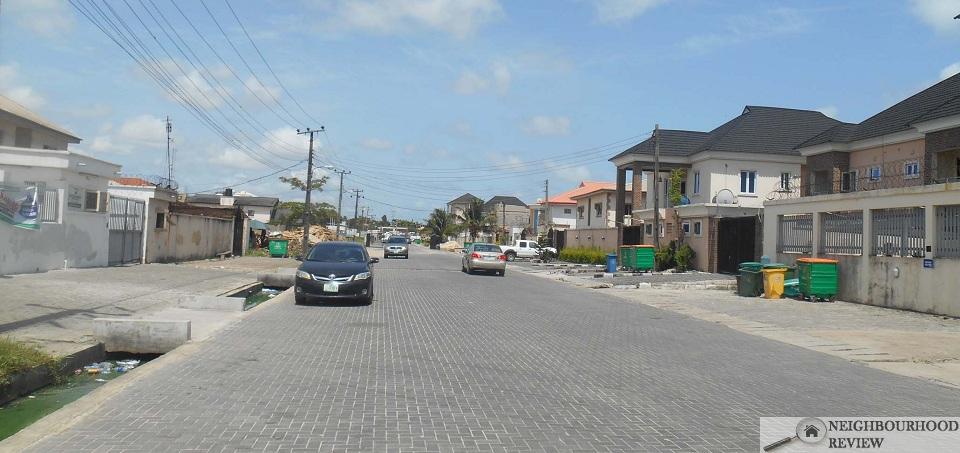 Chevy View Estate is located opposite Chevron Nigeria Limited Head Office off the Lekki-Epe Expressway, with many of the buildings built by estate developers (they buy lands, build on it and sell).
The estate isn't fully residential as several businesses are located within the area, such as schools, offices, hotels, and many more. The Estate allows free entry of non-residents, but searches are carried out. In the estate, most houses are semi and fully detached or terraced duplexes, and most of the residents are high-class income earners.
In the Estate, properties available are for sale and rent. Purchasing a 3, 4, or 5-Bedroom Flat, Duplex ranges from ₦ 45,000,000 – ₦ 130,000,000 while renting ranges from ₦ 1,700,000 – ₦ 65,000,000.
Facilities:
Constant Water Supply

Banks

Hotels/Leisure

Parking Space

Fast Food

       

Good Schools

Constant Water Supply

Security

Electricity Supply
---
9. Citiview Estate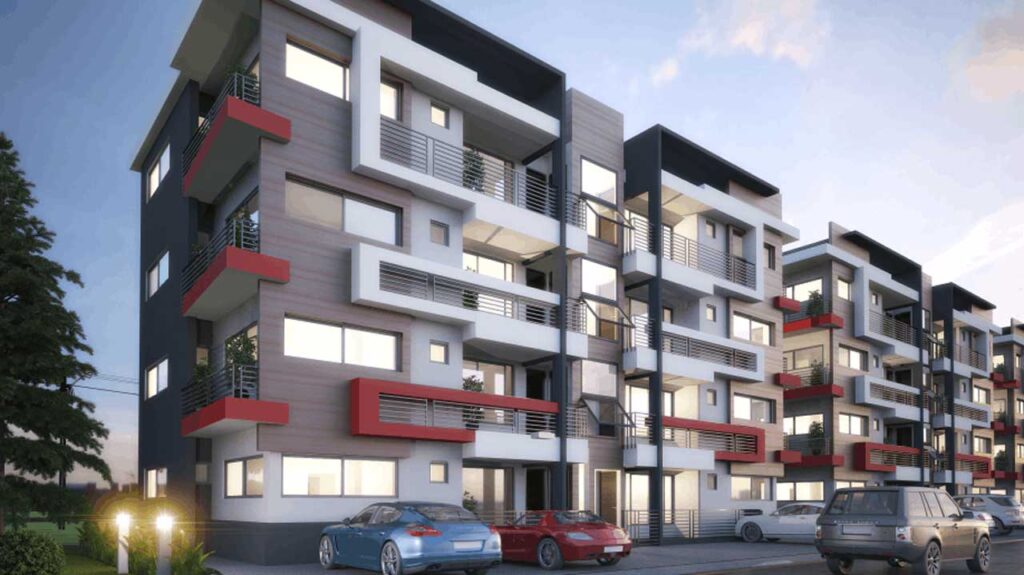 Citiview Estate is a private estate with a well-designed plan and a high-class standard of living, all at affordable prices. The Estates tops the air as it has perfect high-level delivery services and necessary facilities, a serene environment, and aesthetic housing typologies.
It is covered by the Global Certificate of Occupancy, entices buyers to its estates, and has a high level of security. It has a high quality with its nearness to commercial centers, residential, recreational, and administrative areas with exciting places. 
Citiview Estate has four classified properties: Citiview Heights, Citiview Apartments, Citiview Terrace, Citiview Mansion, and Citiview-The Niche. A 2, 3, or 4-Bedroom Apartment, Detached Duplex, Terrace, and mansion will cost about ₦ 15,400,000 – ₦ 85,000,000. 
Facilities:
Installed CCTV Cameras

 

Streetlights

Greenery

Ample Parking Space

Constant Water Supply

Armed Security

Electricity Supply

Spacious Environment
---
Conclusion
Lagos is considered for airing the list of expensive states with luxurious estates in Nigeria. The finishes, furnishings, and decorations are all evidence of their material resources and styles that gets us wow even when we're silent.
The Price estimates, however, vary depending on the USD Official Change Rate when you purchase. You can't wait to see things for yourself. Kindly visit the official links for more.